Ive been doing a couple of workshops on the new-ish wood fired oven outside the Coniston Institute in the Lakes. Absolutely beautiful setting in the shadow of the Old Man and a very classy oven constructed with Japanese woodworking techniques so all the wood framing is pegged together.
Takes about an hour to get the oven up to pizza hot and its big, so we could leave a fire going inside to keep it hot for the next 4 hours while we cooked.
Warm enough to raise the pizza and focaccia doughs outside, while we put together a Tartiflette, Aubergine Parmigiana, Chicken with sherry and caramelised onions and a Tomato and Peppers braise.
As appetisers I roasted some Padròn Peppers with oil and salt flakes, Chorizo in red wine, Roast salted almonds, and some baked garlic. All devoured as we prepared the pizza dough and the mains.
Then pizza while the focaccia was kneaded and set to rise in deep pizza pans.
Then focaccia and some breadsticks along with a baked Camembert studded with garlic and rosemary.
Main courses went in while we discussed the versatility of the oven and how to move the food around the space to cook it more evenly.
Finished the session with more bread, some Patatas Bravas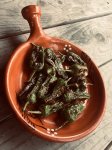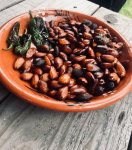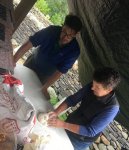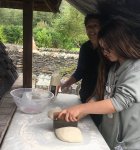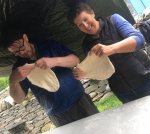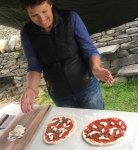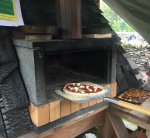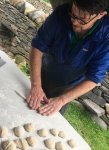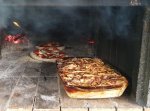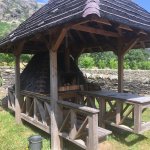 and our main course dishes. All delicious, although I never feel like eating much when I've been teaching. Everyone else was well-filled indeed and all returned home very happy.
I forgot to mention that the Lake District summer weather didn't let us down and decided to pour down torrentially most of the afternoon with a few bright interludes.
Photos attached. I think the Institute is planning to make this oven available for private hire so thought some of you might want to play with it if you're up in Coniston sometime.
Cheers, Simon.