Hi...ok, here goes....i'm actually sitting here stressing a little about all this lol...
so...after much discussion with angela and umming and ahhhing and a whole ton of insecurity and self-doubt, i've decided to put my first load of canvas bags for sale here on BCUK...several reasons....
1...i'm unsure what to charge
2...i'm unsure of my skillz
3...i'm unsure of what my customers want and expect
4...i'm unsure of my 'range'
for those reasons i'm going to do this lot a fair bit cheaper than my products will be in the near future...every day i'm getting more confident in my own work, design and sewing machine use...but for now, arrogantly presuming anyone is actually going to buy one, what i'd like in return more than anything is comprehensive and constructive criticism (or praise) concerning the dimensions, the quality, the way it 'carries', strap lengths and so on...fair enough?
these are all made using top quality products purchased from respectable sellers...15oz water-proof and rot-proof olive canvas, black webbing and side release buckles to make adjustable straps, gutermann extra-upholstery thread and stitched on a Singer 201k-2...some of them have hand-made leather patches, others machine-pressed....some are plain...all patches have not only been polished with finish but also waxed with carnauba to give rain-fall a hard time lol...i've stitched the inside seams multiple times, the extremities of the flaps and inside edges of each are all folded over twice and stitched, every line has been back-stitched so there are no loose ends to unravel etc etc and as far as i can tell they should all be pretty much indestructable (famous last words)...the pictures show good examples of what will fit into each one...its quite surprising how roomy they are, even the smaller ones...
if interested please post on here and then pm me with your full details...prices are to U.K. only and include 2nd class post, i'll obtain a proof of posting...if abroad please email first...
so with no further a-do...first up we have...:
THE FORAGER MARKII (marks I & 3 will be coming soon)...finished dimensions 6" wide, 9" long. One available. Price £12
this is an open-topped bag with no closure, 1" wide strap and an external pocket designed for personal foraging for mussels, limpets, herbs, nuts and so on...it has no patch because, as i see it, it'll only get ruined by a beach environment or contribute to a lack of hygiene and presumably a foraging bag will need constant cleaning/washing and thats only gonna cause problems for any pretty leatherwork. can be worn over the shoulder/round the neck or of course threaded through your belt loops and worn on the hip. (no, i didnt carve the spoon...it is another fine piece of work by my friend Craig of Leaflifebushcraft...as is the kuksa lower down).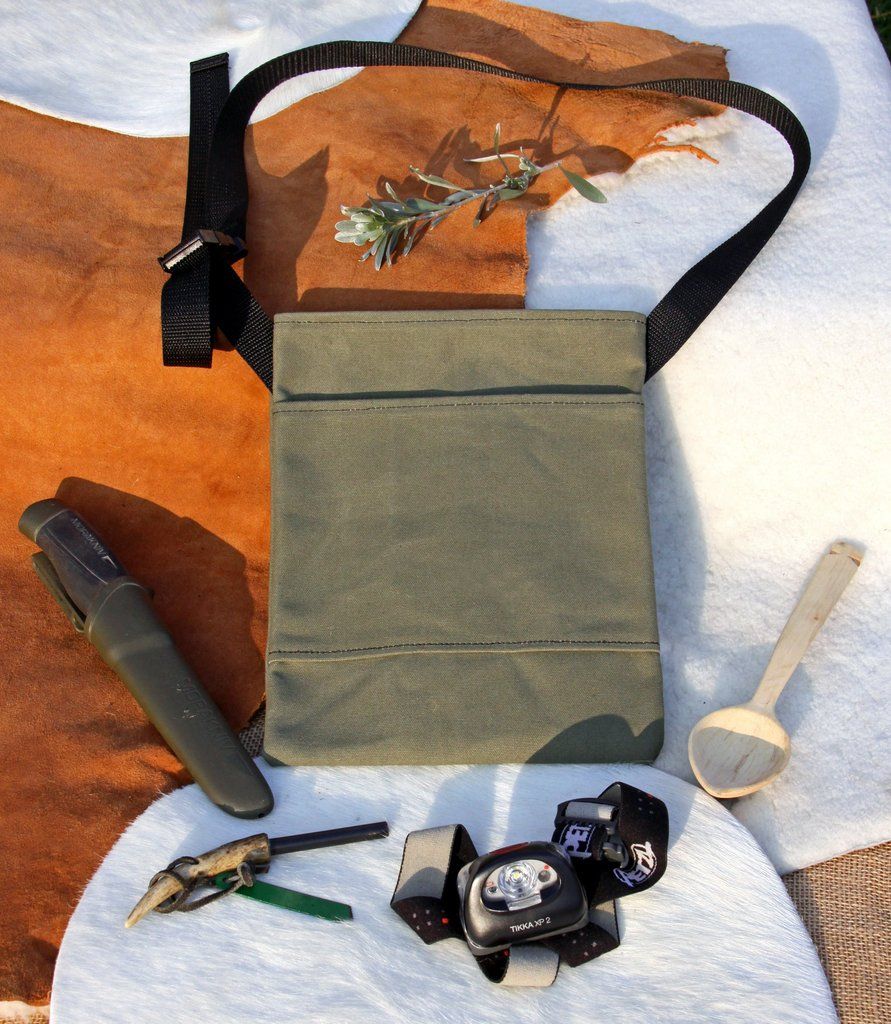 THE TIDY...finished dimensions 6" wide, 8.5" long. Three available. Price £15
before anyone goes calling it a purse, i'd like to point out that this is a man-bag lol...smallish and compact and ideal for those smaller bits of kit and personal stuff...ladies are of course allowed to use but please, its a man bag ok? has an internal pocket, a 1" wide strap and can either be worn by itself or of course stashed inside a larger bag.
THE STROLLER...finished dimensions 11" wide, 9.5" long. None available. Price £22
SOLD TO SIR DURHAM
a nicely sized utility bag i guess with a 1.5" wide strap...big enough to take your tree identification book, compass, drink, maps and so on...ideal if you fancy stretching your legs and going light and just want something big enough to take the essentials...it also has an internal pocket.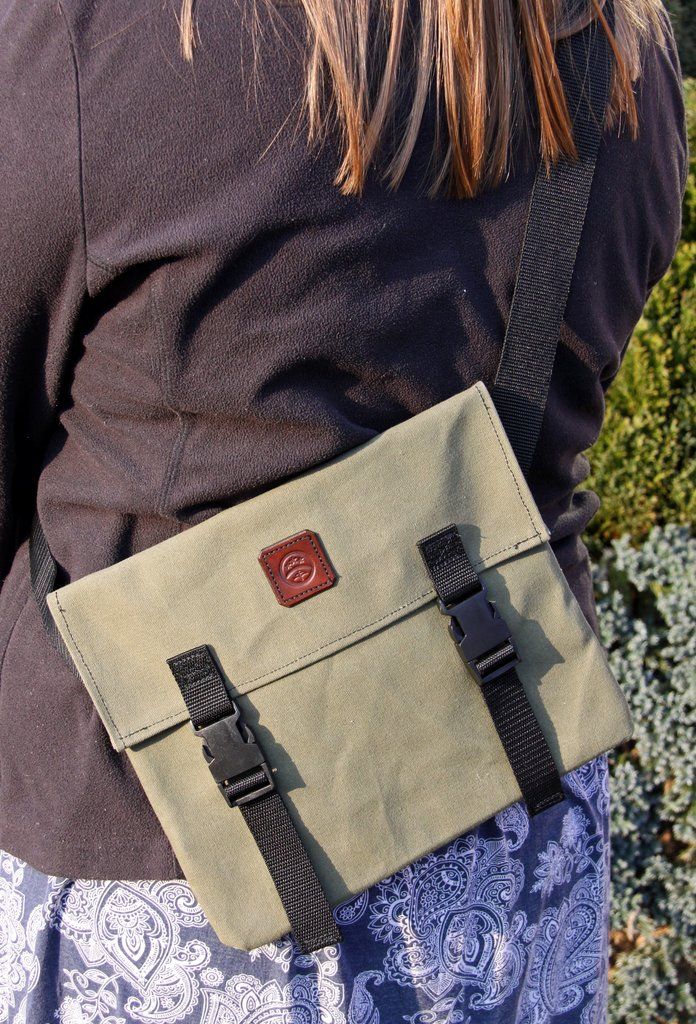 THE WALKER...finished dimensions 13" wide, 14" long. None available. Price £26.
Both sold to Beach and Bryn
this is a step up in size from The Stroller for those who want to take a bit more gear with them such as a gas stove, osprey bottle...you get the idea...and unless you'll be chopping wood, should be just the job to carry what you need for a slightly longer walk, like sarnies, flask etc etc. it has a 1.5" shoulder strap and an internal pocket - a good all round bag. (didn't get a picture of angela modelling this one because i'd not got round to sewing the black patches on lolol! in the picture i've simply laid them on the surface, but yes, they'll be attached by tomorrow lol...its mid-way between The Stroller and The Rambler pretty much).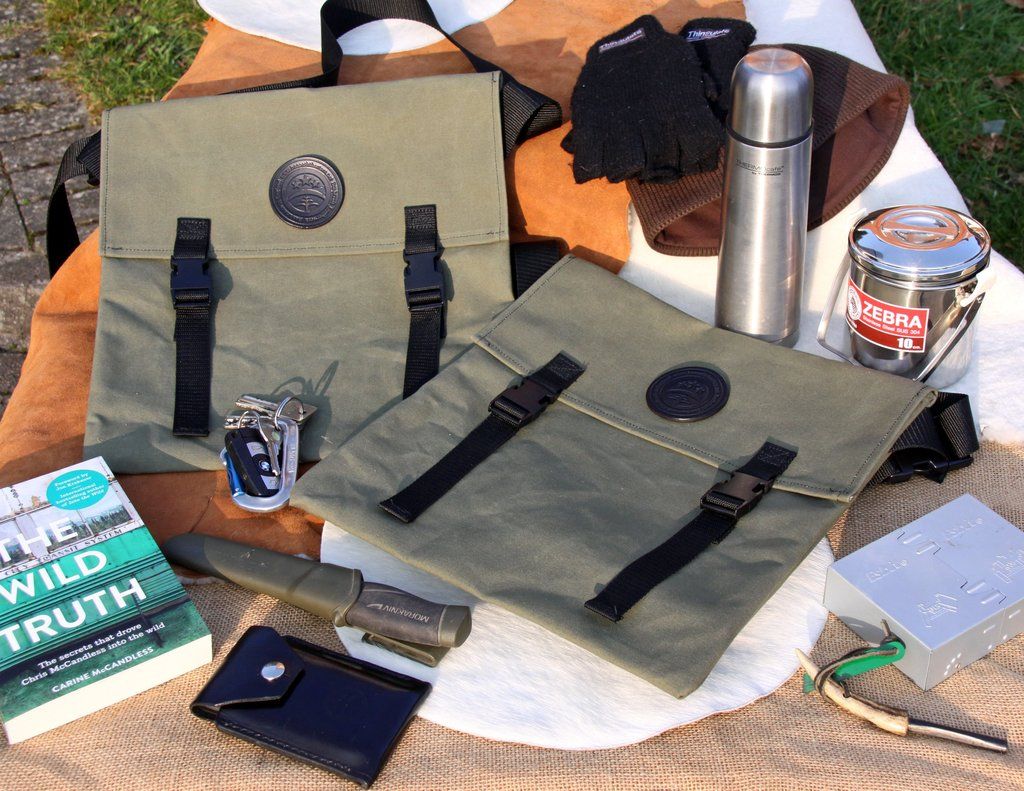 THE RAMBLER...finished dimensions 11" wide, 17.5" long. Two available. Price £29.
One sold to Stingray
now this bag i really like and i have nicked one for myself...really rather spacious and as the picture shows it can house a Gransfors Bruks Wildlife Hatchet along with other butch items such as knife, billy can and osprey bottle with room left over for more. it has a 2" wide shoulder strap, 1.5" wide closure strap and buckle and an internal pocket. very handy, very usable and very comfortable. as mentioned, i've now started using this model myself...nuff said.
AND LAST BUT ABSOLUTELY CERTAINLY NOT LEAST....THESE BEAUTIES....
THE GRANSFORS BRUKS SMALL FOREST AXE AXE-BAG...finished dimensions 9" wide, 21" long. One available....
Four sold to Ferret, Ruud, Beigevolvo and Woodland (and i've another dozen cut ready to be worked on...)
Price £35
these are a classic example of the picture not doing them justice...they're lovely. luxurious. end of. made of massive 20oz water-proof and rot-proof canvas which is so flippn' manly that if anyone was to suggest they need a gusset inside to strengthen them i'd simply laugh my head off. this stuff is so heavy that you could build Roger Harringtons Bison Bushcraft set-up out of it with ease and my Singer starts blubbing every time i cut the blanks out because it knows it's in for a really tough nights work...its a gorgeous fabric, deep olive, waxy and i've stitched them with dark brown thread. as with all the above bags i've angled the straps to ensure a comfortable and evenly distributed 'carry' (at least i've modelled them on my own frame and theyre good for my build) and totally gone to town with strong, multiple internal stitching. these are hard work to make and i've done my very best to make these to the utmost of my ability...i love them and so do all my mates and neighbours who've seen them. the opening has a 2.5" 'fold-back'' meaning effectively its 40oz both sides, they have a 1.5" wide closure system and a 2" wide shoulder strap, which again as with all my bags, is adjustable. a G.B. S.F.A. is 50cm long and the head length of my one, which has one of my sheaths on it, is 18cm. these bags have a little bit of room to take something slightly! longer and will take more than one axe easily, hence why i've included other items in the picture. and yes, i'm now using one of these myself.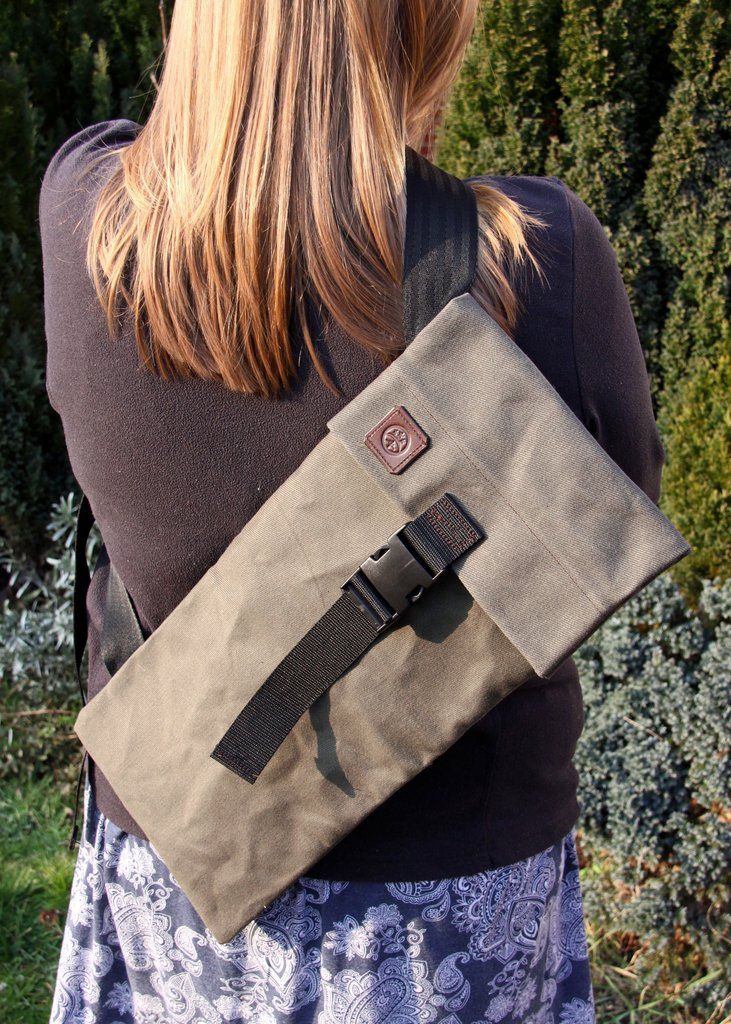 ok, thassit for now...hope you like and as always, comments and input appreciated!
Regards (back to the sewing machine now to make British Army some tarp bags),
Sonni
Last edited: