Mar 5, 2008
25,170
1,275
60
Finally got around to sorting out what pictures I took at the Bushcraft Magazine May meet this year.
The site is down in deepest Kent near to Egerton, and is a split level field. Unfortunately the heavy rain that there had been the previous couple of days made the lower section rather boggy so the guys had to do a bit of rearranging of where things went but personally speaking I feel that made for a better meet.
Luckily the upper section whilst wet, was fine for pitching on apart from the re-hydrated sheep droppings
Both Shark Designs and Bison Bushcraft had stalls there selling some interesting bits and pieces but I managed to resist their temptations. Ross from Kaos Forge was also there doing demonstrations and running make your own knife or fire steel sessions.
Anyway to the pictures
My home for the weekend
My dinner the first evening, 21 day aged rump steak, cooked bleu with buttered new potatoes and fresh picked ramsons... nom nom nom
This lovely lady is Carol, a master forager and wonderful wild food cook
And this is some of her tasty wares, alexander tartlet and a wonderful idea with cheese I'll describe in the next pictures
Wild leaf salad with feta cheese
Take a small Brie wheel out it's box and slice into 3 sections. Put a load of sliced up ramsons on the first section and put the middle section on.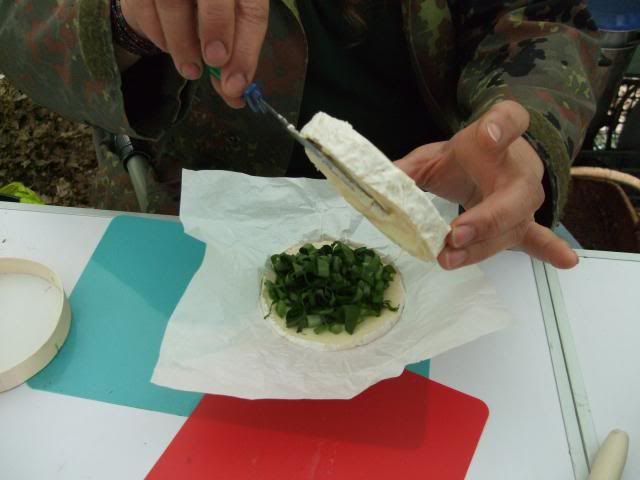 Then repeat the process with more ramsons. Use the stalks as well as they're very tasty indeed.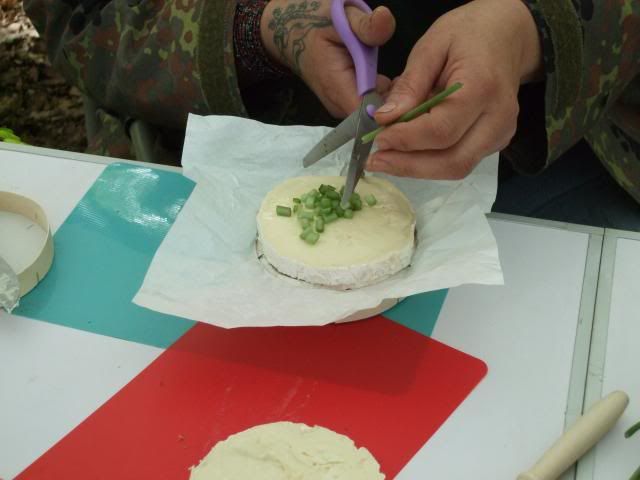 Once you've put the last layer of brie back place in the wrapper (having peeled the plastic part off) and put the whole thing back in it's box and in a dutch oven and bake for 20 minutes or so until the middle has melted down and then tuck in. Unfortunately I forgot to get a picture of the finished stage as I was too busy sampling it
If you don't have ramsons to hand then a savoury pickle is a suitable alternative so it's going to be tried out at Dingly Dell this year
The Pirates had their archery range and kit out for folks to have a go at as well as axe throwing
For the Robin Hoods amongst the people who tried there was this special target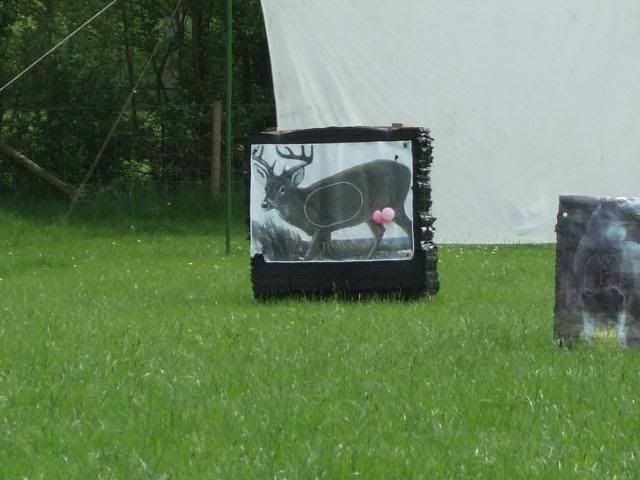 There's a fire face peeking out at me from behind the log on the on the right...
He's still looking
Every day started with a morning briefing of what activities were on offer that day
A piece of natural art created during one of the children's activities
Here we have Steve Kirk projecting an image of the sun onto the board and he's pointing out sunspots
One of the stools created by a green woodworker that was on site
There was a bodgers corner where you could have a go on the pole lathe and carving
I missed this being made but it's a great hurdle for sure
As well as this chair that was under construction
This rather proud looking young man had forged the knife that day, then turned the handle on the pole lathe and was just about to carve out a wooden sheath for it. Talk about hand made
There was a stick maker who has made sticks and wands for a variety of television programs including Merlin as well as films. Unfortunately I forgot his name
but these are a few of his sticks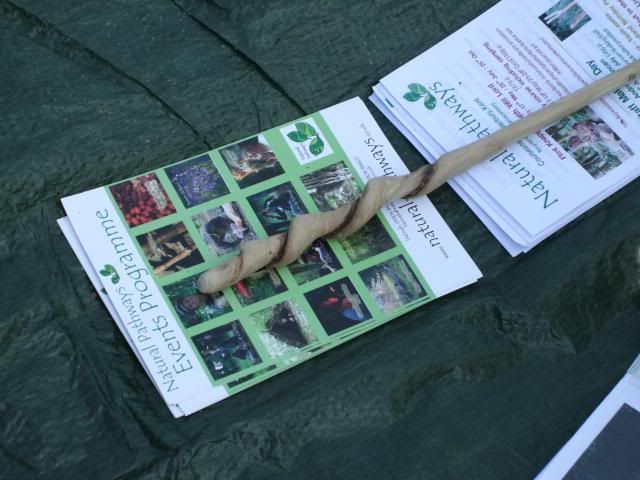 This was his stick making class
Ross with his forge
There was also a lady who was demonstrating spinning and you could have a go as well
The caterers for the weekend were the
Wild Food Catering
who had some very tasty things to try. Their pulled boar rolls were especially nice
That's all my pics but there were a lot of activities going on, foraging, game prep including a deer, pyrography and para cord bracelets, fire by friction, leatherwork, spoon carving etc etc.
Many thanks to Steve Kirk, Mafro, Bardster and every one else who helped to organise the event. All in all it was a very enjoyable weekend and I'll be going back next year.
Last edited: