Review
Whitby & Co Hand Warmer
By John Fenna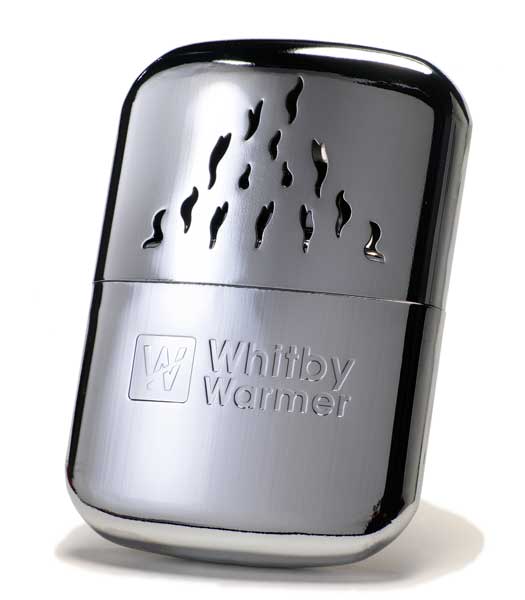 Hand warmers that run on lighter fuel are not a new idea, but the Whitby & Co Hand Warmer is new to their range and works very well.
Basically you have a chromed steel fuel container, a flameless catalytic burner and a vented cover. The container is filled with lighter fluid such as "Zippo" or "Swan", using a supplied filling cup, the burner is lit and the vented cover fitted. The Hand Warmer is then slipped into the protective fleece bag and you are good for 6 hours (single filling), or 12 hours (double filling) of toasty warmth. The flameless burner will give around 90 uses of 12-hour burns and replacements are available separately.
This very attractive, simple, efficient and user-friendly hand warmer measures approx 10.5cm x 7cm x 1.5cm, weighs about 85 gms, comes with a 2-year warranty and a detailed instruction manual.
I have been giving the review sample a real battering; it still looks as good as new, and functions flawlessly – although there is a constant odour of fuel, just as you get when using a Zippo type lighter!
I really like this hand warmer and, as it costs only around £15, I am sure it will be very popular.
For more information visit www.whitbyandco.co.uk
Tel 01539 721032