The Trent Field knife is one of the original offerings from the Trent knife & Tool company run by Elliot Trent. Elliot has taken his background in furniture making and applied it to a sleek and practical tool.
First Impressions
First impressions are good, I picked this knife up from Elliot as his workshop near Bournemouth and we had a chat through some of his design decisions and materials, his thoughts are a mix of aesthetics and usability, there's nothing flamboyant about this Trent knife and I think that Elliot has achieved what he set out to by making a very usable tool that looks and feels good your hand.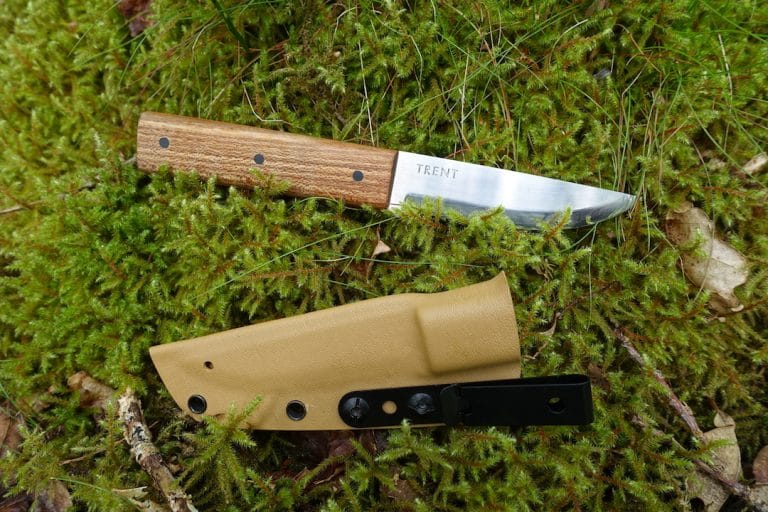 Manufacturers knife description

This is the Trent Knife & Tool (TKT) 'Allen' field knife. I figured I want to come up with a decent naming convention for my knives and given my love for Dorset's chalkstreams I thought it would be an ideal match. The River Allen is a short and narrow stretch of water which is underestimated by many anglers – where it infact hosts some of the best populations of trout and grayling the country has to offer. I feel this knife could be quite easily underestimated due to its simple form, when it is infact capable of a variety of tasks – hence my choice of the name.

This knife is a simple design made with time proven O1 tool steel in 3mm thickness. I offer the knife in a choice of two grinds, either a high sabre grind or a ' scandivex' (low convex grind) to cover a variety of needs. It's also available in a range of handle material combinations – prices vary slightly per material cost.

The knife is supplied with a Kydex sheath, which was chosen due to it's practicality – this is a user knife and the thought of carbon steel sitting in a saturated wet leather sheath doesnt sit so well with me.It's guaranteed for life by me and you can send it in for sharpening whenever you like.

This is a made to order item with a maximum lead time of 14 days at this point in time.

Rough dimensions:

100mm blade, 110mm handle, 25mm tall, 
 max thickness of handle 20mm.
In Use:
I've been using this knife for a couple of months now as my go to knife and it's performed very well. The handle design looks like it could get uncomfortable but the coffin shaped handle is a good shape for using, it's secure and nicely tactile. Personally, I would want something just a little thicker, but it wasn't a big issue and I have fairly large hands, before giving me the knife Elliot had pointed out that the knife he handed me for review was slightly slimmer than the other one he had available.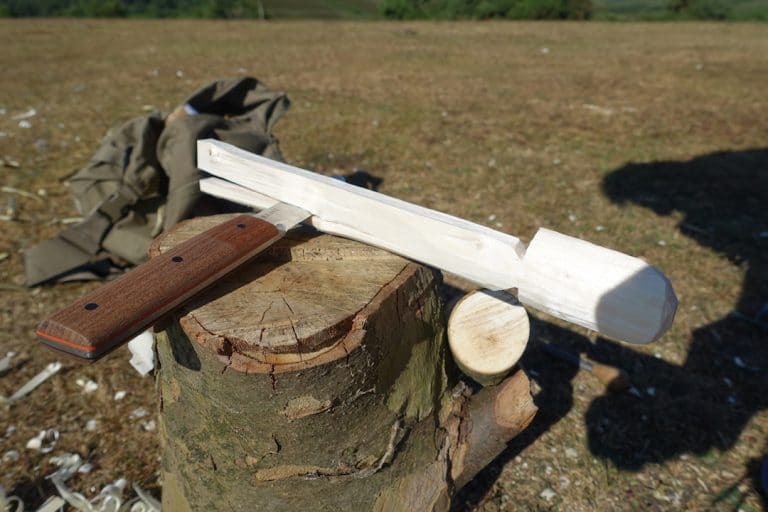 I think this is one of the great things about the setup Elliot has, no two knives are exactly alike, there's plenty of choice in materials, you can have your knife put together with a variety of woods such as Elm, Sycamore, London Plane, Wenge, Black Walnut, Maple and Oak, you can pick orange or black for your liners and also between Scandivex and High Saber grinds, all this combined means you can get a fairly individualised knife that you can really call your own.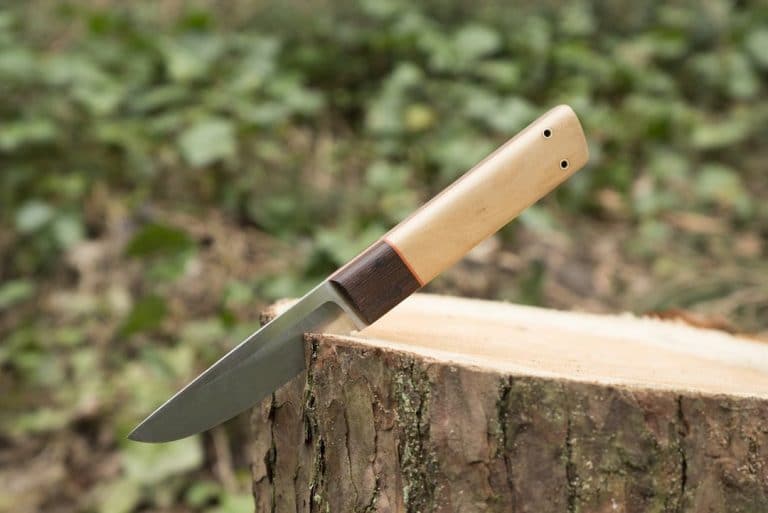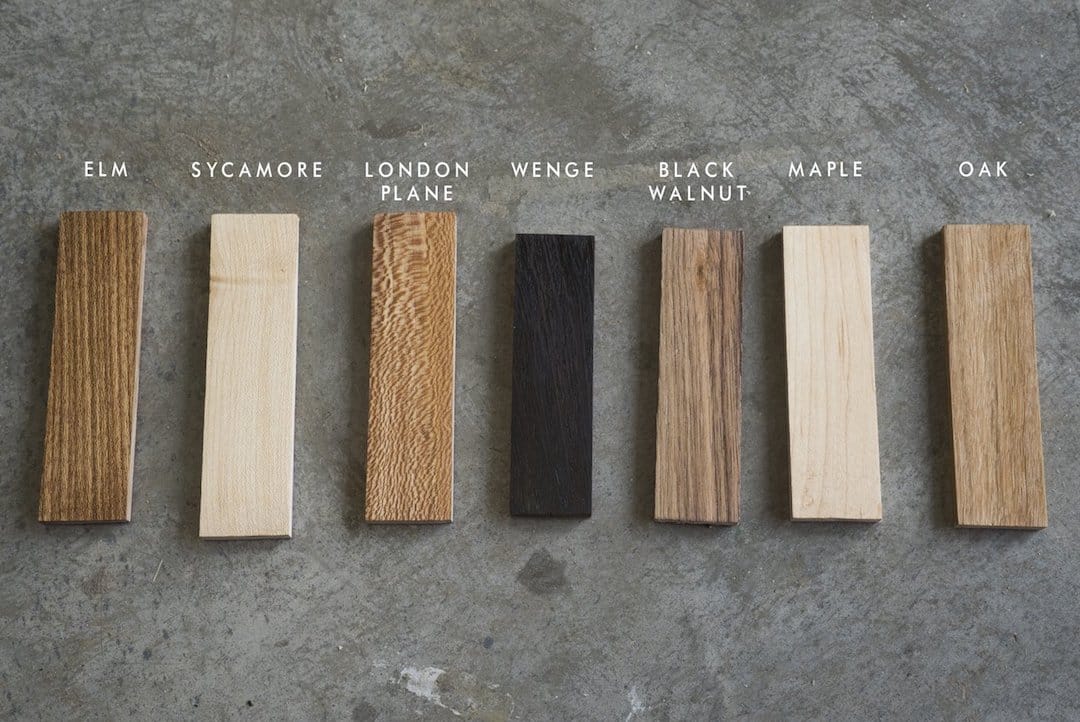 I like the look of this knife and I love the weight of it, it's solid without being heavy, it is easy to use for long periods and I didn't develop any hotspots other than when I was throttling the blade for long periods carving spoons, netting needles and the like. With its 3mm blade (as opposed to 4mm and thicker that's often found on bushcraft knives) it's still strong while being lighter at 130g and very usable.
While reviewing this knife I have covered many different tasks, such as:
– Carving – Traps, Spoons, netting needles, pot holders, stakes, walking sticks, Fire lighting set, holes.
– Battoning – Beech, Oak, Sycamore, Hazel, Lime, Spruce
– Fish, Meat and Veg Prep
– Scraper
– Cutting – Rope, cardboard, leather, cotton, plastic, skin (only a little nick!), paper and roots.
– Feather sticks
– Fire lighting – Knife and Ferro rod
– Debarking, cordage making
– Leatherwork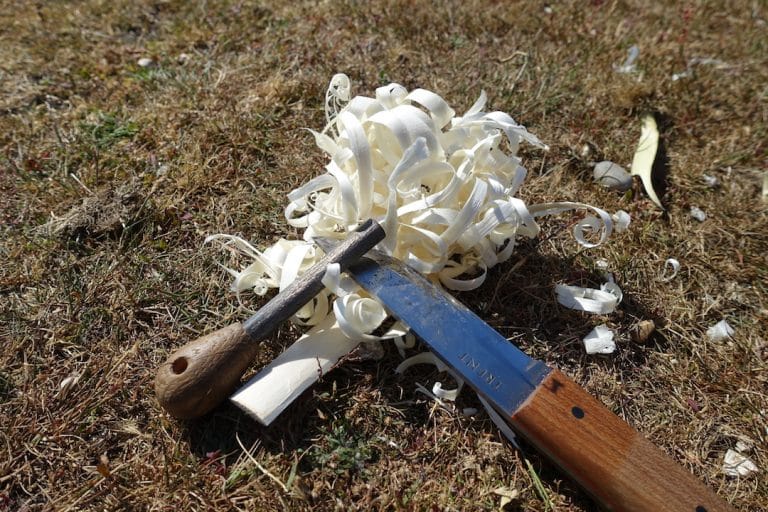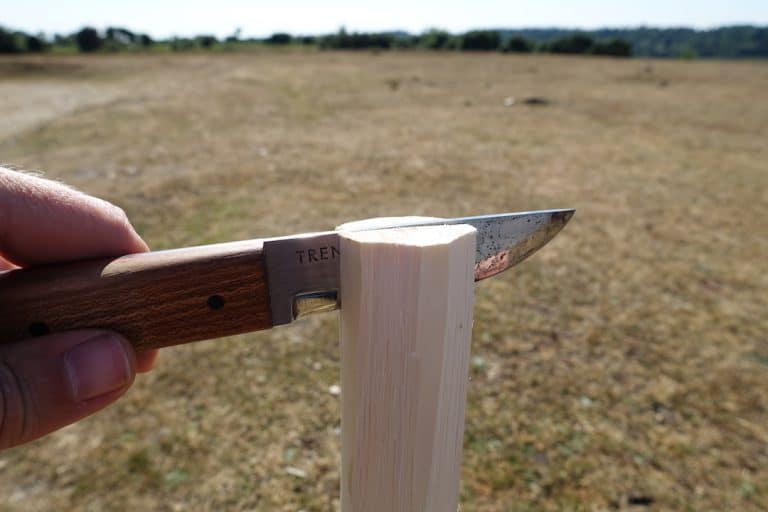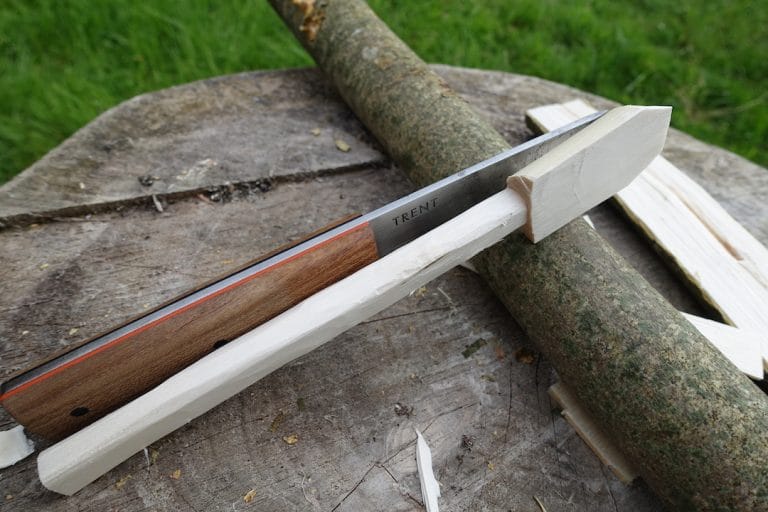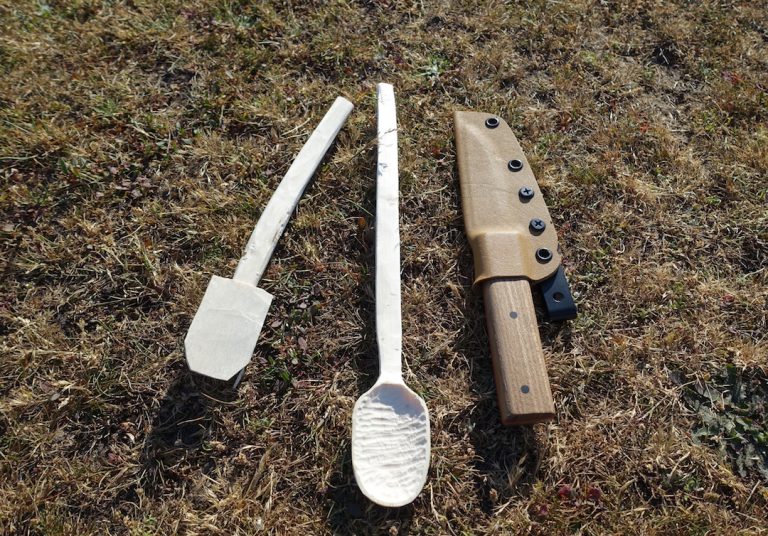 I had intended on carving the More Try Sick but never got around to it, I have no doubt that it would perform well. I think my next project will be to see how it does with carving a Wood Spirit, I'll update the article with pictures.
A few people mentioned the lack of guard, no Choil etc, but in use the knife always felt secure, personally I've never worried about having these things on a knife, so in part this might be personal preference, I didn't feel like the knife was lacking anything by having a straight transition from the handle to blade even when the knife was bloody or wet.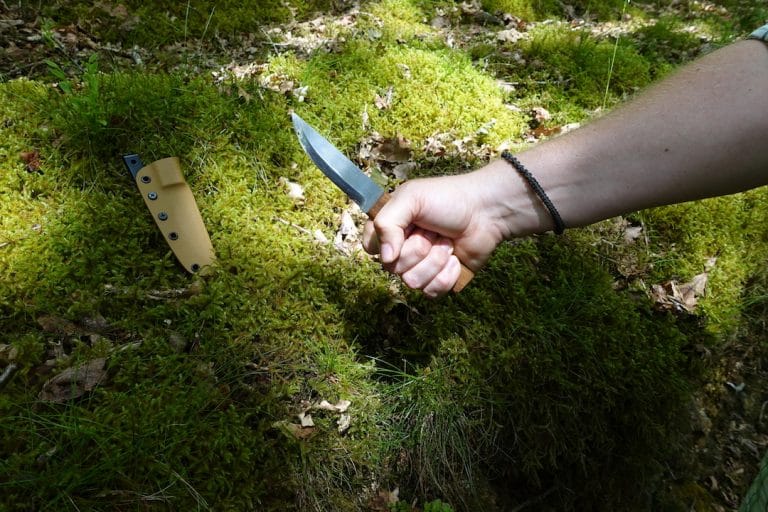 The knife looks like it has a completely straight back but it has a subtle change in handle shape and a more pronounced drop from the handle to the tip of the blade. It's easy to look at the knife and think it's very basic but there's some subtle design applied that adds to the feel and user experience, I think Elliot has done a good job balancing his desire to keep to his design ideals and creating a usable tool.
Sharpening:
I reviewed the Scandivex edged knife that Elliot offered as opposed to the High Sabre grind. I've always liked knives with convex edges, the bushcraft world has become quite rigid in its need for a knife to have a Scandi grind to qualify as a bushcraft knife. I accept that for many people the Scandi is an easy to sharpen edge and can be a good knife use and maintain, however, anyone that is inclined can learn to sharpen whichever knife they want to use.
I find it refreshing to get a knife for review that's a bit different from the accepted norm and guess what… It's easy to sharpen! I've kept the edge with a stropping now and then, it keeps the natural convex shape while putting a lovely edge back on the knife.  If it needs more than that a mouse mat with a variety of grits attached on top will allow me to keep the profile while restoring the edge.
Sheath:
In the knife description above it talks about why there's no leather sheath option for the knife but instead, it comes with a Kydex sheath that weighs in at just 46g giving a combined total of 176g for the knife and sheath together, that's great for carrying.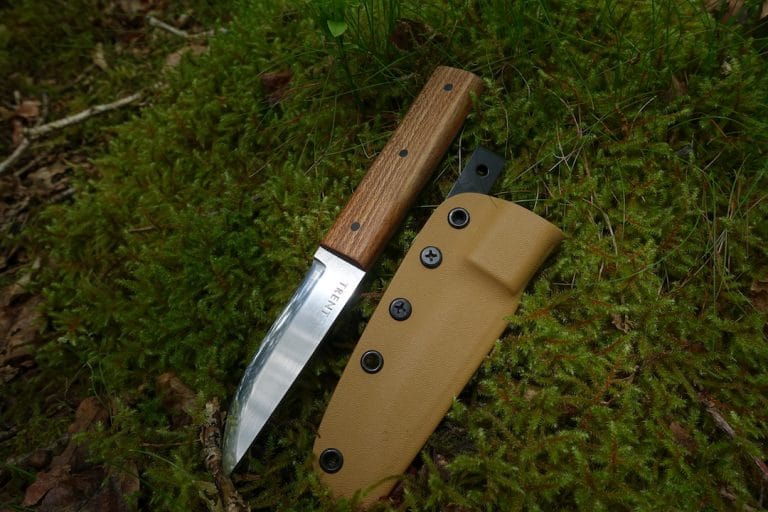 The design is a simple wrap around, nicely shaped and holds the knife securely, although I would not carry it upside down, I don't think I would trust it to that degree.
The clip is imported from the US and works well, it's very secure on the belt or in the pocket and the design allows for the clip to be moved for a higher or lower carry.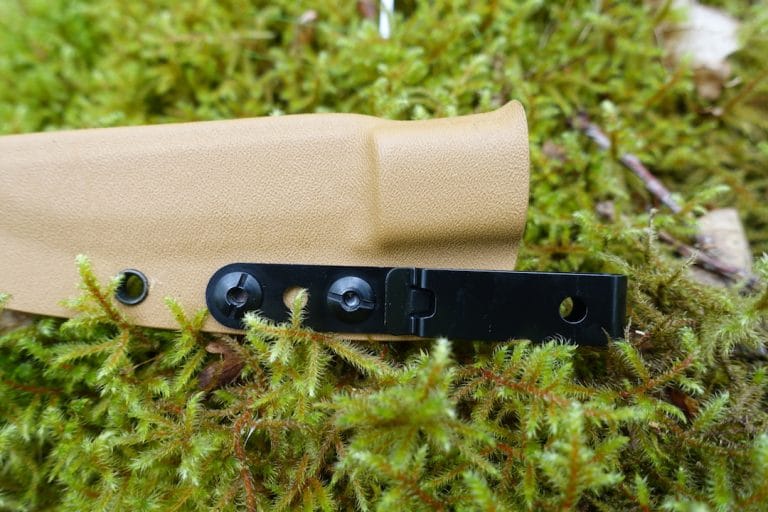 The sheath works well, the knife is easy to extract and put back, it's slim and tough and does the job.
Conclusion:
At £120 the knife is competing with a lot of different manufactures and a few other bespoke knife makers which means that there's a lot of choice for people who have the money and time to pick and choose. Ultimately, if you're happy to pay £120 for a knife the Trent knife & Tool 'Allen' Field knife will not disappoint. I have a lot of knives available to use and I'm still picking it up as my first choice, that's a good indicator for me!
Elliot's been producing some different knives as well, half tangs that look very nice.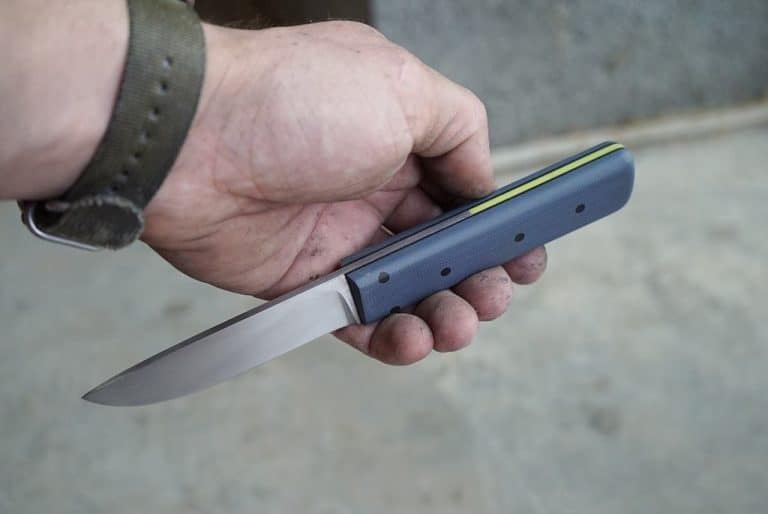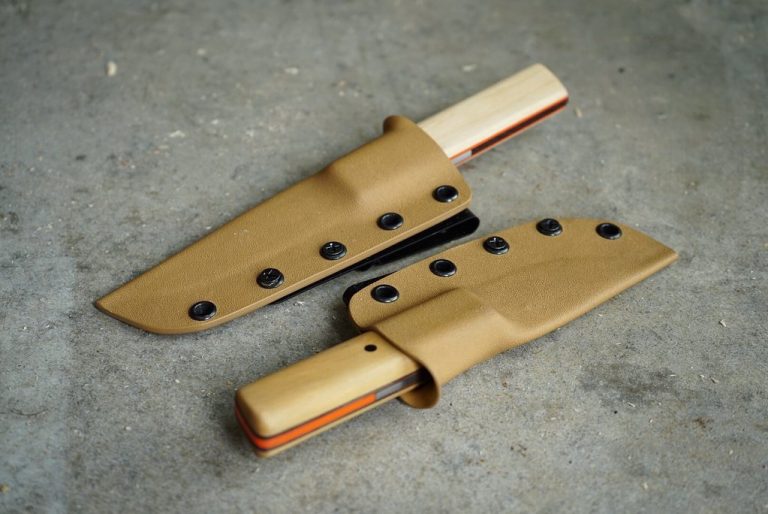 If you want to have a look for yourself you can purchase online at Trent Knife & Tool
You can also get hold of Elliot directly on the Bushcraft UK forums Here