I was a bit unsure what to expect from this book, I've known John to be a top ranking bushcraft instructor to those attending his general courses at his Woodcraft School as well as those that have attended his long-standing instructor training programme, that means that he's got a phenomenal amount of knowledge and experience to draw on, way too much to get into a book, so the question was; What has he chosen to put into the book?
My first impression was good, I liked the understated cover that leaves you in no doubt that this is a book about Woodcraft and that this book is about trees and their many uses.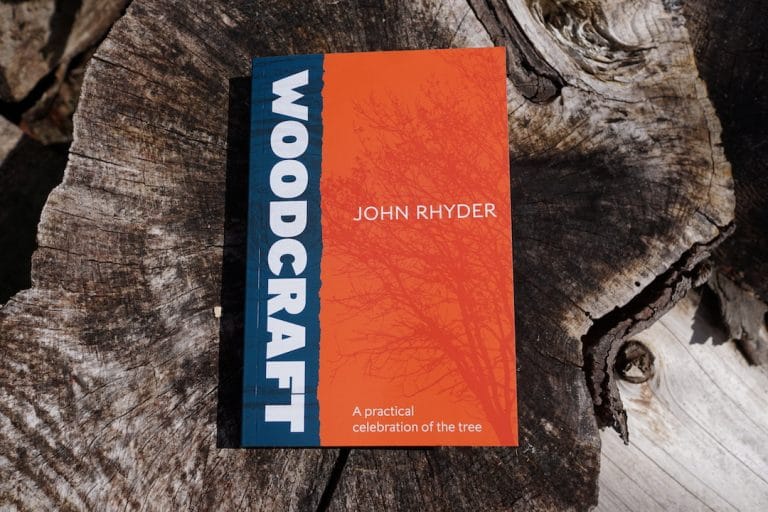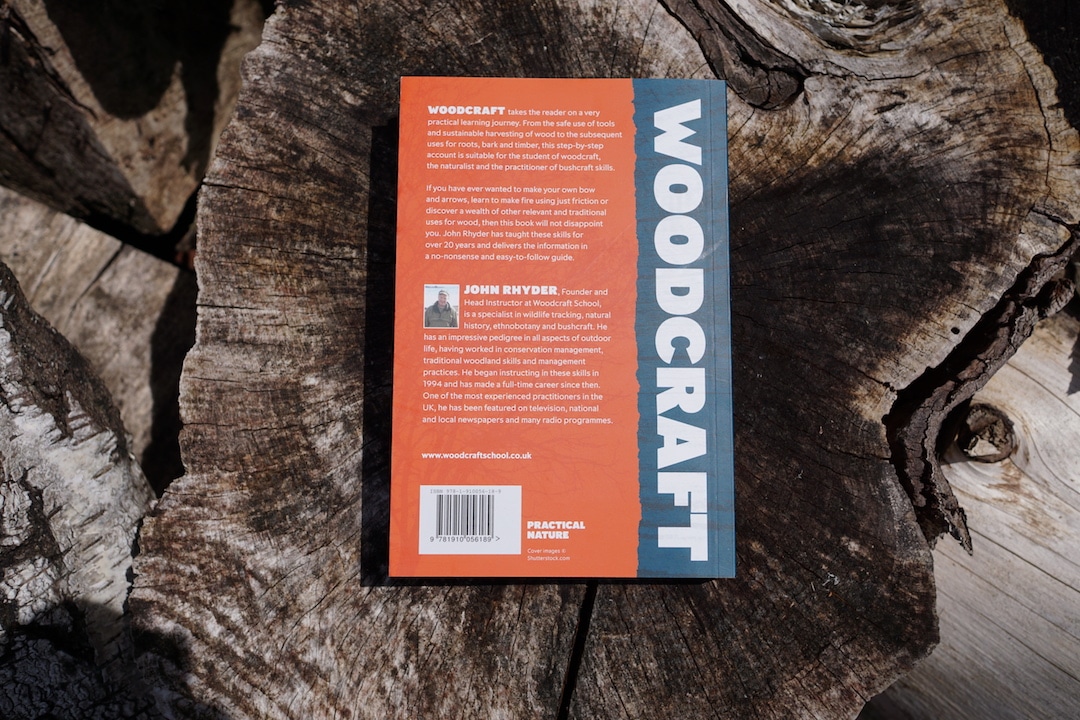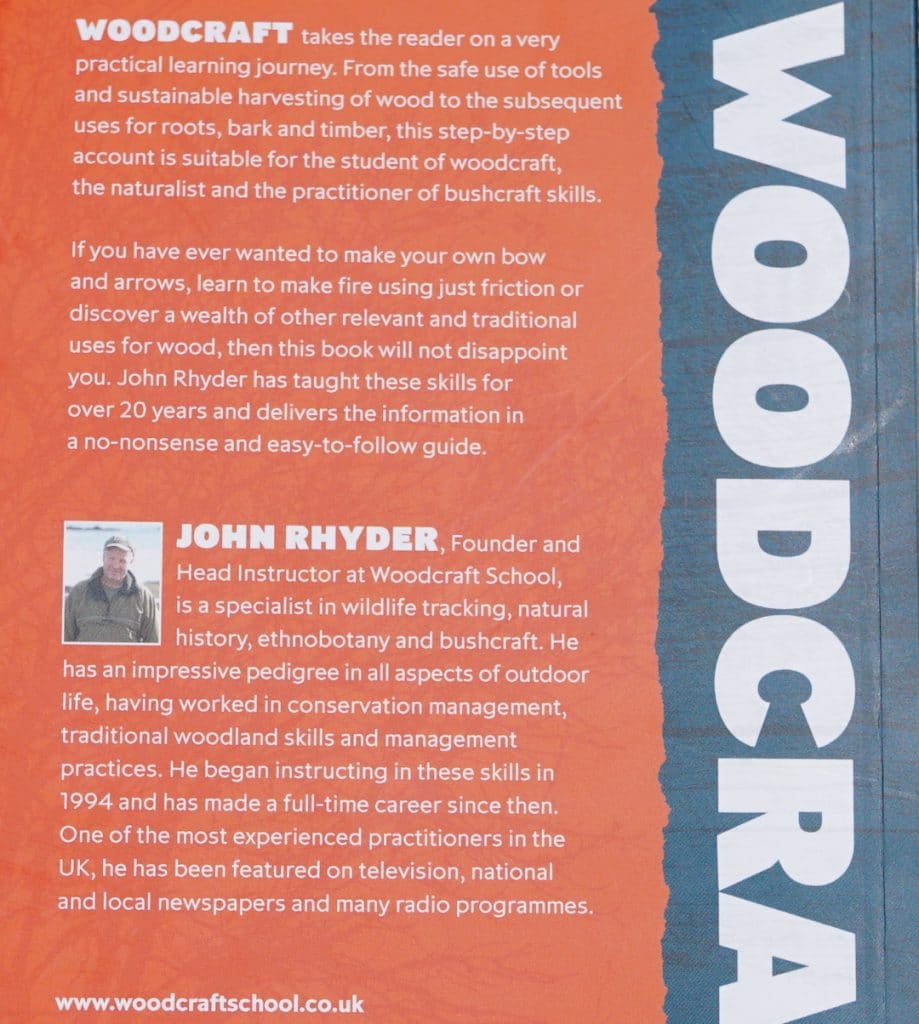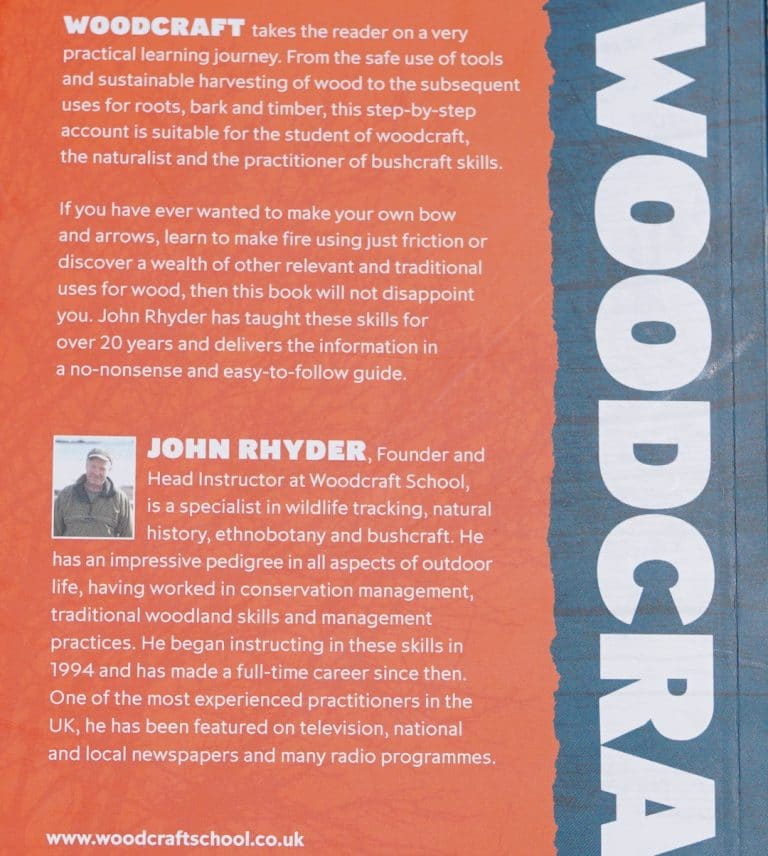 The book comes in paperback format and is fairly hefty, weighing in at 672g and covering nearly 400 pages, so it's not a book you slide into your pocket when you're going on a stroll, but it would be fine dropped into your pack if you wanted to practice some of the contents while you're out in the woods. It's a good quality publication with a nice thick cover that should stand up to some proper use, although I would be careful with it if you want it to last more than a few forays into the wilds.
The book is broken down into 9 main section and these show where the focus of the book is, it would have been easy to try to stuff as many subjects as possible into these pages but John has found his focus and prioritised the areas that he feels are the most important and given them the space they need so that the book can be a useful tool in learning rather than a coffee table book to browse and put back down.
The Book breaks down like this:

          Introduction
Felling and harvesting
Choosing and maintaining tools
Using tools and carving
Bow making
Bark, roots and withies
Fire
Glue, dye, ink and charcoal
Foliage, features and fungi
Ropes and knots
Further reading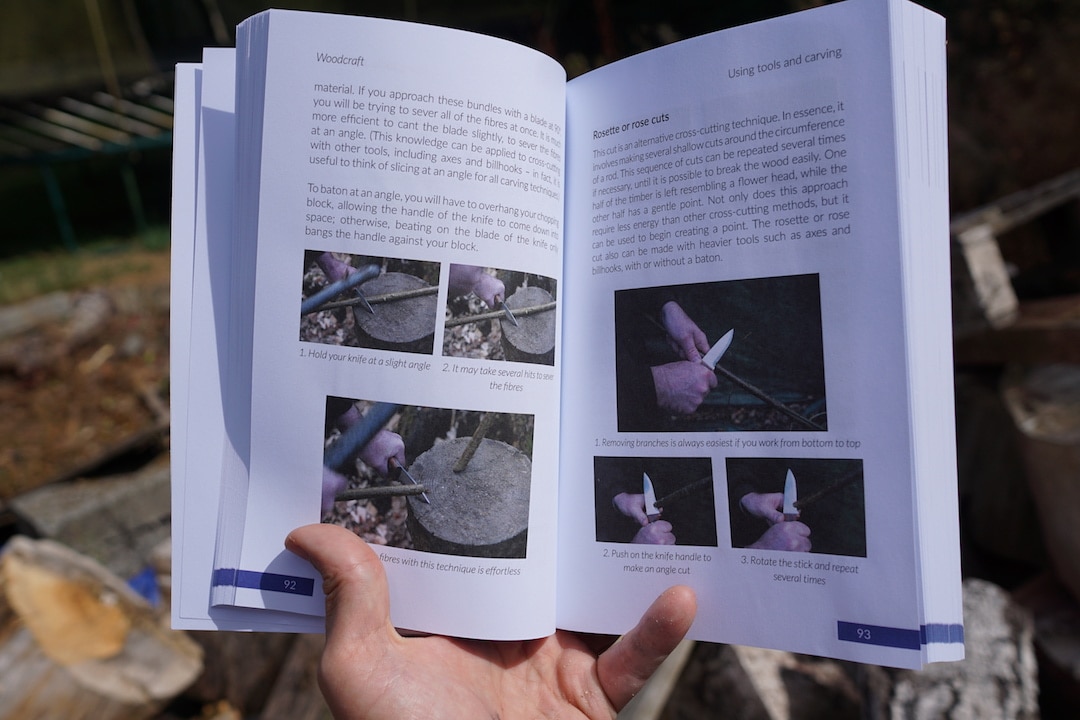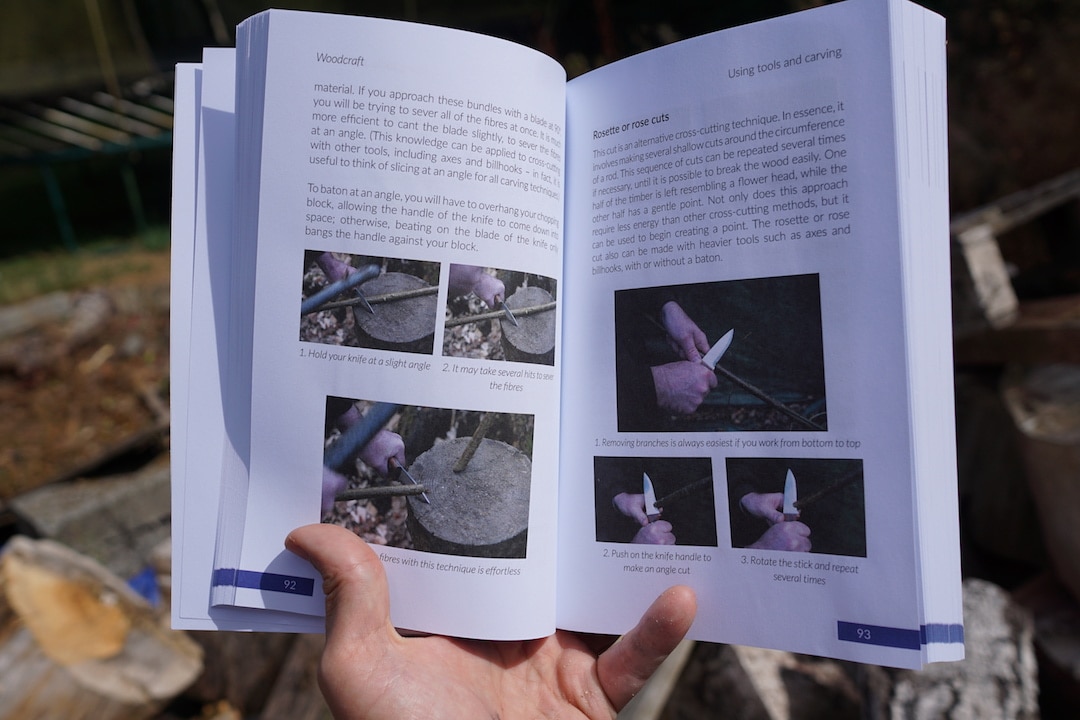 After reading this book from cover to cover I can confidently say that it's comprehensive, it is never going to teach you to the same standard as an instructor and hands on tuition, but you will get a lot from it, it's format is quite textbook like, it's easy to read and has lots of illustrative images throughout the book with just one line drawing in the bow making section.
It's obvious that John has aimed to produce a book that doesn't leave bit's out, with this book and some patient practice you'll be able to learn a lot of skills. Wood working is a tactile endeavour and feeling your way through certain processes will take time and repetition but you would gradually learn what feels right and what doesn't and this is a great resource to help you on that journey.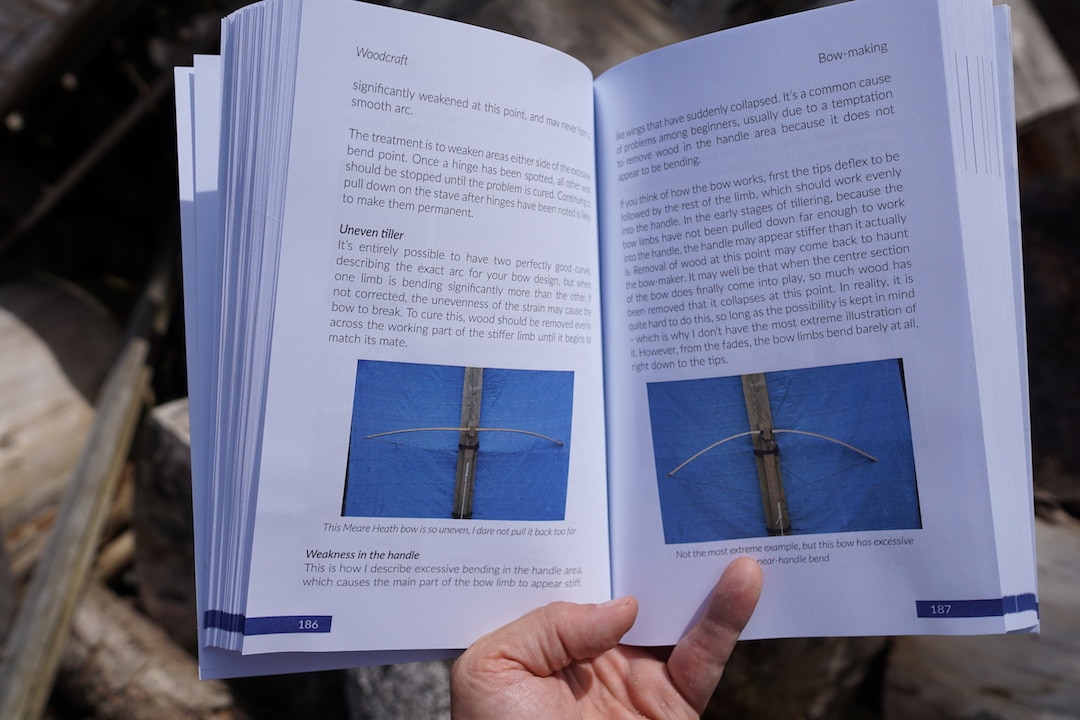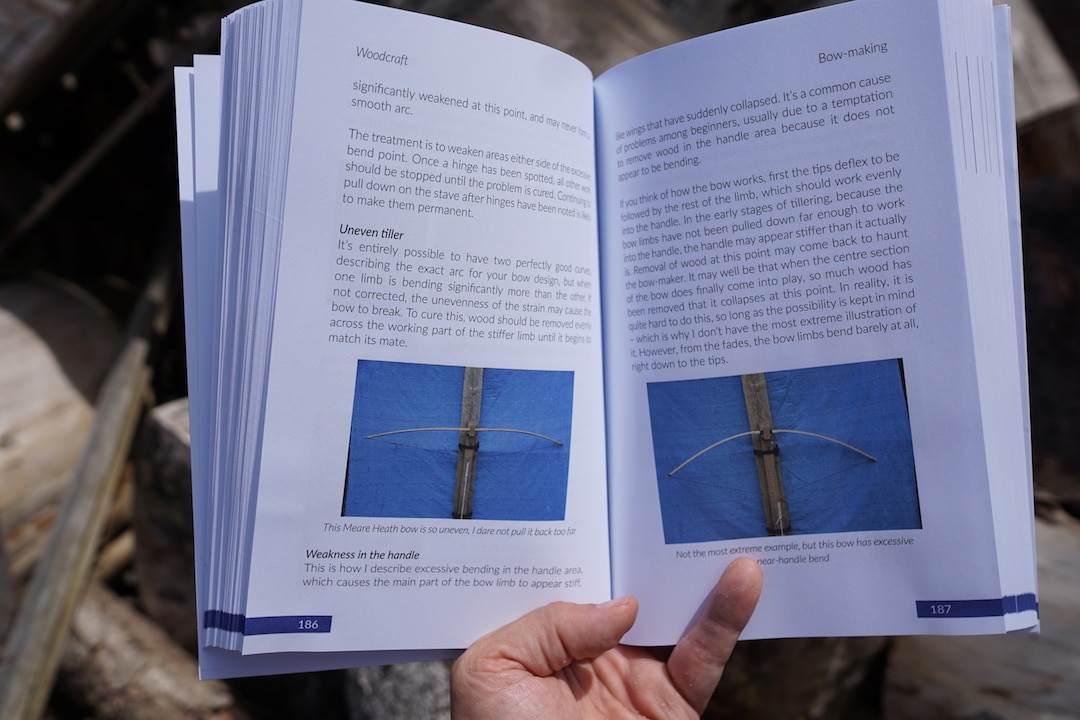 Some people that have attended bushcraft courses, had instruction or are experienced already, will find some of the book a bit basic for them, many people know different cuts and as John points out in the book, Spoon carving has become very popular over the last few years, so some of you may not delve deeply into that area of the book, but I would add a caution here, although some of the information in this book has covered in other books, on TV etc, there are likely little nuggets that will enhance your learning, understanding, experience and enjoyment.
John has written a great introduction to the book, laying out what the books is for, some personal experiences and encouragement to the readers to get stuck in a try things out, things won't be perfect to start with but it will come if you practice.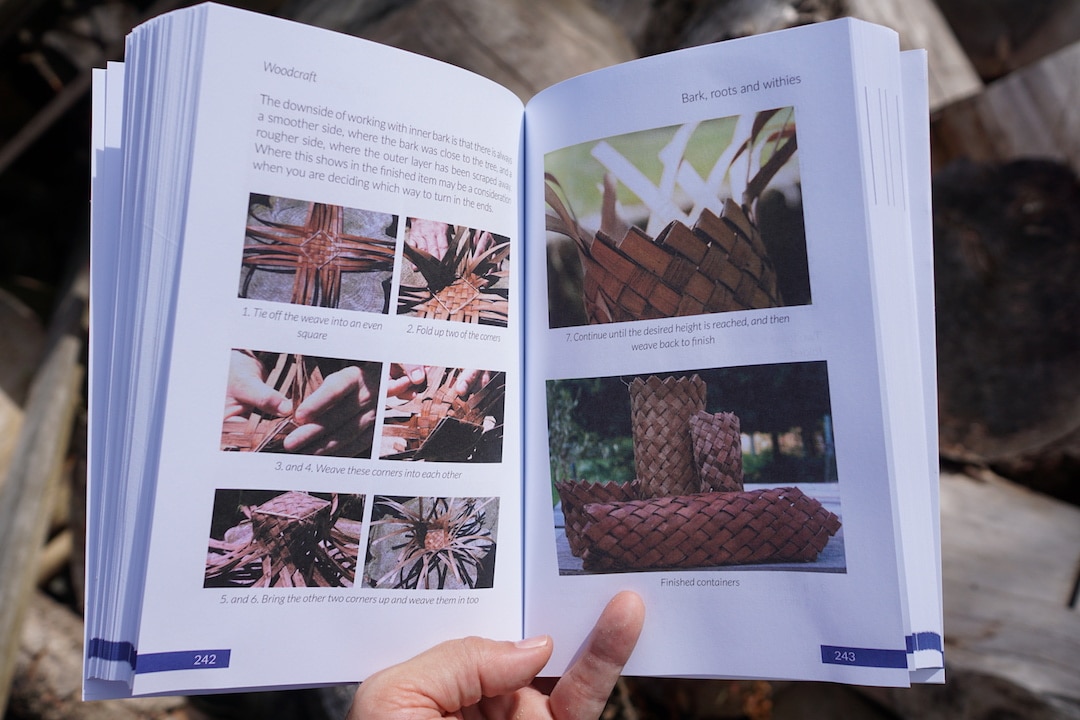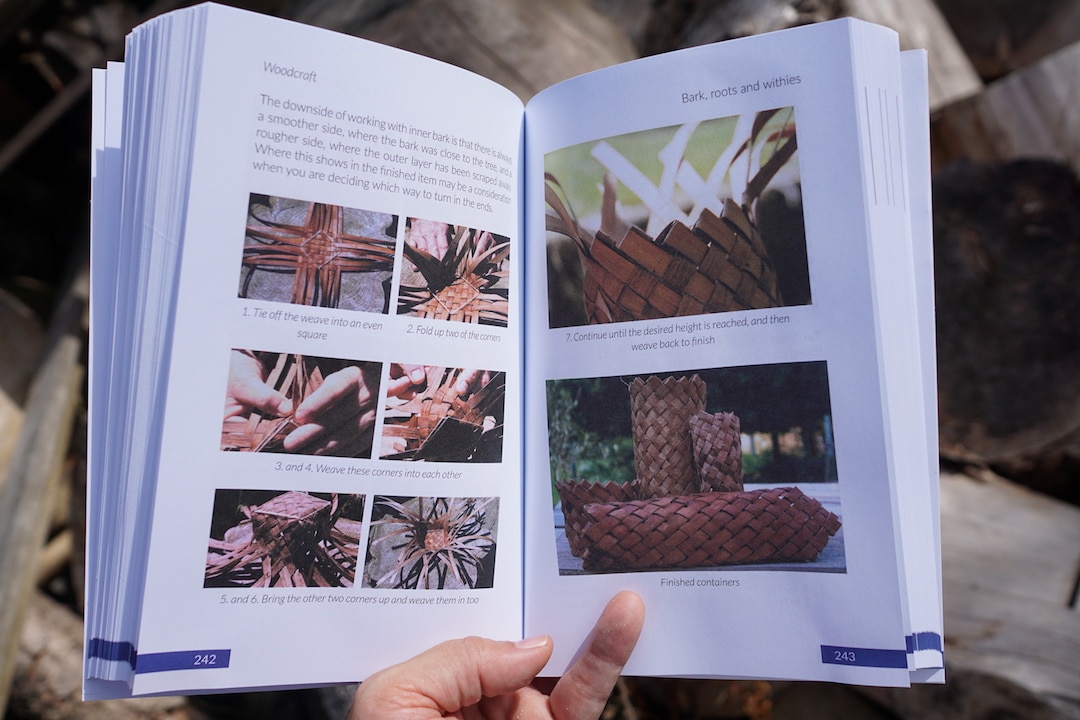 Early on in the book, in the Felling and harvesting section, John talks about having regular breaks and taking some thinking time to help avoid making mistakes, in this instance he's talking about felling and dealing with trees but it's a good piece of advice on all the activities contained in the book, don't rush things, take the time needed to think and absorb what you're attempting to do, be that chopping down a tree or dyeing something with natural materials.
This book helps you be considered in your approach to woodcraft and other activities associated with being outdoors and that's a very good thing. There's advice on how to treat the land and resources, how to leave make sure you leave no trace and how to choose, maintain and use the tools associated with woodcraft.
I particularly enjoyed the section on Glue, dye, ink and charcoal and they've inspired me to revisit the subject after a swift dabble years ago.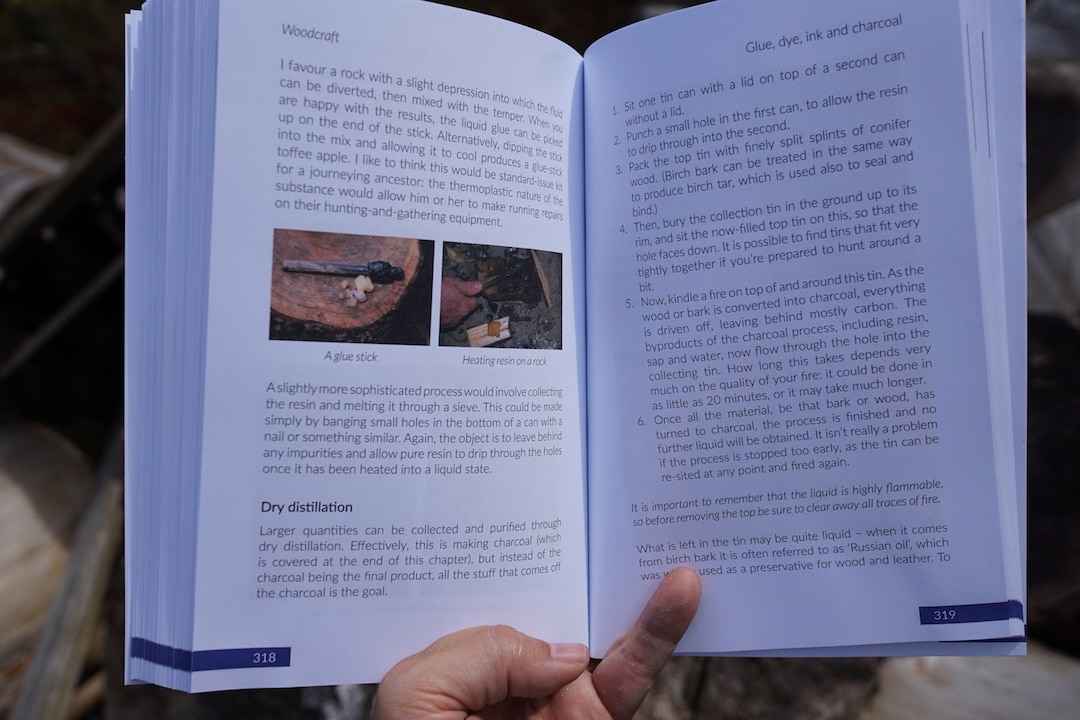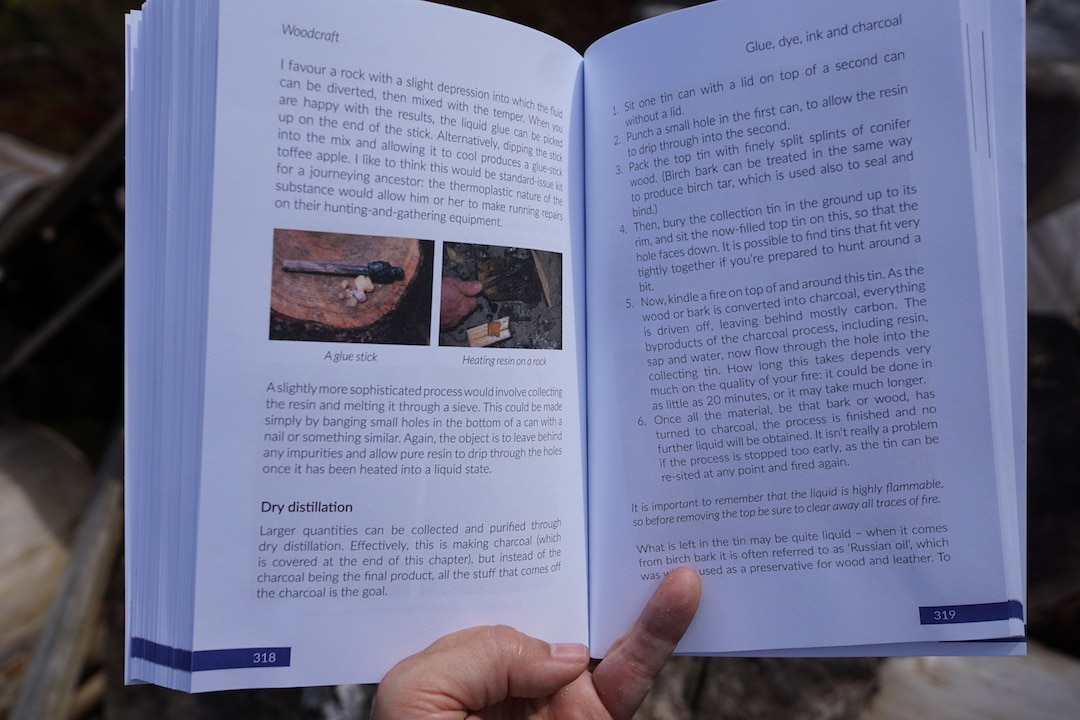 This book is all about getting out there and doing it, learning about trees and wood, how to use it and shape it into what you need, be that a bow and arrow or a bowl, or a warming fire to dry yourself out and make some glue to help keep your arrow head in place, or a container watertight.
I would have liked to see better pictures, don't get me wrong, the ones in the book adequately describe and illustrate the skills and materials, but it would have been nice to have had more vibrancy with them and some of them a bit bigger, although I appreciate this might have increased the size of the book, so maybe it's all a balance with the aim of having a usable instruction manual that's of a size it can adventure with you.
Conclusion:

At £30 from Amazon.co.uk, it's not a cheap book, but it is a good book, after reading it I compare it to a text book and text books are a fortune, so from that perspective, this is a well priced book.
If you have a load of other bushcraft books you should have a good think about your need for this one, but if you've not done much bushcraft or spent time working with wood then this could be a great buy for you.
John's written a comprehensive book that will take you from felling a tree to making a bow and arrow, that's a cool thing to have done.
My daughter picked up the book and read the cover out loud, "A practical celebration of the tree, Ha ha, Books made of trees!!"
You can contact John or attend the many courses that he offers at his Woodcraft School – http://www.woodcraftschool.co.uk