Stuff which has been bought, never or hardly used and sat in a drawer, its a crime. Someone else will use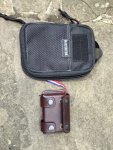 First up a Maxped pocket organiser, mint, £12 posted.
Lovely leather pouch for Aloids tin, bought from someone on here with good intentions to use, never happened. £10 posted.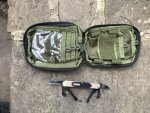 Tactical tailor pouch, superb bit of kit, loads of pockets and loops but never found a use for it. £15 posted.
Schrade Old timer carving tool, used once, sat in a drawer. £ 25 posted.
As ever if these are way off price wise, tell me, just want to move on stuff Im not using.