Making memories since '67
I was loaded with the cold over Christmas but finally started to feel better a few days ago. I felt well enough to have a footer about with some projects.
First off I made a firefighting necklace. I actually made two, one for a neighbour. It's a leather lace with a tungsten carbide scraper fitted to a bit of antler and a cut and drilled ferro rod made into a sort of toggle. Cutting a ferro rod with a hacksaw is "interesting". I did the drilling with the rod in a vice underwater to stop the sparks.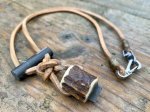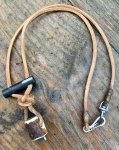 Next project was a small pocket notebook. I've made a number of notebooks and sketchbooks but they are usually a bit big to be easily pocketable. I burned the design on but had to dye it as well as it was not as clear as I wanted. I will probably add either a fixed or detachable pencil holder later. The binding rings have an outside diameter of 10mm if that helps give some scale to it.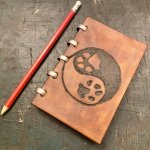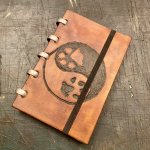 And today I was in the mood for some carving. I carved a flour scoop for my wife. Turned out pretty well. I also carved an aero press stirrer but didn't take a picture of it. Tomorrow I think I might carve a coffee caddy scoop.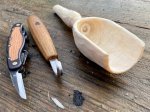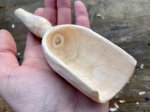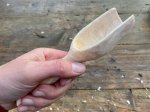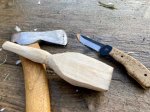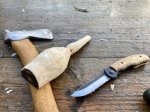 Sadly back to work on Monday so the pace of making things will slow a bit.