just had a week away in North Devon, beautiful place. Managed a few short fishing/foraging sessions whilst there, thought I would share a few pics.
This is my first proper surf bass, I've only ever caught decent bass on lures taken on a big chunk of mackerel. 65cm long, estimated to be around 7lb. My personal best, caught on the ebbing tide close to low water, in the dead of night not a breath of wind and no moon, just stars and 3 foot swells. Put up a bloomin good fight! Tasted stunning.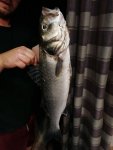 Had a couple of short sessions at Ilfracombe harbour, just using light rods with a couple of small circles hooks paternoster style, baited with real small chunks of mackerel and literally lowered down the wall. Must have had 30 plus small pollock on each hour session, with the odd special thrown in, the first session produced a lovely 40cm cod, the second my first ever mullet, at 34cm.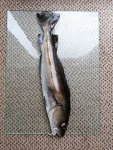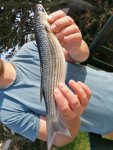 The tides were progressively bigger later in the week, some of the biggest of the year, so I had paid out for a recreational shellfish license, in the hope of some quality low tide foraging on the rocks. There were tonnes of velvet crabs, plenty of small spider crabs too, mainly peelers. I was lucky enough to find just one nice edible crab, no lobsters unfortunately.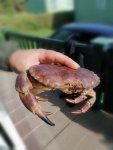 Managed to learn quite a few new species of plant too, tried rock samphire for the first time, which I think I like, I'd like to try it steamed with butter. I also tried sea beet for the first time, I could eat copious quantities of that! Learned a whole host of new wild flowers, Spurge, thrift, hawkweed and campion to name a few. Plus a few carrot/umbellifers, I'm starting to understand why this family of plants is so complex and needs to be handled carefully.
Just wish I had longer there!