As its getting into the colder months now I thought I would put a list up of what I carry on camps during the winter. All of it is relatively cheap stuff and I have gathered each item over the years, discarding other things in favour for what you see. None of it is fancy or the latest fashion I'm afraid, but it has stood the test of time and is robust.....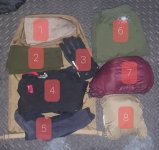 1 = Merino wool beanie
2 = Merino wool buff
3 = Sealskinz gloves
4 = Helly Hansen Lifa thermal top, Asics winter running leggings (a base layer in the cold, or extra layer in the sleeping bag)
5 = Berghaus goretex socks (tent clothing only)
6 = fleece trousers (tent clothing only, part of my 'dry system')
7 = GoOutdoors branded light down jacket (cheap and cheerful, but does a good job. I wouldn't be upset if I damaged it...)
8 = Army surplus thermal shirt (micro fleece lined, pertex outer. Part of my 'dry system')
Things that are missing from the picture:
A spare pair of anti-bacterial underwear
A spare pair of thick socks
Tents shoes (an old pair of Merrell barefoot shoes)
The Dry System:
I have some items of clothing that I will change into once camp is set. I dont wear these items when I'm on the move. I keep them dry so that I always have something warm and cosy to change into at night.
Wet clothing isn't worn in the tent and definitely not in the sleeping bag. If my clothes are damp from the day I will hang them on a makeshift line in the tent, but if they're wet I will dry them over the fire before hanging them, again in the tent. If drying isn't possible (no fires allowed for example) then the wet clothes stay in the vestibule and I suffer for ten minutes in the morning putting them back on again, moving briskly to warm up again!
Loads of people will not see anything remotely exciting or novel about my clothing choices, but its there for the novice to consider if they wish, or for the grizzled adventurer who may be looking for another idea!
Good evening all!