I've made basic leather stuff before, but it's all been purely utilitarian – basic knife sheaths, axe masks and the like. There's usually more riveting than stitching and 'pretty' it's not.
So, I decided I'd go on Dreadhead/Hamish's one-day belt making course to quickly learn the basics of making some more presentable stuff. I must say I'm more than pleased with the decision.
Hamish is one of the easiest going, friendly and patient tutors you could wish for. He welcomed the small group of four of us with tea and a cafetière of fresh coffee and an introduction to his workshop. We quickly then dived into the meat of the day.
Making a leather belt may seem like a trivial task but it's a project that covers many basic skills and, importantly, can be finished in a day – although Hamish did point out we'd be there until it was finished. He started by talking us through the types of leather, what to look for, where to buy it and how to inspect it. We then cut belt widths off a whole shoulder of 3-3.5mm bark tanned leather.
Hamish demonstrated each task in turn before we repeated them. This included:
Cutting the belt to length
Stitch-grooving around the whole belt
Bevelling the edges
Skiving the buckle area
Decorating the leather
Staining
Stitching the buckle on
Burnishing the edges
Protecting the leather with wax and oil
We all finished our belts by late afternoon and each of us had a unique piece of useful 'art' to take home – no two were alike!
All in all a very enjoyable, rewarding and successful day. I've caught the bug and a shoulder of bark-tanned leather is winging its way to me already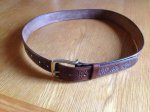 Last edited: