I've got a few laminated blades left over from last summer's show season and I thought I'd offer them here. They aren't on offer anywhere else, so if you don't buy one from here then you will have to wait until the next show season (which is rapidly approaching!).
The photo really doesn't do any of them justice
Spec:
#1 Whittling blade (mild steel with O1 core) scandi ground but not honed (easier to do when handled) 2 1/2" edge, 4" OAL, 3mm thick £30 SOLD
#2 Mild steel with EN42J core, full flat groung and ready sharp 3 1/2" edge, 7" OAL, 3.5mm ish thick £50 SOLD
#3 As for #2 3 1/2" edge, 7" oal, 4mm ish thick
SOLD
#4 7 layer blade, with mild steel and CS70 on the sides of an EN42J core. full flat ground and sharp 5 3/4" edge, 10"OAL, 5mm thick £70 SOLD
#5 Damascus blade of 60ish layers, O1 and 15N20, full flat ground and sharp. 3 3/4" edge, 9" oal, 4mm thick (with nice distal taper to about 1.5mm
£100 SOLD
I'll post up dimensions in the morning
I may be suffering from insomnia tonight but SWMBO is not and the blades are in her bedroom somewhere!
All prices include 1st class postage costs (or RMSD on #4 and #5) and PP fees
thanks folks
here's another pic of #4 as it has a false edge to the tip that isn't obvious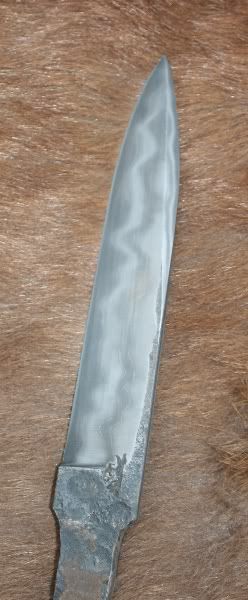 Last edited: