Hi ladies and gentlemen
I'm starting to get into knifemaking (reprofiling stock knives or full tang blade blanks and adding wood or micarta scales etc)
I really can't justify a 2x72 (at this stage at least).
At the moment I'm wedging a normal powered belt sander into a vice and getting ok ish results (it's variable speed is a plus).
Do you kind folk have any suggestions on something to tie me over?
Saw this on Pinterest (an upside down belt sander bodge) which may be an option to fabricate?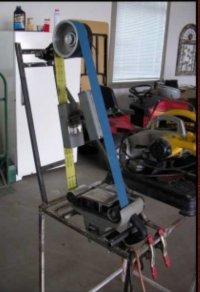 As I have numerous uses for them.. I will invest in a pillar drill and bandsaw soon (suggestions on power old vs new etc re these greatly appreciated)
Apologies - this thread is a bit open ended but basically any suggestions welcome. Even best belt and hand sanding papers, hand files etc?
diolch