Going through all the boxes and rucksacks in the house has certainly brought home to me which items I really use and which ones were just of the "Ooh SHINY!!!!" variety. Here are some more shinies.
1. Harris Ultralight Folding Spring-loaded Bipod for Rifle or Airgun.
Very strong springs to hold it to the stock of the gun. When pulled down, locks into place firmly and the legs can telescope out from 14 1/2" closed to 29" fully extended. They will retract on the push of a button as all 3 sections are spring loaded. Again very strong springs! I had plans to fasten this to my Logun but never got around to it and am now thinking of getting rid of the gun too! Easy to fit ( but not to a Logun.). These are around £100 or more new so pick up a bargain. £SOLD ( buyer requested I remove price.)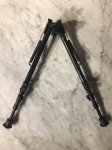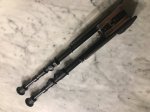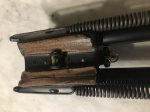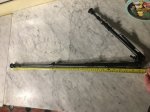 2. Victorinox MiniChamp Alox Black. Brand new in box. Never used or carried : just taken out for these photos. I bought one for me which I'm using EDC and one for my son, which he never used as he preferred to steal my full size Champ. I think these are around £30 new so save yourselves a few quid. £23 NOW SOLD stc.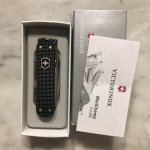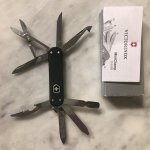 3. Neck Knife "Mini Bowie" by Granger. This is a handsome little thing but I'm not really a neck knife person so going to part with it. Nice tight Kydex sheath with a leather thong. The handle is covered in ( I think ) sharkskin and bound with black cord a bit reminiscent of a Katana hilt, which makes for a very firm grip. Its a decent size too. Blade is around 2 1/4" cutting edge & the knife is around 6 1/2" overall. Not sure what the steel is but I'd guess some sort of stainless. Holds a good edge. I've used it a few times when I first got it and gave it a light strop to keep it keen. Its very cool but not getting used. £20.00 NOW SOLD.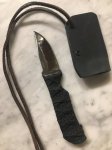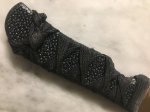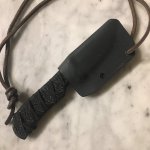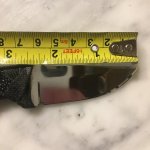 Last edited: