More stuff guys.
Same theme, pack weight and size reduction. Plus just unused kit.
First,
Thermarest mat. .. XTherm, the warm one! ... You can find all the specs on the net.
This is the large one, plenty room for the fidgeters!
This is pretty light but I got a smaller and lighter one, not sure if I may regret it. This Thermarest is warm and mega comfy.
It's been used but no probs at all with it. I've done a few bits to it but don'y worry it's perfectly fine.
I found it slipping about in my silnylon bug shelter, most infuriating fighting with your mat!
So after some research I found the cure, put lines of silNet seam sealer on it. It doesn't look pretty but it cured the problem, no more slipping. (A few dabs on the under side of your silnylon base too, goodbye slipping!)
Also you will see it's had Thermarests connectors fitted. I was going to peel them off but thought I'd leave them. May be useful for the buyer. They held my quilts in place, not good losing your quilt at minus 5!
They will peel off if you don't want them, steadily though don't just yank em, they're well stuck but will come off without damaging the mat. The silnet will peel off too if it really bothers you, but takes a little more patience.
Bags with it. Bought the large pump sack for it, being tight thermarest made it an extra.
It's had "no damp breath" always used the pump. ( The bottle holder is NOT with it, windy so I used it to hold things down, sold separately)
A few coffee stains but nothing major, will no doubt wash off, it adds to it's character!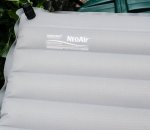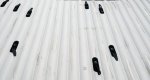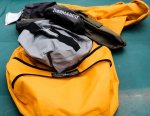 It's kept me toasty down as low as -7 so i'ts a true 4 season mat.
Ok, these ain't cheap, they're around 180 quid + about 20 quid for the large pump sack, I'll knock that right down to 70 quid posted. You'll not get a better mat for that money I assure you.
Second.
That water bottle holder. Molle compatible or just on your belt. I've got a light flat fold bottle now so this is of no use, might have used it a couple of times. Perfect as you can see. Velcro top, secure. Will hold a 500ml bottle easily, probably 750ml, I haven't one to try.
What are they, about a tenner. I'll take 6 quid posted, help someone out. (Bags NOT included)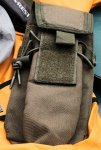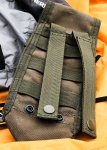 Third,
Leather pouch, made for me by "Black Sheep" ...
Lovely pouch, used once or twice.
I've been multi tasking it again, I've rubbed some green stropping paste under the top to strop a knife in the field. Never did use it, I know I know, I've annoyed myself doing that tbh. I like my gear to be multi functional, tis my excuse!
I think it was 35 quid, can't remember. ... Anyway 25 quid posted. Go to be worth that, it is very nice.
Opening measures; .. 130mm x 37mm but will stretch out a bit of course.
External measurements. 110mm tall, 160mm wide, 45mm deep.
Will accept a 3" belt.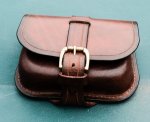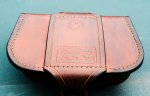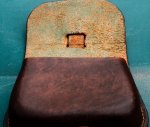 A few useful bits left so there will be a Clear out 6 at some point.