SOLD
I have a bushcraft knife I call the FTP (full tang Pukko) 1/8" thick 52100 bearing steel blade 58rc, 3.5" long and scandi ground to a razor edge. Handle is a black canvas micarta and cocobolo wood mix with brass pins and tube 4" long.
Sheath is flat wet formed and designed for neck or under arm carry.
£140 all in to a UK address.
I can post better photos tomorrow.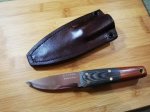 Last edited: