Sold....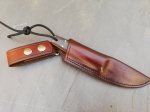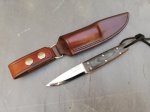 Full tang Pukko 3.4mm thick 52100 bearing steel blade, zero scandi ground to a razor edge. Black micarta over thick orange G10 liners with stainless pins.
Sheath is hand dyed, stitched and wet formed, d-ring and a dangler which can be removed for neck carry.
£150 posted to a UK address.
Last edited: