I did this as a project during COVID lockdown, to keep myself occupied on days off with crafts. This is something I have always wanted to attempt and i found it gave me good headspace when not at work and a way to unwind!
I didnt make the blade, i brought a blank from Moonraker Knives - A Brisa Trapper bushcraft blade in 01 Tool Steel - i just handled it.
I then brought all the raw ingredients to handle it myself, i couldnt decide on wood or micarta but after a lot of reading, in the end i chose the micarta.
I also dont use the lanyard hole son my other knife so rather than a lanyard i chose a decorative pin to fill it. I am not completely sure about this, but if i change my mind i could knock the middle out of the pin.
I have never done this before, so spent a lot of time reading and watching videos and it was a nice project i enjoyed, and i will probably do again.
See photo captions for details of each step, i completed this over 2 weekends, dipping in and out of it. Approx 15hours spent, about 6- 7 was hand sanding. I will hand make a sheath for this, probably leather dyed black with white stitching - leatherwork i have done a number of times before!
The before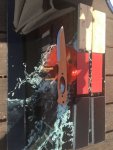 Flattening the scales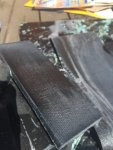 Shaping the front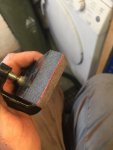 Counter boring holes for the corby bolts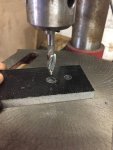 dimpling the liners for glueing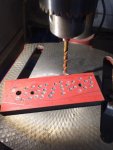 Clamped and epoxied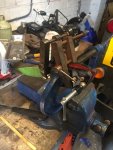 after glueing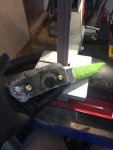 after roughing out the shape on the belt sander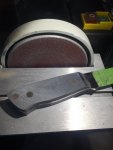 From here i hand sanded it, and i have left the scales with a bit of thickness, so i can use it for a bit and then shape it a bit more to suit if needed.I did constantly hold it in my hand feeling for hotspots though. I sanded 80-120 grit on the belt and disc sanders, then by hand i used 240, 400, 600 wet and dry but dry, then i re-sanded with the 400 and 600 using wd-40 as a lube. The micarta really didnt need more than 600 tbh, and even that was probably a uneccessary. I then buffed it on a wheel using multipurpose red compound and polished with a lambswool mop. I wasnt sure how this would turn out, as i have only polished non-ferrous metals before, but it turned out fine.
This is the finished product, a couple of errors (i caught the tang in 2 places with the edge of the belt and when sanding i came across a fault in the casting of the micarta) but none of that detracts from the usability. The knife came quite sharp already but i worked it some more, stropped it and put a micro-bevel on and it pass the arm hair test and the paper test.
Note the small blemish in the handle this side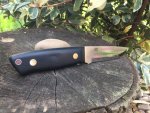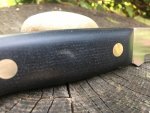 Quite pleased for my first attempt. I think i will do another but will attempt to make my own micarta!