Fallkniven PXL Ivory Micarta 3G -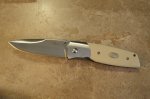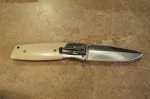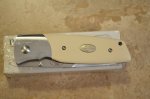 Carried in my pocket for one afternoon and been stored for about 4 years. I barely use folders and never got on with liner locks. some micro scuffing to the bolster and micarta that I've tried to highlight in the photos. Silky smooth action and very solid lock up. With it's original tiny box.
I think I paid more than the marooon/green micarta variants and it's now discontinued but
£260 with tracked postage.
Rob Evans Bushtool -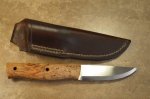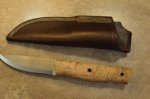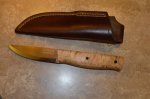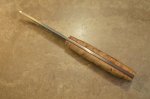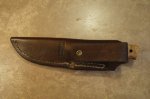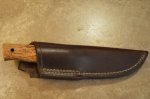 Bushtool bought new from Rob around 2011 and tucked away ever since. Unused but some marks from storage and the brass has obviously aged, it's been around for a while.
Stabilised curly birch (I think?), red liners and a 3MM thick 01 58rc zero ground blade. Two brass lanyard tubes and two brass pins. 4" blade 5" handle With it's original dark brown hand dyed and stitched waterproofed leather belt sheath. Weighs in at 184g.
Very lovely knife but really deserves to be used.
£100 delivered.
Last edited: