Esee PR4 Camp-Lore bushcraft knife, Patrick Rollins design .
SOLD
Includes The Knife Connection G10 very comfortable handles & Gunmetal Grey Kydex Sheath (original handle scales as well). Divot to allow the handle to act as a bearing block for a bow drill. Very comfortable handle for long hours of work.
Blackwashed, droppoint 1095 carbon steel 10.5cm blade. Overall length approx. 22.5cm. Tough, hard use bushcraft knife.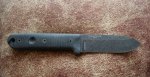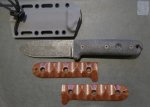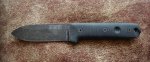 Unused,
selling package for £139
, bought knife, plus scales, plus sheath for £255
Last edited: