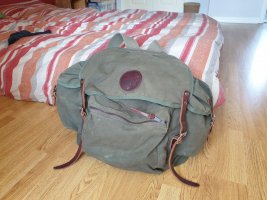 I've owned this a few years now but shamefully it's only been used a handful of times (maybe 10 tops)
It's time for it to go to a better home and be used properly.
There are small marks, but dirt marks, not wear. But I haven't triad to clean it. The straps are in great condition if a little curly at the ends.
It is a beautiful, beautiful thing and it's taken a long time to feel like I'm ready to let it go. The shoulder straps in particular are, for me the most comfortable I've ever experienced.
From a Smoke and dog free home.
Bought from Tamarack Outdoors, don't think they sell Duluth any more. Not sure how easy these are to get in the uk now? I'm sure someone will soon tell me they're everywhere.
New they are $295 plus $50 shipping from Duluth.
(I have done a quick calculation on SimplyDuty.com and taxes could make it about £340 in total!)
Price £250 inc postage (Royal Mail Tracked) within the UK (final destination)
I'm aware that the use or not of Paypal is an issue for some people. I appreciate the protection it affords and so it would be my preferred method of exchanging money, but I am open to other options if it's a problem for you. Please PM me.
Thank you for reading all that. If you have any questions please do get in touch.
Regards,
Nick