So I have mostly been a fair weather camper. The summer before last I missed out on a lot of weekends because it was calling for possible showers and ended up being beautiful weather. Last summer was a bit better and I got out quite a bit. But haven't camped much in the spring/summer/winter. I'm not a fan of New Years Resolutions, however this year I wanted to set a challenge for myself. That challenge is to spend one overnight every month, in the outdoors. This will be the thread where I keep track of these adventures through the year, and each month I will update with a new outing. Hopefully I'll learn some things along the way.
Starting this challenge off in January is obviously a challenge, so
I bought a couple of things
to make sure I was going to be comfortable.
This past weekend I went to an area within the city limits of St. John's known as the
Three Pond Barrens
in the Pippy Park area. It is an area where typically people do a lot of snow shoeing or cross country skiing. Lots of dog walkers on the main trails too. I was thinking about this area as it is so close to town that if I failed miserably or was cold, I could chicken out. Better safe then sorry, and it is a great little area sorry for the hum of the highway in the distance. So I packed up my bag on Friday, and Saturday afternoon the wife dropped me off and away I went.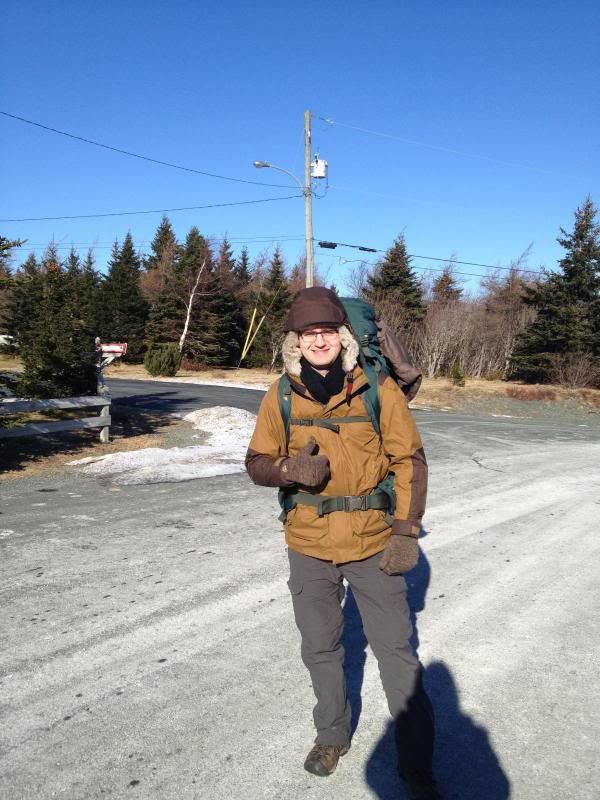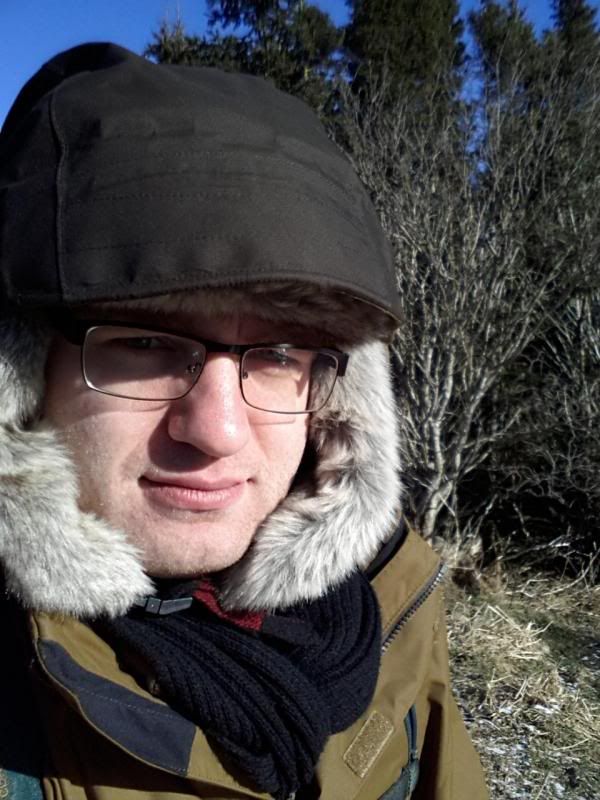 We had a LOT of snow in December, which is unusual here in St. John's. It was just storm after storm after storm. Apparently the most accumulated snow depth for that month since 1950's.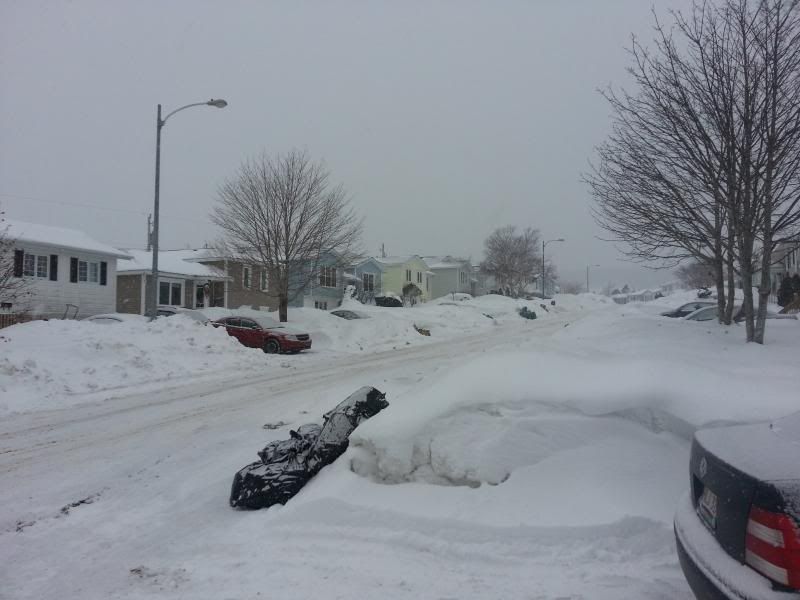 And then in early January when we would normally start getting really cold weather and lots of snow, we had a crazy mild streak that lasted for a week or two, melting almost all the snow. This lead to some interesting conditions in the woods. The popular paths in the Three Pond Barrens were turned into an icy mound in the middle of the path. Quite treacherous with a 50lbs pack on.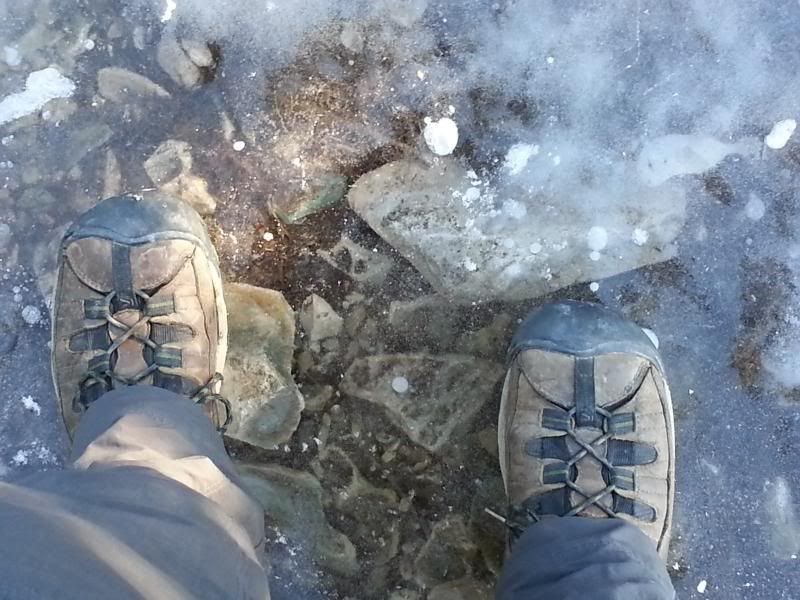 This was an area next to a pond where high winds blew water into the pathway creating very clear small layer of ice.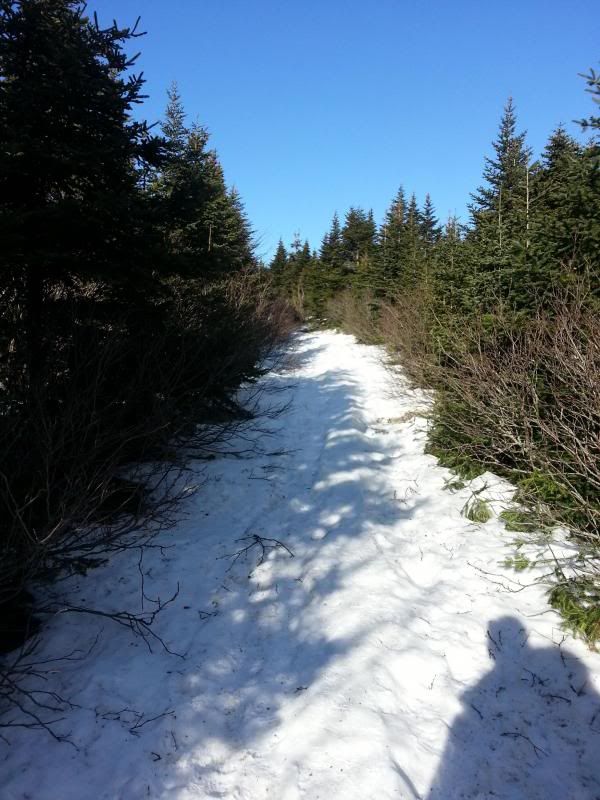 It was not a far walk only about 20-30 mins. But on this type of path condition it was tough on the ankles and the nerves.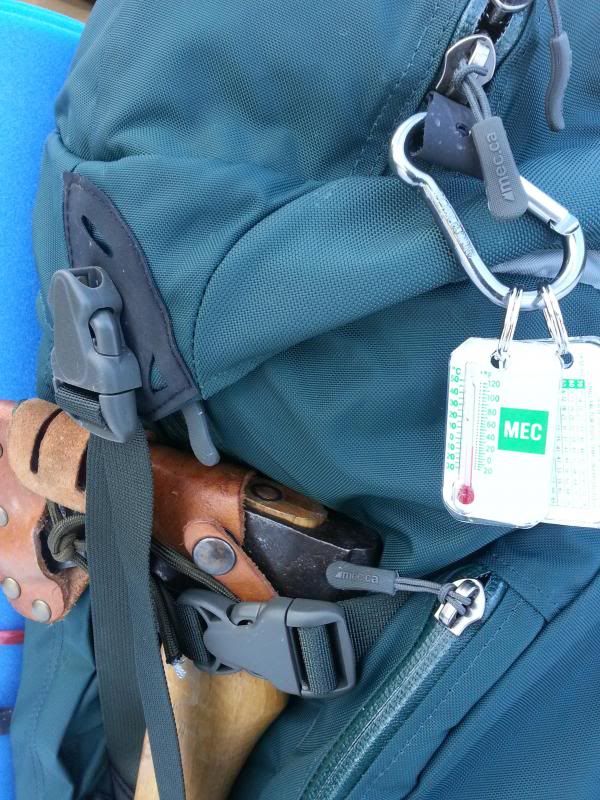 I had a pretty heavy pack. As usual I over packed, and my pack was 50lbs. I've mentioned on here before that I have an old lower back injury and unfortunately by the time I got to the planned camp area I had flared it up pretty bad. I have to start doing my exercises again and go back to physio. So packing lighter will help, but I need to get stronger. On my pack here we see my hunters axe, when I could have gotten by with my Granfors Outdoor Axe. I also picked up a couple of thermometers to compare outside temp with inside tent temp.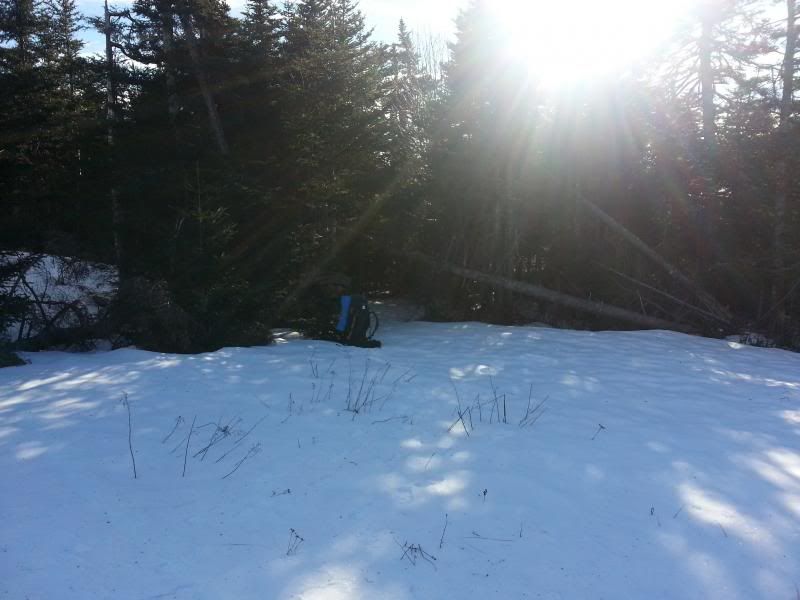 Wind was supposed to come from the south all night, so I picked an area that was sheltered quite well from the wind, but unfortunately also from the sun. But it was kind of cool as there was still a thick pad of snow in this area and it felt more like winter camping.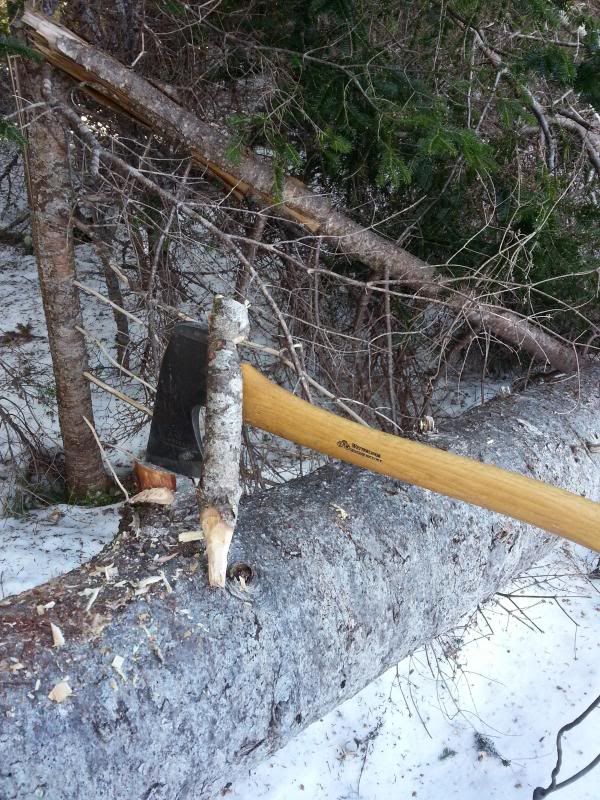 I did not have "snow steaks" and the snow wasn't exceptionally deep so I whipped up some crude steaks from spruce. The thicker wooden steaks held better in the snow.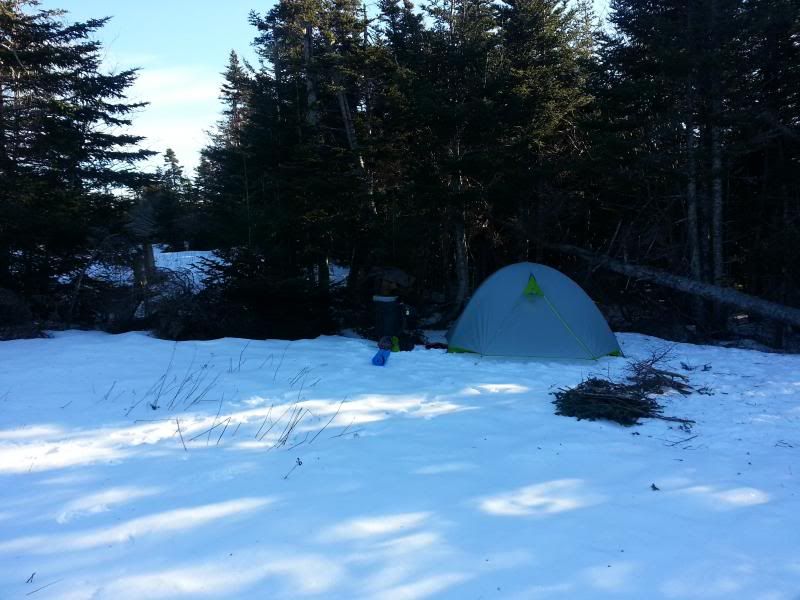 Here is the MEC Volt 3, 3 season tent setup (I'll give a full gear list below). I was also laying down some green wood to try and have a fire.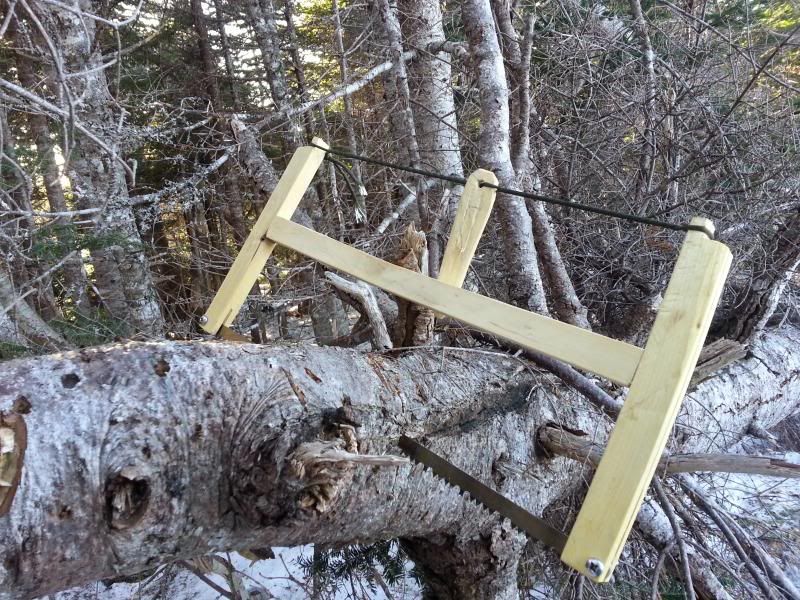 Started cutting up a dead fallen tree with my homemade maple bucksaw. Made it last summer, but it wasn't seasoned and has bowed quite badly. I'm going to try and steam the wood and bend it back straight at some point.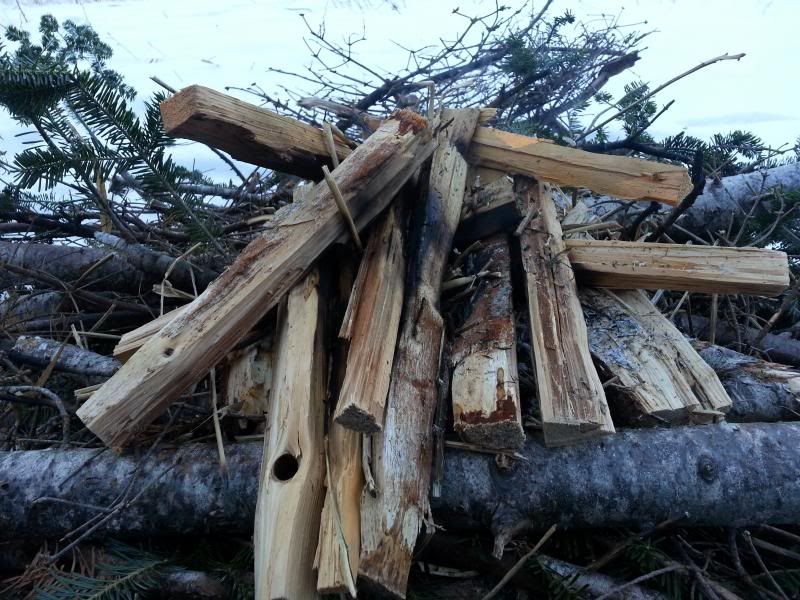 However, everything was wet. After all the snow we had, then all the rain and wet weather, everything was soaking wet. By the time I had this figured out, it was getting rather late in the afternoon, and all the time bent over with the axe and hauling wood had done my back in bad. So I decided to call it quits despite tons of dry grass and an instaflam fire starter. But was I going to let that get in the way of a cuppa?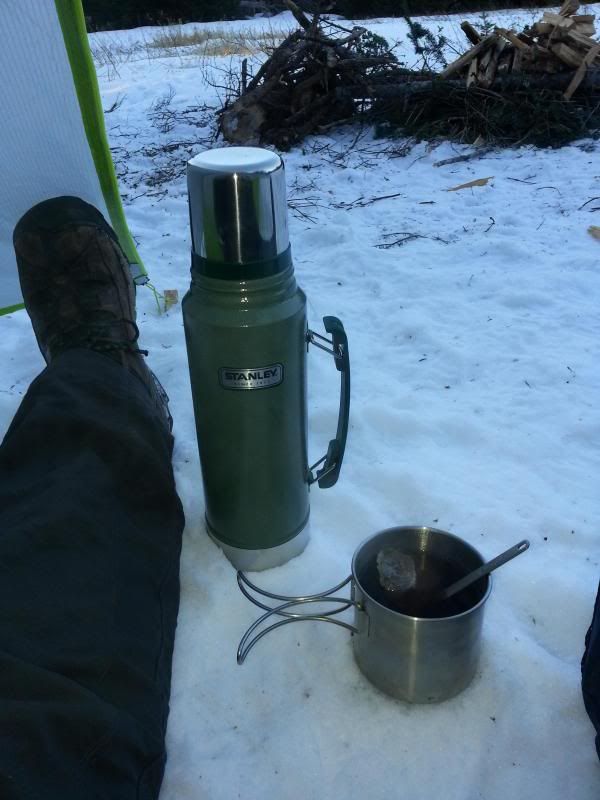 No sir! I had bought a new stanley thermos recently. Boiled the water around 11am, and by 430-5pm it was still piping hot. The idea behind the thermos, is in the morning I don't need to fire up a stove to have a brew and oatmeal. Crack open the thermos, pack up and move on. After this, I decided to go for a walk before it got dark and to try and stretch out my back.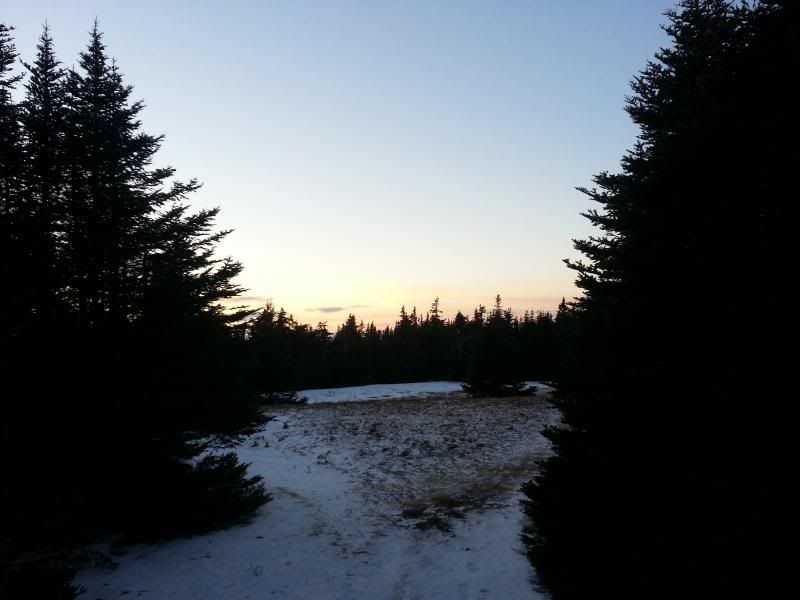 The clearing next door.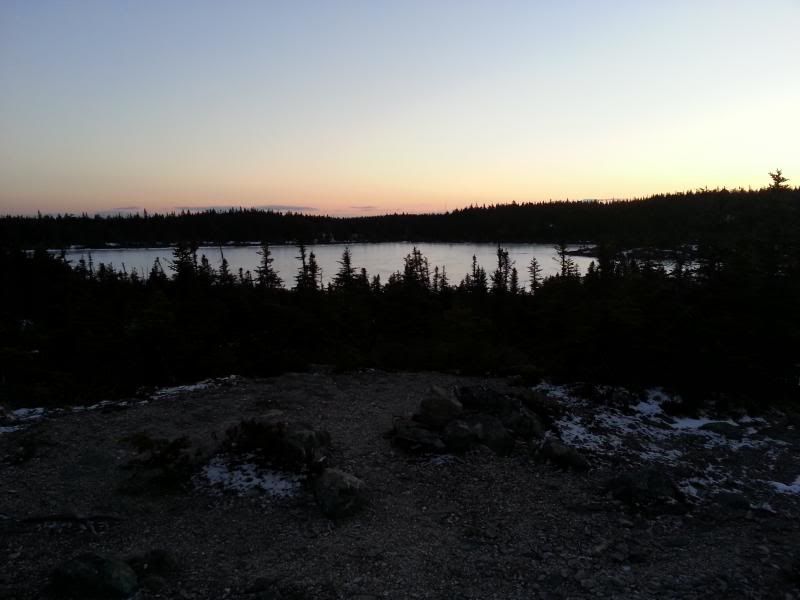 Middle Pond sunset.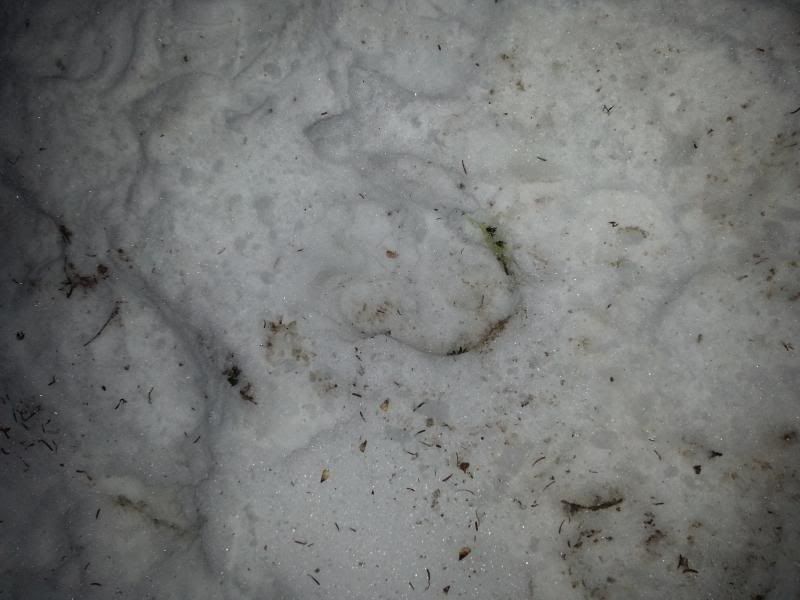 Hard to see but a fair size moose print. Followed them for a while, but no sign of the beast. Saw some scat too.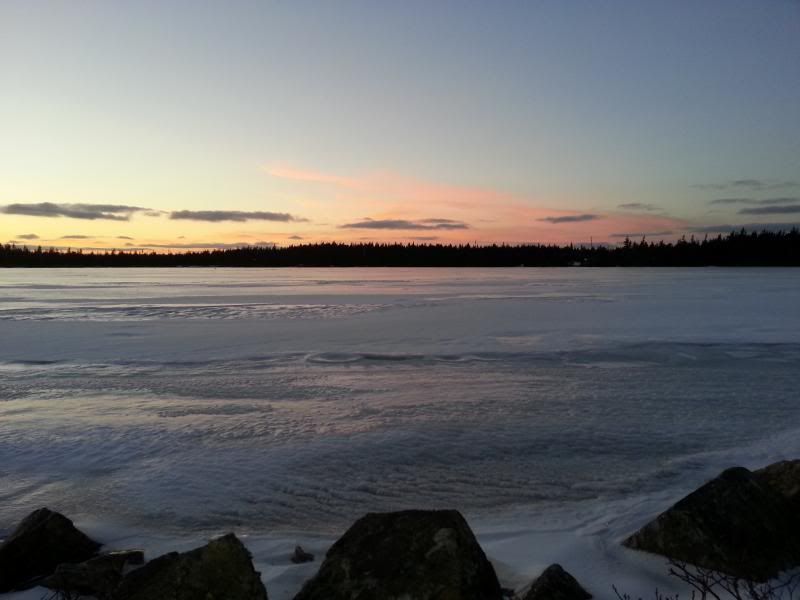 Sunset over Big Pond, listening to ice cracking.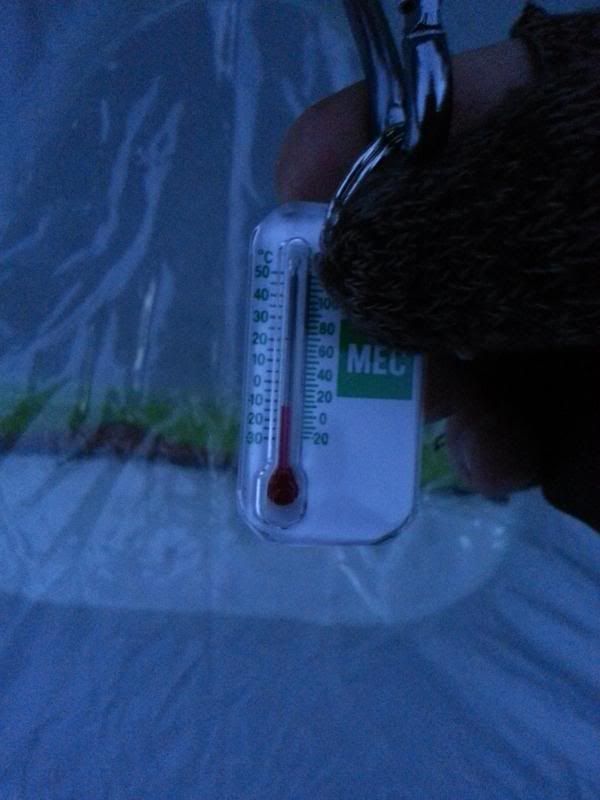 Brr.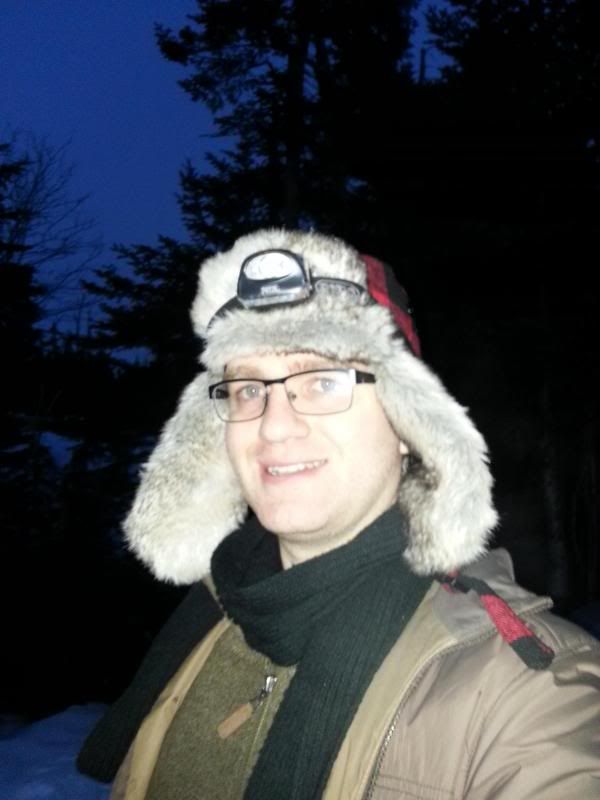 Despite the temperature reading, I was feeling pretty warm and having fun.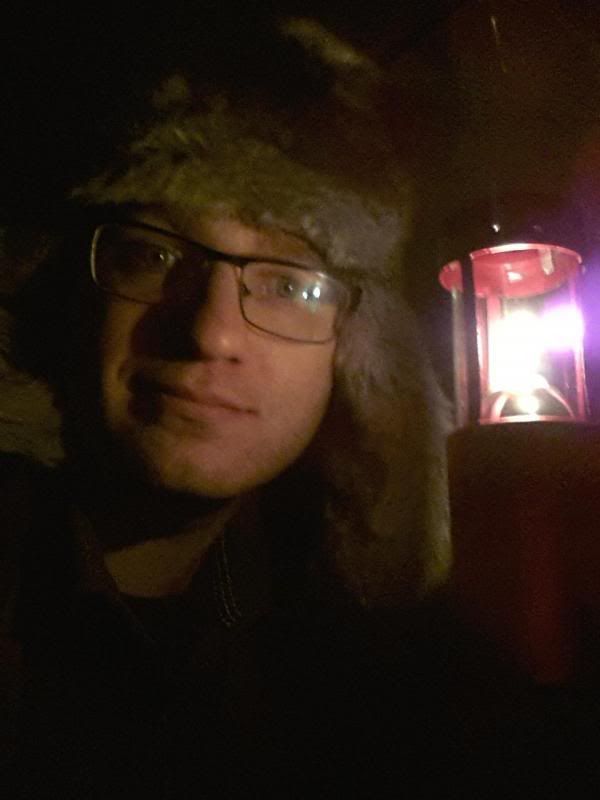 But the dark came and without a fire, not much to do but hunker down in the tent. The UCO candle lantern I bought didn't heat up my large tent as much as I'd hoped. What did I expect I guess, lol, but it's warm low light was welcome.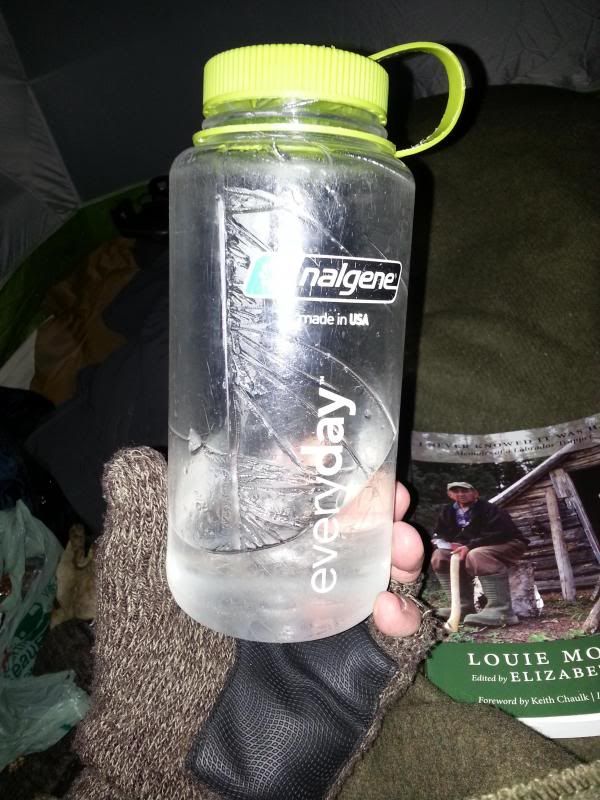 Water was staying thawed but when I took a swig it froze to the side of the bottle almost instantly. You can also see my entertainment in the background. "I never knowed it was hard: Memoirs of a Labrador Trapper." A great read. The thermos water was not hot enough to rehydrate my spaghetti however so I opened the door vent and fired up the trangia/honey stove combo and got some grub in me, reheated and topped up the thermos water for the morning, and got in my long johns and in my sleeping bag. This was about 7pm. Man, talk about trying to keep occupied. It was too cold to do much else without a fire. If I had a friend camping with me we could have played cards or something, but I got in my bag and read for a while. Called my wife to keep me company for a bit on the phone and eventually (to my surprise) fell asleep around 10pm or so (i think). Woke up at 630, and didn't believe the time. I could have swore I never even fell asleep. So I must have slept well. Wore cotton long johns and a long sleeve shirt, smart wool socks and hand knit wool socks over them, and my fleece. All in my -12C bag. Anyway, protein bar and tea for breakfast, got on the go and packed up.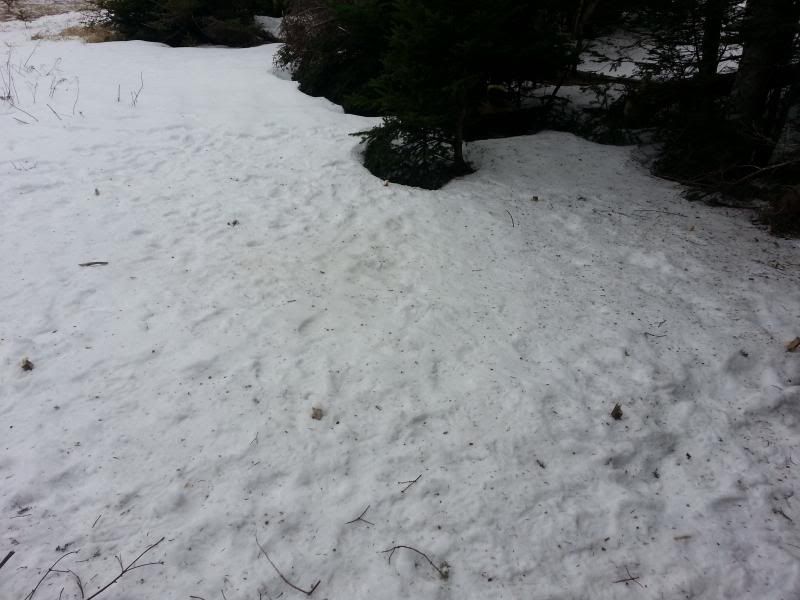 Tent site after packed up.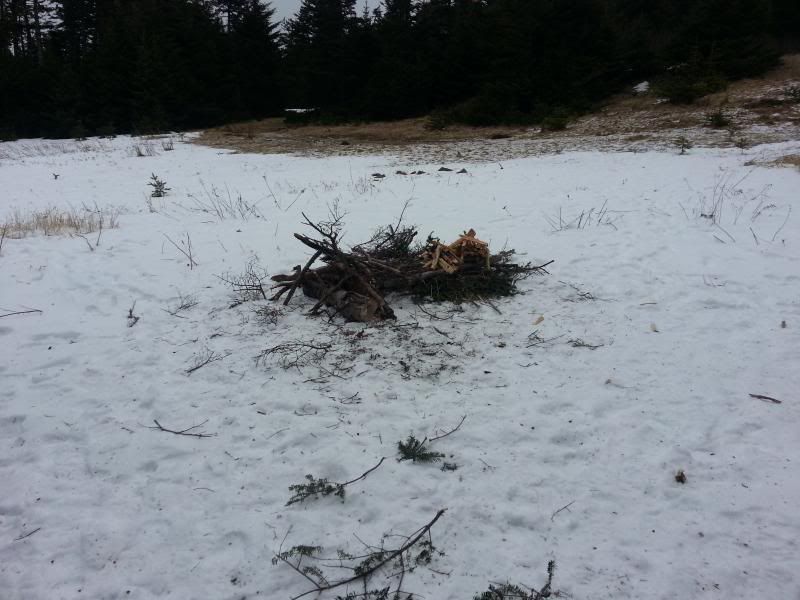 My failed fire attempt. Hopefully this wood will dry out enough for someone to use soon.

A panorama of the clearing I was staying in. There was an asphalt pad there where there must have been some sort of park structure in the past. Weather was supposed to turn real nasty so I had to get out of there early.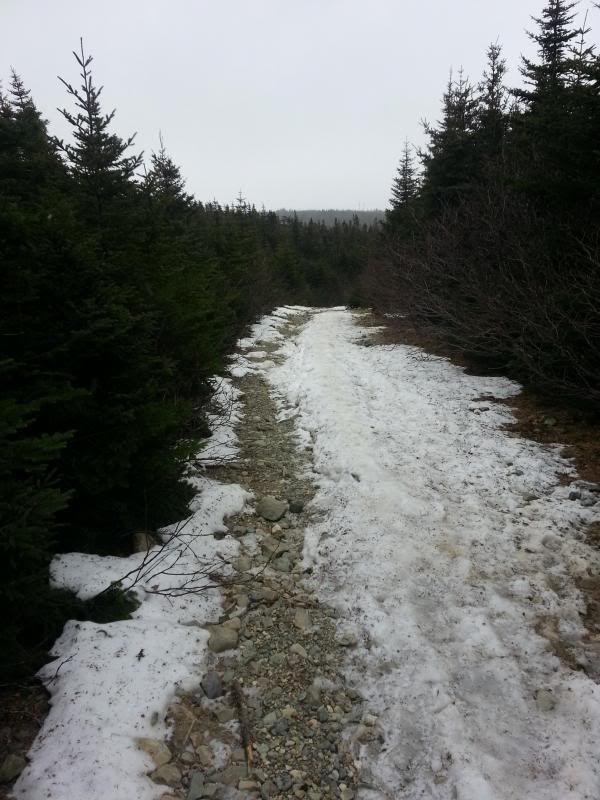 The walk out.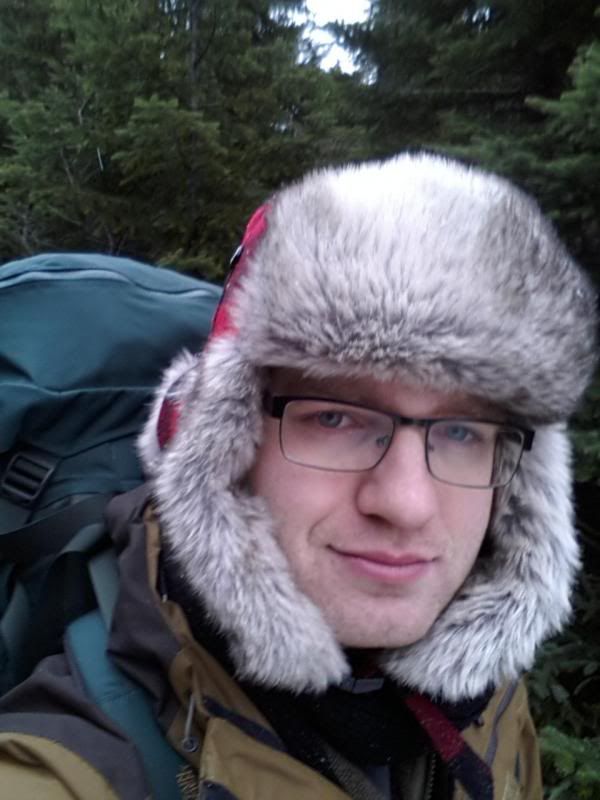 Left Pond Panorama.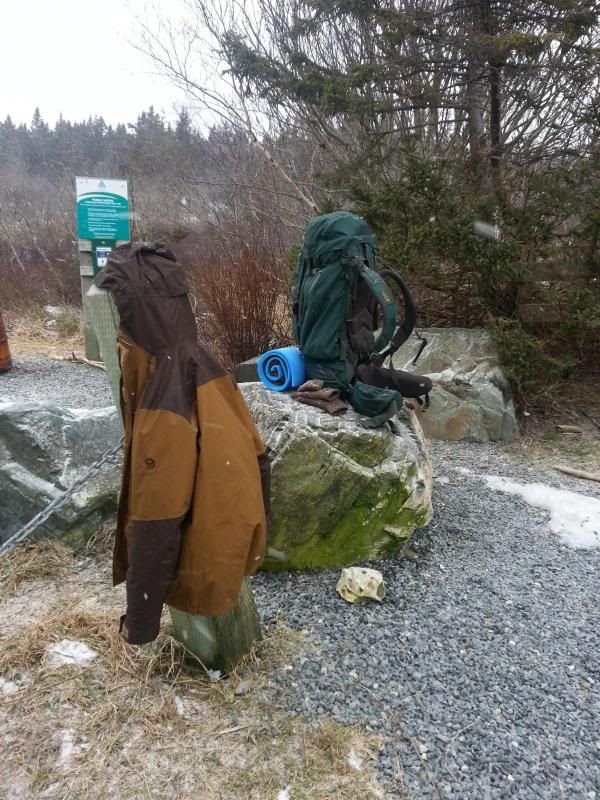 Waiting for my ride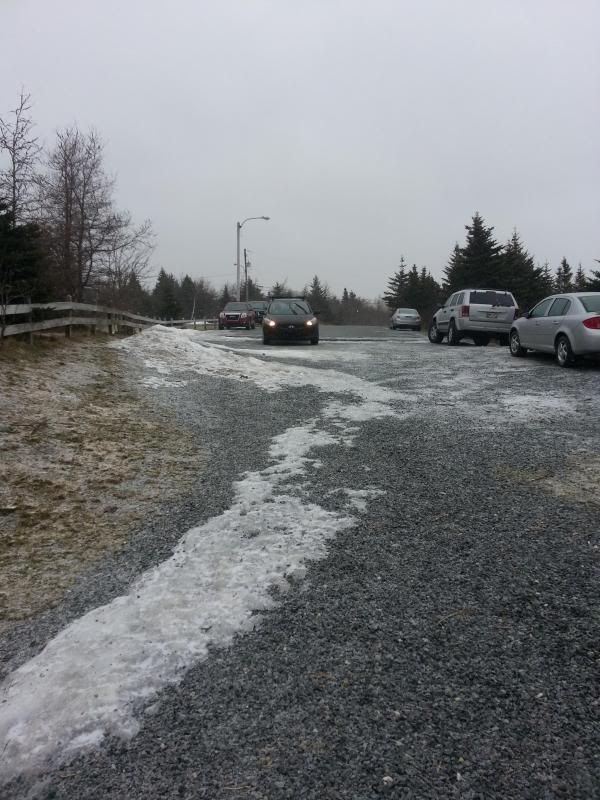 And there she is!
Over all it was fun, would have been better with a fire and/or company. I'm only today able to be comfortable due to my back pain easing. So I need to be careful in the future to only take what I need. Also have to heal this injury once and for all. Next month I hope to camp in a little more remote of an area, hopefully with a little less gear.
Comments/advise welcome! Stay tuned for February!
Gear list:
-MEC Ibex 80L pack
-Thermarest Neoair All Season pad
-Zotefoam blue foam pad
-MEC Phoenix -12C Hybrid mummy bag
-Wool Blanket
-All weather emergency blanket (under pads to reflect heat up)
-Wetterlings Hunters Axe
-Folding bucksaw
-Mora Bushcraft HD
-Zippo
-UCO Candle and LED lanterns
-Petzl head lamp
-Book "I Never Knowed It Was Hard: Memoirs of a Labrador Trapper" by Louis Montague
-Work gloves, winter fingerless/mitt gloves, also REALLY warm gloves just in case
-Trapper hat and wool army toque for sleeping
-Zebra 14cm, trangia, honeystove, GSI mug, matches, bic lighter (failed in cold), 1 instaflam
-1L Stanley Thermos classic, 1L Nalgene everyday bottle, and a HDPE 500ml Nalgene for avoiding those cold night trips to the outdoors toilet (clearly marked and has duck tape for tactile recognition as well
)
-Batteries for keeping phone charged.
-OR airpurge dry compression sacks for sleeping bag and clothes.
-compression sack for tent
.... I think that is it