Canoeing The Spey
One of my planned trips this year was to canoe down the Spey and last week we got it done. Not quite to plan, but it was an enjoyable and memorable trip.
My two companions for the trip had hired canoes and transport; I had taken my Apache up the week before. I spent my time up there constructively by visiting a few of the many distilleries in the area and checking out the access locations just in case we needed to call the cavalry (my better half
). We started at the bridge at Newtonmore on a bright Saturday morning. The entry there is a very steep grass bank and the best way to get boats and gear down was to use the swim lines to lower them. It was near eleven before we got going.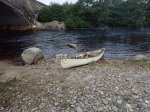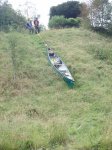 The river wasn't flowing particularly fast above Loch Insh but it was a pleasant paddle none the less. I don't think I've ever seen so many mallard and there were plenty of Goosander and a few swans but otherwise there was not a lot of wildlife visible – not a single kingfisher the whole trip
(I actually saw more wildlife on the Vyrnwy in March). We stopped halfway up Loch Insh for lunch on a grassy bank enjoying the sunshine. I failed to spot any Osprey (they nest at the northern end of the loch) but one of my companions swears he did! I did see Goshawk though – a very acceptable alternative.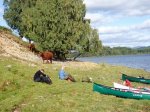 Our first camp was in a small piece of woodland just south of Aviemore. We weren't bothered at all by flying beasts because it dropped down to near zero! We had a small fire to keep things cosy and cooked our meals followed by a quick drop of amber liqueur before we hit the sack. I woke early to the sound of herons squawking and took a stroll along the river bank; the white frost was clearly visible on the Cairngorms to the South. After quick breakfast we packed and cleared the fire (I couldn't even see where it had been!); we were back on the water by nine.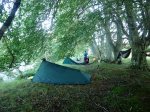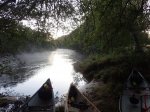 The second day included a little bit of white water but some long stretches of very slow water too. The week before the river had been a foot higher and moving faster. As we passed more tributaries the water started to move at a decent pace and a few of the grade I/II rapids started to demand some concentration. Unfortunately, I was unable to kneel the whole trip because of a knee problem and I felt decidedly unstable on some of the bigger waves. We made much better progress – partly due to the earlier start and partly the speed of the water. We camped on the bank near Cromdale Church and, after setting up our tarps, we walked into the village where we had a very nice meal with a few jovial and friendly locals at the Haugh Hotel – all home cooked food and excellent value.
Day three and we were on the water early. Today had the prospect of the 'Washing Machine' and Knockando – both sections of white water that can be interesting to say the least. There was no doubt that after the river Avon (pronounced A'an) joined the Spey things started getting a little more challenging. We paused on some slow moving water before the Washing Machine just to choose our entry and then I led us down – good fun, a few waves that splashed over my face but no real water in the boat. At Knockando I took the decision to eddie out and walk the falls. This was the first place that we had seen any other paddlers – there were Kayaks and Canoes – all playing so unloaded (unlike us). We had a lengthy discussion about which route to take and then got back on the water and set off – I led us down left of the middle channel, plenty of good water and big waves but, again, good fun and no drama. If we hadn't been loaded I would have gone back up for another run
. That evening we camped at the area set aside for paddlers just downstream from Arberlour. We set up camp and walked into Craigellachie for a great meal at the Copper Dog!
Day four was our last day and was supposed to be a gentle paddle down to Spey Bay – that's not how it turned out! The water was moving fast and we were taking grade I and II'ish rapids with ease. It was tempting to relax when I came out of each one but there were plenty of odd rocks just below the surface that meant I had to concentrate. However, I must have taken my eye off the ball for a moment too long and, coming out of a fast flowing section on the outer bend of the river I let my bow enter a piece of static water – it started turning me so, instead of fighting it, I decided to let it take me round – big mistake. As the boat turned the stern was caught by the fast water, being sat up and high it was too easy for it to tip me over and I went in. To cut a long story short, it took longer than I expected for me, my companions and some friendly fishermen/women to get me and my boat out of the water!
It was a bit of a shock but, after some dry clothes and a hot brew, I 'got back on the bike' and we paddled, without incident, to Spey Bay.
A great trip, good weather, good companions – I just need to sort my knees out before I do it or another one again