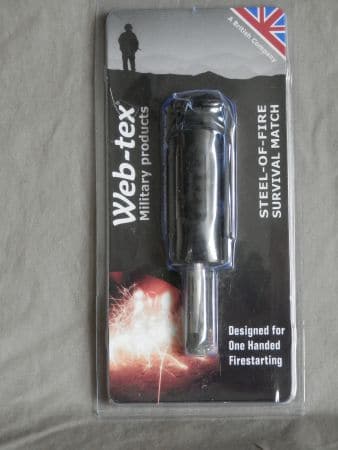 Review
By John Fenna
Pretty much everyone here is familiar with ferro-rod "spark sticks" or "fire steels", and a 12mm fire steel is at the heart of the Web-tex Steel-of Fire Survival Match.
The beauty of this survival match is that it is simple to use single handed (with either hand), is lightweight at about 75g and compact as it folds down to approx 10cm x 2.5cm x 3.25cm for transport, and even incorporates a generous lanyard loop to help prevent loss.
As with all fire steels, you need to scrape through the protective coating to get sparks, and I would coat bare metal with wax before long term storage to prevent deterioration.
With the cover unclipped and folded back, the survival match shows a 4.5cm long 12mm fire steel spring mounted in a 9cm handle. Simply put the end of the fire steel on your tinder, apply thumb pressure to the striker plate and push down to have the striker score loads of multi 1000 degree sparks off the fire steel as it slides back into the handle.
Robust enough to endure rough usage, the Web-tex Steel-of-Fire Survival Match should last for thousands of strikes and is easy and comfortable to use with either hand. As the fire steel can rotate in the black plastic handle, you can even out wear on the fire steel.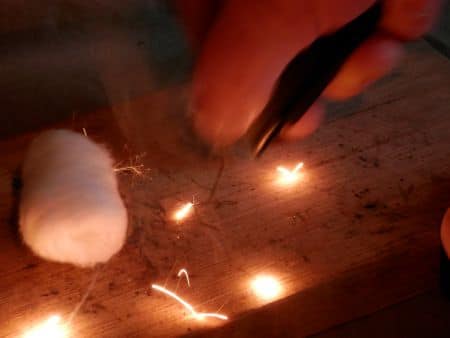 I had great difficulty photographing the survival match in use – most of the pictures of strikes had so many sparks in them that the photo "whited out".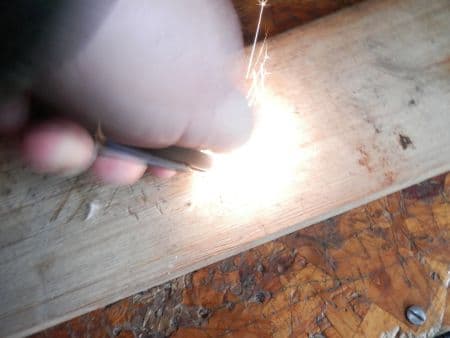 Costing around £15.95, the Web-tex Steel-of-Fire Survival Match is a useful fire-lighting tool.
For more information contact www.web-tex.co.uk
Tel 01234 740327