Well, what can I say, it's a brown bag that filters water! But, as that wouldn't be much of a review, let's look a little deeper into the bag.
I have been lucky enough to get my hands on two sizes of bag, both the small and large.
This is quoted from Rupert Brown, developer of the Brow Bag and owner of brownsbushcraft.com
"The Brown filter bag is a product I started to develop back in 2011. It was becoming increasingly more difficult sourcing the original army surplus mill bank bags. After nearly three years of trials and testing many different types of canvas I decided to trace the original manufacturer of the military canvas used in the millbank bags.
The canvas was woven as a special order to the exact same specification as the original military bags. The new canvas was woven to an approved MOD specification but without the potential harmful copper anti rotting compound found in the early military bags"
First Impressions
On first inspection, it's a heavy weight canvas and by heavy weight I really do mean strong, the small bag is ideal for a single person or a small group, the second bag is ideal for a large group, however it will take a good few hours to filter a full bag, you will end up with lots of water though and the maker suggested setting it off before turning in for the night, and come next morning, you have a good supply of water.
That leads me on to the main use of the bag, it's designed in such a way that the bag removes suspended matter, it makes the water clean but not safe, after it's cleaned you need to purify it by either boiling, UV treatment, or chemicals to make it safe to drink.
Aesthetically the bags are very appealing, it strikes a sense of simplistic living, there are no complicated parts, no hoses, no ceramic filters to break, it's bag that wants to be "roughed up", thrown in your kit bag and come out as and when you need it. It has no shelf life and if cared for will provide clean water year after year. You just need to remember it's canvas and look after it, store it wet and it will get mouldy.
Small bag, 3 litres.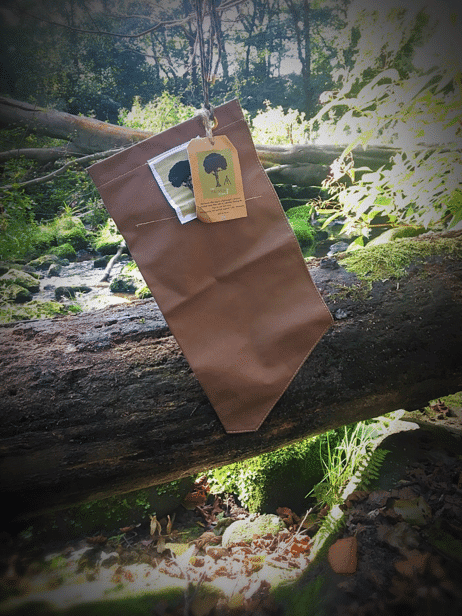 Large bag, 20 litres.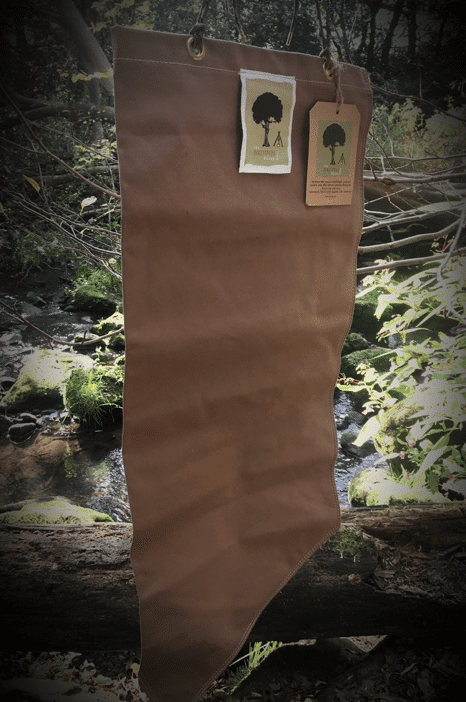 The small bag will filter about 3 litres of water, and the large about 20 litres so lots of water can be prepared quickly.
So how do you use the bags?
The simplicity of the bags continue with the use, you first need to prepare them, a "breaking in" process is outlined on the instruction label.
It says one option is a rinse cycle in the washing machine, personally, I feel this isn't enough to break them in. So I took other option of 10 minutes thoroughly wetting the canvas, followed by lots of twisting, rubbing and squeezing water through the bag. It was then placed on the radiator to dry. This was repeated a few more times, the bag was now ready.
Essentially you need to open the fibres of the canvas to allow it to catch the bits, the instructions state you need to "rough" them up.
They come with a length of paracord passing through a brass eyelet so you can hang the bag from a tree, tripod or the wing mirror of your vehicle.
The instructions on are simple, soak the bag in water and rub it together to open up the fibres, then fill the bag with dirty water to the top. Once the bag is hung, allow water to filter through until it lowers to the sewn line, oddly this fill line is only on the smaller of the two bags tested so I started catching the water after about a quarter of it had drained out onto the floor. It's really that simple.
Having tested it with some pretty dirty water, it filter out all the muck to an exceptional standard, yes I'm sure that in a microscope you would still see bits of mud or other items coming through, however as you can see, to the naked eye it's done a good job which will allow the secondary purifying methods to work well.
The test I conducted was done in a semi-controlled manner, by that I mean I got a billy can, full of tap water and threw in a few handfuls of mud, leaves and whatever else was dragged up with my foot. It was all mixed into a nice muddy soup and the bag sunk into the soup. I left it there for a few minutes whilst I found a clean billy to catch the clean water, then returned to my brown bag soup mix, pulled out the bag, gave it a good squeeze and hung it from a tree. It was slow going and I had expected the water to flow quicker, however, as it was very dirty water the slow filter rate through the canvas is understandable.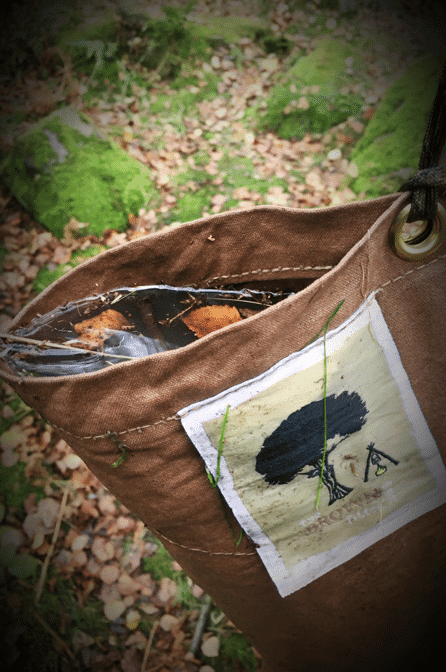 Check this for a before and after shot, I'm quite shocked at how much it actually removed, now the water did have a slight colour in the photo, however these billy cans are very old, so have been stained over the years.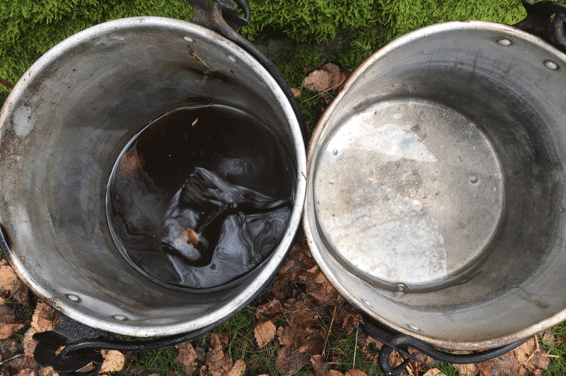 Practicality
Are these a practical alternative to other forms of water cleaning?
Well, to be honest, these are different than other forms of water filtration, if you used a ceramic filter where you pump water through, it's good to drink there and then however they are expensive, have to be serviced and if you drop it, it may be damaged, you can literally drive the Landrover over these, and they will still do the job they were designed to do.
Rupert suggests using the filter bag to pre clean the water, thus helping to prolong the life of other filters, such as a ceramic filter, this may sound time consuming and even pointless, but it would keep your ceramic filter working for a lot longer, saving cost and also in an emergency situation it would give you a lot more clean water before the ceramic filter fails.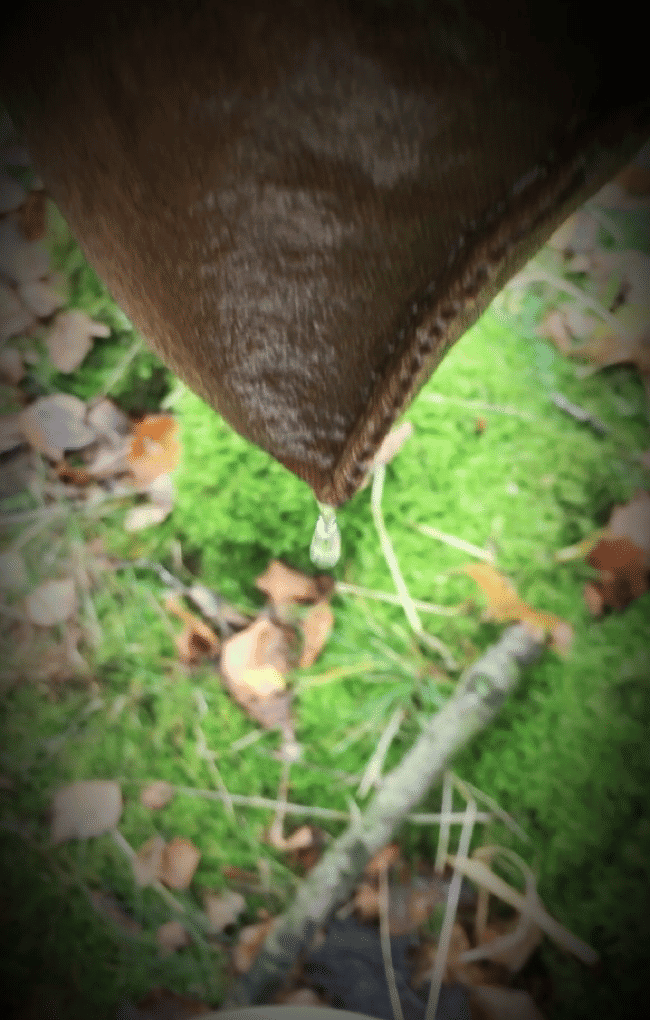 For me to filter a cup of water it took about an hour, it was very dirty water and I'm sure the more the bag of roughed up, this will speed up.
Value for money
These are not cheap canvas bags by any means, the small bag is around £26 and the large £38, so as far as value goes, considering the working life of these, that is next to nothing, especially when comparison a ceramic filter could set you back £100.
Ease of use
Unlike other filters which need to be pumped and serviced, this is a bag you fill with water, and it filters the water. Dry it out after use, and pack away. Can't get much easier than that.
Pros
Relatively inexpensive
Easy to use
Very robust
Classic looks
Cons
Hard to dry in the field
First stage filtration only
Takes time to prepare when new
Conclusion
I really like it, if you're into your gadgets, this isn't really for you, however, from the test filtering I did, it's a cracking bit of kit. It rolls down to a small package which can be stuffed in your kit bag. It takes no real care, just ensure it's dry when packed away for any length of time.
Would I recommend this water filter?
The answer is a big yes. If you want a cheap reliable filter for cleaning water ready to boil for a cuppa then this is a great way of doing it. If you want to filter water directly into your drinking bottle you might be better off with something like a ceramic filter.
But get one of these anyway to make your fancy filter last a lot lot longer.
For more information onto Brown Bag water filter have a look at the Browns Bushcraft Website and/or watch the Video produced by Rupert.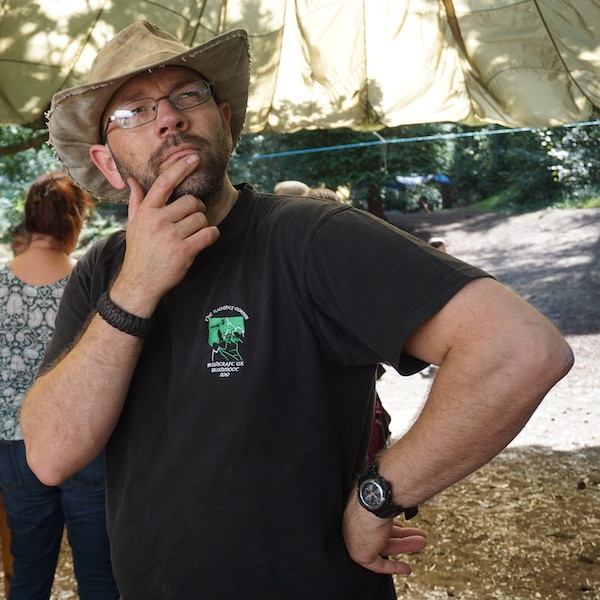 Ian Woodham
I grew up on my parents farm, so the outdoors has been a part of my life for as long as I can remember, be it driving tractors at 12, or helping to feed lambs as a toddler, the woods and fields were my playground. However the term Bushcraft only came to me having watched a television program featuring Ray Mears, it was then when I decided to gain more skills so attended a then called "Woodsmoke" bushcraft course and that was it, the bug had bitten. I was told about Bushmoot by one of the instructors on a later wild camping trip and attended the following year, I've not missed one in 8 years.
I have a keen interest in making my own gear, anything from wood burning stoves, to clothing so when I'm not spending time with my family, or being a scout leader, I enjoy planning my next project.
I live with my partner and three children, just on the edge of the Yorkshire Dales, so I'm never far away from the outdoors.