I am a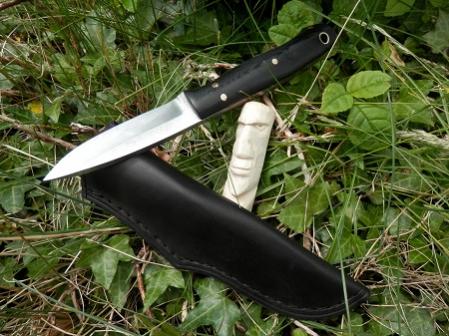 lways interested in bits of kit that are slightly different, and when I saw that the Fieldcrafter-UK knife had a spine thickness of 5.8mm (about a quarter of an inch in old money), a blade length of 9.75cm (9.5cm cutting edge) and was only 23mm from blade to spine, I thought … "interesting" … and was lucky enough to acquire one from Matt almost instantaneously.
Fieldcrafter-UK is a fairly new venture. Matt has used his experience with tools as a butcher and a mason, a field sport enthusiast, kennel man and skinner for a hunt and combined all this with an interest in making knives, ploughing the profits from selling some stunning looking knives into upgrading his knife-making set-up from beating old files into knives using an old BBQ and Hoover forge, to a fully-equipped knife-making workshop.
Now making knives is Matt's full-time job and Fieldcrafter-UK knives his sole income. The knives are all handcrafted by Matt with only the laser cutting of the blanks, the laser engraving of the maker's mark, the bead blasting of the blades and the heat treatment being outsourced to other professionals.
The knife Matt sent me was an off the shelf standard stock model and while it is nominally identical to all the others, it is, as a hand-crafted item, subtly different to all the others, so some points I make in this review may not be entirely true for all the knives of the same model. That is one of the joys of getting craftsman made kit – each is a unique and individual piece of work!
First of all the stats!
The Fieldcrafter-UK knife I received is made from 5.8mm thick 01 tool steel with a "raw steel" (rolled finish then bead blasted to a pleasing textured effect) finish with black linen Micarta scales.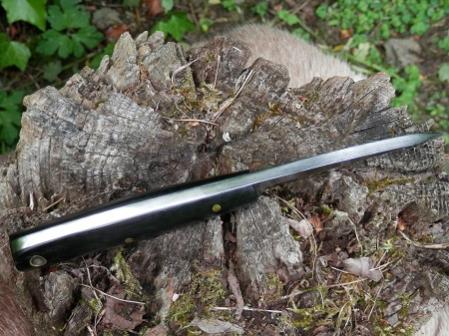 The blade is 9.75cm long, 23mm from edge to spine with a 9.5mm cutting edge, a drop point and has a "saber" grind with a micro bevel (the saber grind is similar to a "scandi" but deeper and finer). The steel is hardened to 57-59 HRC. There is a 5mm ricasso and a full tang handle. The handle is a slim "coke bottle" shape and is about 12cm overall length.
The handle scales are of black linen Micarta held in place with a "2 ton" rated epoxy, 4 brass pins and a brass lanyard tube. The handle has a "satin" finish.
The friction fit sheath is made from black through dyed 3.5mm shoulder leather and is hand stitched with 4 strands of waxed nylon thread through a deep welt edge. The belt loop is riveted with twin rivets and the leather waxed. Personally I prefer stitched belt loops, but the rivets do not seem to scratch the handle.
The knife weighs about 220gm, and 300gm with the sheath, while the "fit" of all the parts is excellent. The balance point is about 4cm behind the blade. The finish is not that of an over-polished "draw queen" but more subtle with the "raw steel" texture of the blade surface and with other parts displaying minor polishing scratches. The grinds are pretty well perfectly matched though a millimetric mis-match of the plunge lines is evident at the blade edge.
My first thought on seeing the Fieldcrafter was – wow, that looks ready for heavy work, and on handling it I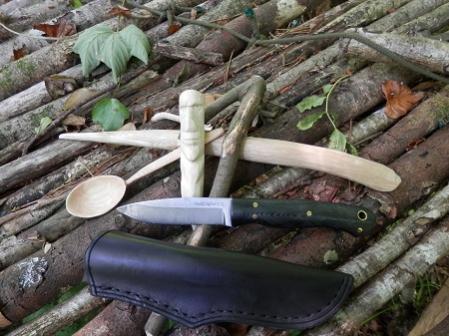 appreciated its workmanlike heft. Naturally, the blade was super sharp straight out of the packaging and not only took hair off my arm better than a Bic razor, but cleanly sliced free-hanging newspaper without a problem.
Some may find the slim handle a little small, but it suited me fine and I found it comfortable throughout the testing, which involved the use of pretty much every grip known to knifework, and up to 4 hours constant work at a time.
The tests involved: batoning down the grain and across the grain, feather-sticking, whittling, fine carving, cutting meat and hide, veg preparation and more, and the knife proved excellent in every test. Even after batoning and cross batoning through 18-month seasoned hawthorn, carving a "wood spirit", carving a spoon and carving a "harpoon head" out of the hawthorn, feathersticking multiple lengths of hawthorn and pine (and a matchstick) the blade was still razor sharp (by now my left arm was looking kind of naked) and could still slice newspaper without any hesitation.
The knife went on to cut hide, rawhide, 3.5mm veg tan leather, fine chop vegetables, cutting carrots without them flying all over the place, trim meat, remove the skin from my forthcoming dinner, peel, trim and scrape clean ash skewers, whittle seasoned ash points, trim up a hazel pole to a spear point,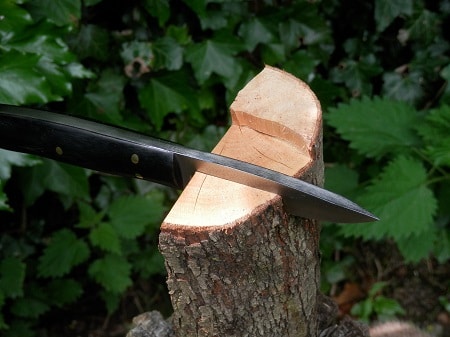 harvest some pine resin, trim back briar and fern from a woodland walk and more everyday tasks – all without more than a light stropping of the edge on a plain leather strop.
The edge retention of the blade was more than I expected, but the edge shows no sign of chipping and the knife was unmarked when I accidentally dropped it from about 3ft onto a concrete floor…
I have yet to need to do any re-sharpening of the edge, other than stropping, but I do not see it being any sort of problem.
One of the many tasks I put the knife to was making a "one-stick fire". All the materials from tinder to main fuel came from one stick of seasoned hazel with the knife batoning lengthways and across the stick, splitting, feather-sticking and scraping the surface to provide all the thickness of wood I needed. The wood scrapings were then ignited with an LMF firesteel struck with the back of the Fieldcraft-UK knife blade.
The knife showered the tinder with big, fat sparks and got the fire going in one hit – and even after all that work, with just a light stropping the edge is back to being able to cut the ink off newsprint!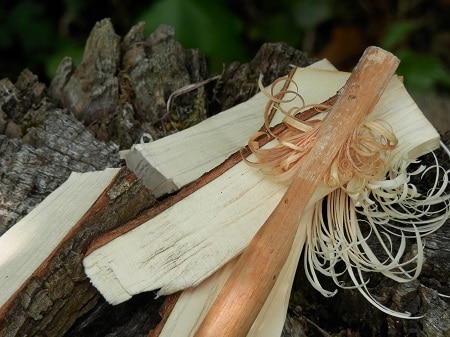 The handle of the knife proved comfortable throughout testing and even offered good grip during the "slime" test where I cover the handle in washing-up liquid (to simulate the worst guts and gore and mud and blood) and then work the knife on various tasks.
I never experienced any hand fatigue, hot spots or any discomfort during the testing of this knife, nor any "awkwardness" of grip.
This is a very strong knife, but it is also a joy to use.
The 01 steel did need care to avoid it swiftly corroding – as 01 always does – but I intend forcing a patina with vinegar to help control this aspect of the steel characteristics, and as the scales are Micarta (Matt only uses synthetic material scale materials, for extra durability), I will be able to treat the visible parts of the tang for an even look.
To say that I am impressed by this knife is an understatement. The edge retention and blade geometry have exceeded my expectations, while the strength of the knife is exceptional. I have not used a knife with such a wide spine before and expected it to suffer in comparison with thinner backed blades (especially when carrot slicing!) but was amazed at how well it dealt with even the finest work.
Strong, practical and with superb edge retention, the Fieldcrafter-UK knife is the culmination of years of Matt's practical experience and is an excellent "all-rounder" as a real working tool for bushcraft, field sports etc and when you see the price is a very reasonable £120.00 including UK first class recorded delivery (mine arrived the day after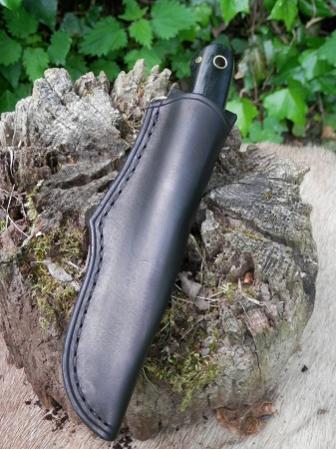 I spoke with Matt – a record for the West Wales postal service!) you can see that you get a lot of working knife and good service for a very reasonable price! Matt estimates that the knives are good for 3,000 hours of hard use – I estimate that your grandchildren will inherit your knife.
As this has been such a glowing review, I think that I should emphasise that I have no connection with Matt Simmons or Fieldcraft-UK and the review is totally independent!
For more information contact
Matt Simmons
20 church view
Bottesford
Notts
NG2 37AE
e-mail – fieldcrafteruk@gmail.com
Tel – +44 17553 338 066
There is some choice of handle material and a couple of different models of knife available in the Fieldcrafter-UK Range, and Matt accepts Paypal, cash or direct bank transfers for payment.