Review
Jetboil Flash and Accessories
By John Fenna
I have owned and used one of the original Jetboil stoves for many years and have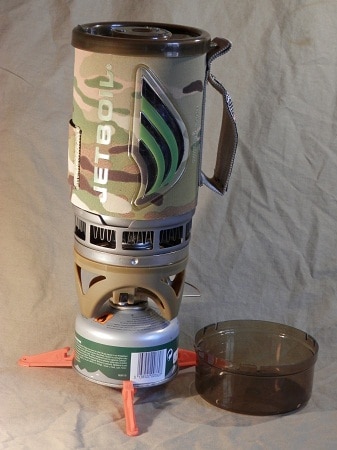 found it a great bit of kit.
Over the years Jetboil have allowed the stove to develop and improve and when I recently had the opportunity to test and review the Jetboil Flash Stove I found it was even better than my original Jetboil in terms of strength, robustness, speed of boiling, practicality, versatility and ease of use.
The Jetboil Flash is designed to be a safe and fast stove that uses minimal gas and has proved efficient during all my testing and ideal for use when making "boil in the bag" type meals, rehydrating dehydrated meals, making soups or other "wet" meals, cooking noodles, etc and, of course, making hot drinks. With care, the stove proved good for melting snow for water and the roar of the stove in use is strangely comforting when out all alone in the wilds!
The heart of the Jetboil Flash cooking system is the burner unit into which the gas canister is fitted (most common self-sealing screw-on canisters made to EN417 spec work well, though Jetboil only recommend their own brand). This stainless steel burner has a Piezo type "push button" type igniter built in (but lights well from matches, lighter or Ferro stick sparks if this fails) and has a neat fold-away handle on the flame adjuster which is positioned so as never to get hot when the stove is in use.
Onto the burner unit clips the 1 litre capacity (never fill it tool full in use – there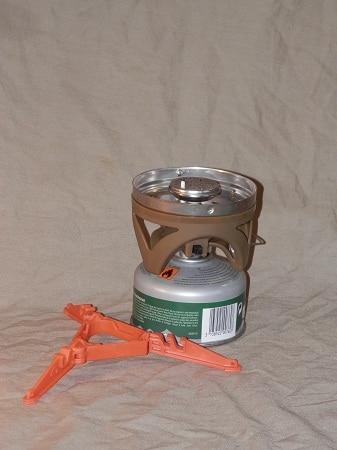 is a "safe fill" line marked inside) cooking vessel which is made from hard anodised aluminium and incorporates a "flux ring" heat exchanger that captures the maximum possible heat from the burner for maximum fuel efficiency rather than wasting heat by letting it heat air.
As the vessel clips onto the burner you get a very secure unit, helping avoid accidental spills. For extra stability the Jetboil Flash comes with a clip-on folding tripod that fits securely to the base of the fuel canister to increase its "footprint". This tripod is also available as an accessory/replacement item in the Jetboil range.
Around the Jetboil Flash's cooking vessel there is an insulating cosy that not only helps retain heat in the vessel during use, protects your hands from the hot vessel when you are handling it, and protects the vessel from scratches and bumps when in transit, but also incorporates: a webbing handle – making the vessel a great mug and easy to hold when eating from it; a loop for storing utensils in transit; and colour changing heat indicator panel when black stripes turn yellow as the vessel heats up.
The vessel has a semi-flexible semi-transparent lid that incorporates a steam vent hole in the centre, a "thumb li p" to help pot the lid off and a "sipper spout" that allows you to pour or drink from the vessel while keeping the lid in place to save the
contents cooling and a "one-cup" 250ml measuring cup in the same plastic which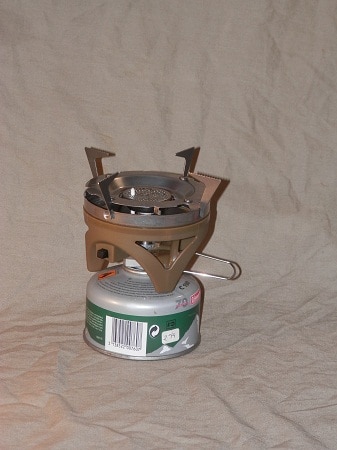 clips onto the base with a bayonet fitting to protect the flex ring and provides a drinking vessel if you prefer not to drink from the main vessel, or are sharing.
With the Jetboil Flash a separate pot support is provided so that you can use ordinary flat-bottomed pots and pans as an alternative to the clip-on cooking vessel provided (i.e. a frying pan) making the stove more versatile. This pot support, like the main cooking vessel, locks in place with a bayonet fitting for maximum security and holds pans at the optimum height from the burner. The pot support, along with the stabiliser tripod, is available as an accessory/replacement from Jetboil if needed.
For superb compactness, the fuel, stabiliser, tripod, gas canister (up to a 9.5cm diameter model), pot support, all fit neatly inside the cooking vessel with room to spare, and with the lid and cup clipped on top and bottom your whole cooking system makes a neat 104mm x 180mm (4.1" x 7.1") unit that is easy to pack and weighs only 700gm (about 1lb8oz) including 125gm of fuel!
In use I have consistently found that the Jetboil Flash cooking system will boil 0.5 litre of water in 2.5 minutes (3 minutes from cold) in above 0 degrees C temperatures. Times were with an almost empty fuel canister in cold conditions (hint – warm your canister in an inside pocket before use and use Butane/Propane
mix cartridges for best cold condition performance).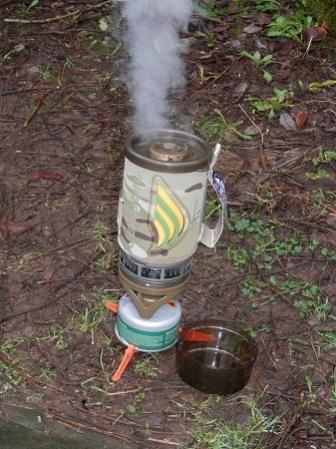 A standard 125gm/225ml fuel cartridge will boil up to approx 15 litres of water (a 100gm cartridge doing about 12 litres) and will fit inside the cooking vessel along with all the rest of the cooking system. This has to be the most fuel-efficient gas stove system I have every come across, so you save pack weight by carrying far less fuel than with other systems.
As previously mentioned, the Jetboil Flash Stove is best for providing "wet" meals where little more than boiling water is needed. However, I have found that you can make more standard meals in the Jetboil as the flame adjuster allows enough control to achieve a good simmer. Be sure to stir stews, baked beans etc almost constantly to avoid burning though! I have even fried eggs in the cooking vessel (one at a time…) and the Jetboil website has a good recipe section for the adventurous gourmet!
The Jetboil Flash Personal Cooking System is available in Peridot Green, Tomato Red, "Carbon" or Camo colours and costs around £105.00 and has proved a very practical stoves system for compact and lightweight cooking needs as well as being
robust, efficient and versatile.
To make the Jetboil Stove System even more versatile, Jetboil also produce a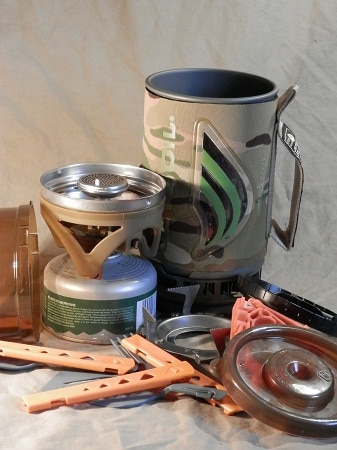 range of accessories. As well as the stabilizer tripod and pot support already mentioned (which cost around £16 together), the range includes a 1.5L cooking pot, a frying pan for more adventurous cooking, a hanging kit (mainly for big face climbers I guess), a set of cooking utensils and a coffee press.
I have had a try of the latter 2 items and have found them very useful.
The utensil kit comprises a spoon, fork and spatula specifically designed not only to reach to the base of the cooking vessel, but they telescope down, the heads pushing into the handles, for carrying either inside or in the purpose-fitted loop on the outside of the "pot cosy" for transport. Although a little flexible, the high-temperature nylon utensils are lightweight, tough and perfectly practical for cooking and eating most meals you will prepare on a Jetboil stove.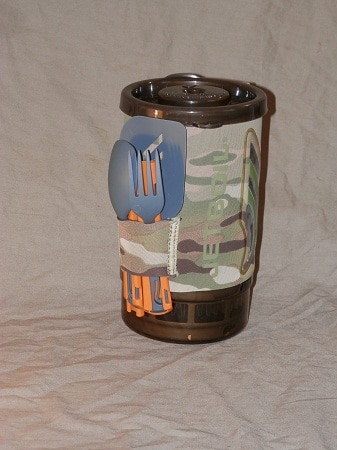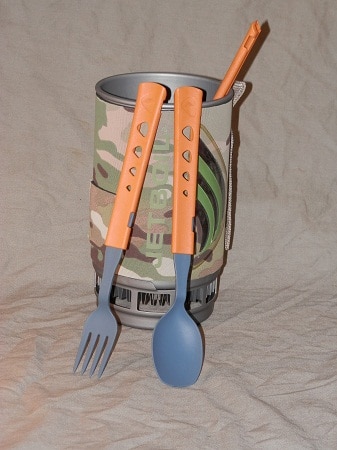 The utensil kit costs around £10.50.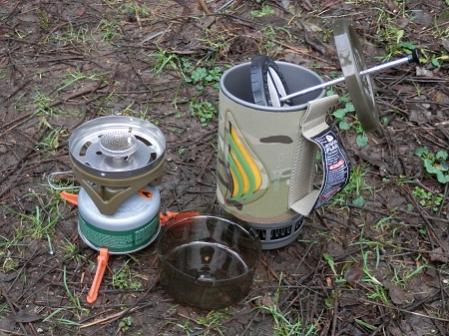 The coffee press – an ideal piece of kit for coffee fans like myself – comprises a 2-part metal rod and a coffee filter disk. The rod is screwed together, pushed through the hole in the centre of the cooking vessel lid and screwed into the stainless steel mesh and plastic filter disk and turns the cooking vessel into a cafetiere!
Simply boil up your water, remove the cooking vessel from the burner, add your coffee grounds and mix them into the hot water and let them brew to your taste. Fit the press into the cooking vessel and press the plunger home. Your coffee is now ready to be poured or sipped from the lid. Hint – if you use coffee ground coarse as opposed to that intended for paper filters you avoid getting fine grounds (dust) coming through the coffee press. The 2-part metal rod will store inside the cup on the base of your cooking vessel or inside the cooking vessel along with the filter disk.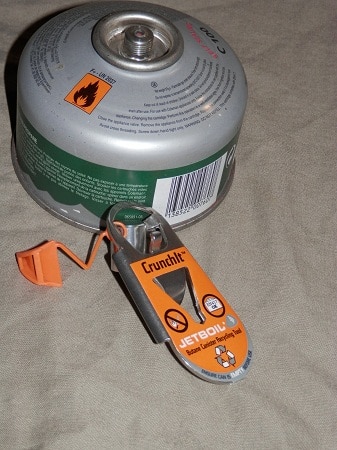 The coffee press costs around £16.
My ideal Jetboil personal cooking system of Jetboil Flash, including pot support and stability tripod, with the utensil kit and coffee press, weighs about 1lb7ozs with a 100gm fuel canister and as everything, including fuel, forms one unit, is compact and convenient to carry even on a day's bimble, yet will be more than enough to provide for a weekend's needs.
A last Jetboil accessory to mention, and best left at home for when you return with empty fuel canisters, is the "Crunchit". This handy tool allows you to ensure the canister is fully vented and then punctured so that your old canisters can be recycled rather than added to landfill (check your local recycling protocols).
Simply screw the Crunchit onto the canister's valve to completely vent any remaining gas, then use the spike to clearly and obviously puncture the canister. Your old canister should now be recycled along with other metals.
The Crunchit costs around £6.50 – a small price to pay for the sake of the environment!