Up for sale is my latest bushcraft knife, specs below.
4.5mm 80CRV2.
Just shy of 60HRC, treated in a paragon kiln and verified on a Wilson tester.
Natural micarta scales.
G10 liners 1.5mm black.
8mm stainless tube.
Kydex sheath riveted and adjustable retention via rubber washers Chicago screws.
Scandi grind with stropped micro bevel, razor sharp.
Cutting edge a little over 4", scales just short of 5".
Build pics and videos on my Instagram, check it out for more detail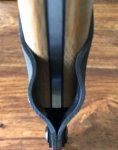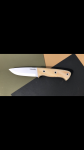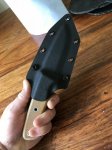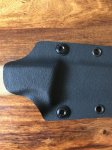 Belt loop will be finished today, but will have a leather backing to the kydex so it can be carried normally and scout carry, much like the RMJ style that has appeared on some of their work. I'll post pics once done
inc postage via PayPal NOW £90 AS WANT TO BUY SOME MAKERS NATERIALS
Thanks for looking
Luke
Last edited: