Unfortunately the dog is starting to cost a fortune in vet bills so need to free up some cash just in case more tests are needed
If further info or photos are required please drop me a pm and I will do my best to help!
Payment would Ideally be by Bank Transfer but will accept PayPal if buyer would prefer
1) Killrathi small blade in 80crv2, handled by me in either maple or birch(can dig through old purchases to find out if so desired.)
handled but never sharpened or used, a forgotten project. No sheath.
£40 to your door via 2nd class tracked.
Sold With Thanks!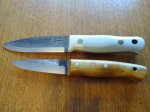 2) BCNW-01. light use by original owner. Early version without makers etching on blade. sold this to a mate a while back, he didn't use it so I bought it back and still never put it to use.
Some pitting due to storage unfortunately but nothing that won't sharpen out or clean up.
sheath has some nicks and scuffs from original owner.
-
Withdrawn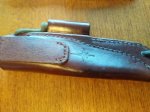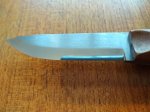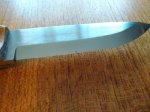 3) Alan Wood Woodlore. i Believe made around 2003?? i bought this 2nd hand off either here or BB, Again I can try and dig through the PMs on here to confirm if so wished, but obviously can't check BB
I was told it was never used, but the bevel looks like it may have been sharpened/stropped. and the handle has either been varnished or too much linseed oil, as a result the handle and tang are coated and some marks have appeared on the tang and bolts.
The handle has swollen slightly in storage and the blade has a forced patina on it.
The original plan was at some point to send it to Alan for a full tidy up, put it into service and then sell off most of the collection.
But unfortunately time and funds have put a stop to this idea.
Withdrawn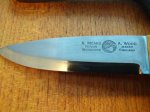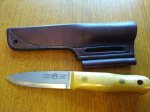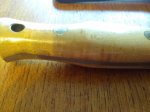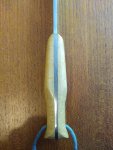 Thank you for taking the time to look at this thread.
By buying any of these you are confirming that you are over the age of 18.
Please don't be offended if I ask for ID
Cheers
Turnip
Last edited: