Making memories since '67
Paria Outdoor Thermodown 15 Degree Down Sleeping Quilt Review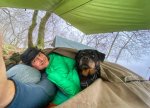 When you have been camping for a while there are some things you keep looking for but don't seem to be made by anyone. For me one of those items was a good, all season down quilt for using in the Swag or hammock. Of course, when it works for these it works for tents, bivvi bags and the rest. I've reviewed and used the Thermarest Quilts in the past and these are great but really only for summer use. On a cold spring or autumn trip it would not be enough and definitely not for winter. Still they were what really got me keen on quilts.
I have down underblankets that could work as all season quilts, but these were both custom made so not really something I could recommend for everyone, plus they were overengineered to an extent that made them almost as heavy as comparable sleeping bags.
I would do a search for winter rated down quilts every so often and finally found one. I had not heard of the Paria brand before so reached out to them and asked if they could send me a sample of the quilt to try and then review on Song of the Paddle. They kindly did. As I know lots of the members here use hammocks I thought it would be worth posting the review here as well. As always, I'm not getting paid for the review nor am I under any obligation to be kind about the product. For what it is worth it is also worth pointing out I contacted them as I was excited about the product rather than them approaching me to plug something on their schedule.
So this is the quilt.
https://www.amazon.co.uk/Paria-Outdoor-Products-Thermodown-Sleeping/dp/B01NACUVNQ
They also do one rated for warmer temperatures.
Warmer weather version
https://www.amazon.co.uk/dp/B07BGHNXS9
I got the long option of the 15 Degree quilt. That's 15 degrees Fahrenheit so about -9.5 degrees Celsius.
The pictures on Amazon are pretty good and cover a lot of the details so if I've missed something you might find it there. The quilt comes in a net bag to store it uncompressed.
It is slightly tapered in shape but only slightly.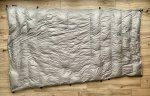 The bottom section can be zipped together to form a footwell. There are clips too to make sure the pressure does not make the zip open.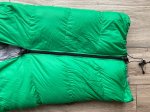 And there is an elastic drawcord to close the foot section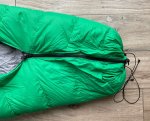 The clips mentioned above are along the full length of the quilt so you can form it into a sleeping bag shape. There is also an elastic cord at the top.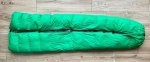 The quilt also comes with a strap that can be clipped on, to go under a sleeping mat and hold it in place.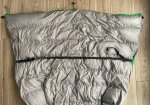 Lastly the Quilt comes with a stuff sack to compress the quilt for packing.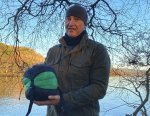 Let's talk first about why I like quilts over sleeping bags and then we can finish with why I like this quilt particularly. I'd say there are three benefits to a quilt. Weight, comfort and versatility.
Starting with weight the logic is that a good proportion of the sleeping bag we are lugging around is under us, and compressed, so giving little to no insulation. As we are generally on a sleeping mat anyway or have an underblanket on the hammock we don't need insulation under us anyway, so it is redundant. In my case the down sleeping bag I have used for years weighs about 1.6kg and this blanket will cope with the same temperatures but only weighs about 1kg. There is also a corresponding saving in packed volume, but this is less of an issue.
Regarding comfort, there is a reason most of us have quilts on our beds at home and not sleeping bags. First off, I find a zipped-up sleeping bag restrictive. With most bags I couldn't reach my foot as they were not wide enough to let me bend my leg or reach down. It is why I had a Dreamweaver sleeping bag with built in stretch (these are not made anymore). I've used my sleeping bag as a quilt for more than 10 years now. I just zip the bottom foot or so up, put my feet in there and use the rest like a blanket. It is why I've been looking for a winter blanket for so long.
I have no desire to tough it out in the cold. I like to be warm. So, I take my winter rated bag with me all year round, pretty much. If the forecast is really warm I take the Thermarest quilt but you can still get caught out with a cold night. With a quilt that has more insulation than you need, it is pretty easy to arrange it to let some of the heat out while still staying warm enough. This way I have the protection of a winter rated sleeping bag for the weight penalty of a summer rated one.
The range of temperatures you can use the quilt in is part of the versatility of the quilt. Like most of the things I am about to mention a sleeping bag can serve most of these functions, but it is not usually as simple to do. The most obvious use of the quilt is in regular sleeping mode, as below. Feet in the bottom section top part quilt like.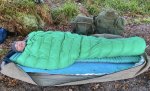 As I've said I have the long quilt and I am 6 foot 3 inches tall and the quilt is long enough to easily tuck round my neck plenty spare. This configuration works well in a swag, bivvi bag, hammock and in a tent. You can not bother to zip up the bottom section and just use it in full quilt mode. If you are shorter and like more freedom or it is warmer weather this may be the better option.
The quilt can also be used as a hammock underblanket. I have checked and this is almost identical in size to the two down underblankets I have. I have not actually set it up and used it as an underblanket yet but with the elastic drawcords at the ends and all the loops and clips on the long ends and corners this would be easy to do. You can get synthetic underblankets for way less than this costs. They will be slightly heavier and not as warm but more than adequate in most circumstances, however, this is priced about the same or less than the down underblankets I can find in the UK. The point being, with this quilt and quilts in general, you have the option of using it as an underblanket without having to buy an underblanket that won't serve any other purpose.
One of the other most obvious ways to use the quilt is wrapped round you shawl like.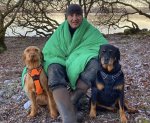 I used to pack the thermarest quilts specifically for this use. Even in summer it is common to get a cold back sitting by the fire. In winter it can make the difference between a cosy night by the fire and going to bed early to get warmed up.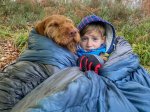 Of course, you can do this with a sleeping bag, but I've found it more awkward with the more severely tapered shape. The zips also seem to make it a bit more hassle too, whether it is them not having the soft edge of the quilt or not allowing it to drape quite as well I can't quite pin it down.
All the reasons I like quilts over sleeping bags apply to the Paria quilt. Some things only apply to this quilt. I have already mentioned the temperature rating. Finally, a quilt I can use all year round that will keep me warm in all the weather conditions I encounter. Comparing this to the thermarest quilts you can instantly see the extra filling and loft. In the outdoor pictures above the temperature was well below freezing during the night and I was not even close to cold.
I would also say this quilt is more robust than the thermarest one. I have never ripped the thermarest one, but it does feel flimsier. The Paria one feels more robust. It also has a level of water resistance; however, I just don't let my down sleeping equipment get wet. Still it is good to know there is some protection should I be careless.
There is little if anything I would want to change about this quilt. Cheaper would be nice but not really feasible. The price is competitive with other down sleeping bags and I would say lower than sleeping bags of a similar quality. As I've said there is not a comparable quilt in the UK to compare the price with, unless you know different.
One change I would make it to reposition the clips on the long edge slightly and change the handing of them so that they could be clipped to hold the quilt round your shoulders like a shawl. I had thought it might be handy to have a slip formed in the centre so it could be worn like a poncho. I've seen this in some American models, but I'm not convinced this would actually be that useful.
It will be no surprise, if you have made it this far, that I'm recommending this quilt. If I had to return the review sample I would buy one with my own money. This is a product I have been waiting for and it has been made the way I would want. What more could I have asked for.