Hi All,
Apologies that this is my first post and one which is just selling things, but I want to sell a few knives I collected over the last 10 years and this seemed like the best place to do it.
I want to sell things to raise funds for a violin.
Most of them were bought from Heinnie Haynes but a few are from other places.
UK postage only, Over 18's only, payment by Paypal. - All items sent by Royal mail signed for.
All prices include RM shipping.
If you have any questions let me know.
Kind regards,
SBO
-------------------------------------------------------------------------
Magnum Hawk - Folding - never used -
£20
£18
£16
£14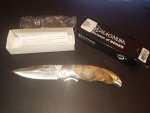 Tom Anderson - Scimtac folding - never used
£20
£18
£16
£14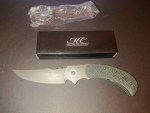 Magnum folder - never used
£15
£13
£12
£10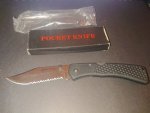 Ka-bar - komodo folder - never used -
£15
£13
£12
£10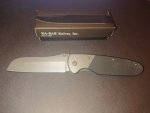 Blackfox - folder - never used - £15 £13 SOLD
Boker plus - steel mariner - never used £45 £40 £38 SOLD
Condor - Bushbuddy - never used - £20 SOLD
Puma Tec - Belt Knife with sheath and box - never used - £25 £23 SOLD
Last edited: