Welcome to Lords Wood 2021
​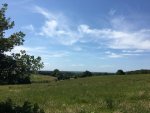 A view from Lords wood across to the Chilterns​
Sadly we have had to leave our old woodland to make way for 'progress' in the form of HS2.
So, here we are in our new venue, I would like to welcome not only our existing old hands, but also anyone else who would like to learn or share the many skills we call bushcraft. Between us we have a wealth of knowledge we would be happy to share. This is a family friendly gathering Open to anyone at any level.
This ancient woodland is known as Lords wood and extends to about 10 acre's. It was recorded in the early 15th century in the parish of Corley Warwickshire. It was part of a much bigger wood as recently as the early 19th century, one of which was Woodcock Grove, some remnants of this remain and which we will use initially. Lords Wood has not been managed for a very long time so there will be plenty of work party's as we edge into the woodland exploring and creating new groves.
I have taken a few pictures and will post them in the order I approached the wood, there is an excellent all weather track from the farm and the farmer is willing to create a parking area close to Lords Wood!
As always extra days are available if there is enough interest​
For clarification this is a private and sole occupancy piece of woodland sourced by me, and managed by the Lords Wood regulars. This facility is available for anyone to attend either individually or as a group, just add your name to the BCUK listing.
Lords Wood is an ancient woodland of approximately 10 acres consisting mainly of broadleaved trees. This woodland is located on a private farm in the heart of Warwickshire and has excellent access to the M1, M6, M6 tollroad, M42, M40 and M5.
When in Church Lane look out for a communications tower, the single track lane next to it is the entrance to the farm, the full address is;

Marslands Farm
Montague Road off
Church Lane
Corley
North Warwickshire
CV7 8AZ


Fees

please pay on arrival or as soon as is practicable. I dont want to be chasing people for fees as theyre packing up!

18+............. £5 per night, Plus communal fee max £2
Aged 12~17 .....£3 per night
Under 12 ..........free.
Day visits..........£3


Fires

To ensure the future of Lords Wood as a camping, bushcraft venue, and to conserve the continuing stocks of wood for the communal areas, the following conditions will apply Unless stated otherwise in the meet introduction.

Wood collected and processed during the course of the meet is for use in the communal fire area (excluding small sticks, twigs) so that everyone benefits, or in some cases for the use of the farmer.

If you want to bring in your own Honey Stoves, hobo stoves, twig, small stick burners (thumb size) and the like, they are acceptable providing they have sufficient ground clearance or protection to prevent scaring. Pit fires or similar are not acceptable.

Modified jerry can (or similar) stoves, tent/tipi/lavvu stoves and the like are not acceptable unless you bring a sufficient amount of fuel for your needs for the duration of the meet.

live wood is to be left untouched, unless of course there's planned maintenance, in which case it will go to the communal fire or any projects.


Im hoping this is going to be self regulating, If individuals blatantly ignore this, they will not be invited back. If you require clarification on what is acceptable, drop me a pm.

I hope I have explained my motives for these actions clearly. They have been put in place to ensure the longevity of Lords Wood as a venue.

Facilities

There is a toilet located next to the farmhouse which is available to us, an outside water tap is situated at the entrance to the livery on the way to the wood.

Rubbish
we are here as guests, so it really is a case of leaving no junk / fire scars etc. Take your rubbish home, there are no facility's to leave it on the farm.
If you brought it in, it is up to you to dispose of it. No exceptions.

Under 18s

Are to be accompanied by a parent or guardian, and will be the responsibility of the person who bought, invited them.

Behaviour

Generally speaking our meets are very good natured and self regulating. However if someone is found to be unduly aggressive, unruly, or are otherwise hostile in any other form, they will be asked to leave immediately. if the offending person is a minor then the parent or loco parentis will be asked to accompany them off site.

If a member or guest has possible behavioural issues, the meet organiser should be informed before attending the site. In an instance where other members or their guests are put at risk, the member, inviting member and/or their guest will be asked to leave with immediate effect.

Risks

there is no insurance cover of any description covering the attendees of Lords Wood meets, any incidents arising will be entirely at your own risk.

Dogs or other pets

Are not allowed, however exceptions can be made under special circumstances.

Access

There is an excellent all weather track leading from the farm to Lords Wood, however the last 100mts is across a grassed field which in extreme conditions may impact travel, i will advise if necessary.

Access is from 09.00 on the given date, we will vacate the site no later than 1300 on whatever day the meet ends.

The gates from the farm yard into the meadows approaching Lords Wood may be closed if livestock are present, if you open it you close it.


Medical
There are no medical facilities on site, the nearest A & E is 17 minutes drive at;

Walsgrave Hospital
Clifford Bridge Road,
Coventry,
CV2 2DX



And finally,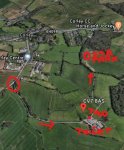 well that's it for now, any questions just sing out


All the best and look forward to meeting you

Steve
Last edited: