1. ITEM:
1 x Killrathi Knives Bushcraft Handmade.
Now SOLD thank you.
2. CONDITION:
Received new direct from the maker 22/06/2020
Two days out of the box for a play. Then oiled and stored.
Cosmetic marks on the blade from Test cuts on softwood and a bit of feather sticking and lightly stropped.
3. EXTRAS:
Kydex Sheath
Atwood 550 cord wrist lanyard
4. LOCATION:
Buckingham
5. PRICE:
£87
Incl PP & RMSD to UK. (overseas may cost extra).
No trades on this one, thanks.
6. DESCRIPTION:
Steel: 80CrV2 carbon steel 3mm thick 58-60 HRC. with a secondary micro bevel.
(Have found this to be a good steel. Same stuff as on my Tarava Skrama, very tough)
Total length: 225mm
Blade length: 110mm
Handle: textured and sandblasted G10.
Tasteful orange liners.
Priced for quick sale as I simply have another impulse buy already done for something that might suit my needs better but cant afford both
Has a few cosmetic marks on blade from test cutting on wood and has been lightly stropped.
Other than that its as i received it on 22/06/20.
Built tough. Feels very solid and dependable.
Similar in profile to the Boker Aborlito bushcraft style I think.
7. PICTURES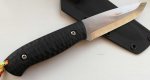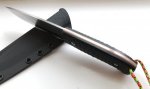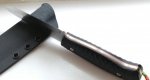 Last edited: