1. ITEM:
Hinderer XM Slippy Slicer
2. CONDITION:
Sold as Used but pretty much as new condition
3. EXTRAS:
1 x Custom titanium deep carry pocket clip with hardware
Details here:
https://mxggear.com/products/c…nderer-knives-xm-18-3-3-5
Hinderer custom blue & black G10 Scales.
Details here:
New high quality US made 0.05" hex key for the scales.
Atwood paracord lanyard in zombie pattern.
Original Black G10 Scales
Original Titanium Pocket Clip with original hardware.
Original Hex key for the thumb stud.
4. LOCATION:
Buckingham
5. PRICE:
All in at a bargain £290 please.
Or nearest sensible offer as always.
Paypalled & RMSD postage insured to the full value.
No trades on this one please.
6. DESCRIPTION:
Hi All
So our cornwall trip last week revealed to my useless unprepared Dad-ness that my boys have decided to grow at an exponential rate and now need new wetsuits
As such, as much as i have enjoyed fondling this about the house and marvelling over its design, alas its the only item I have left with which to raise some pennies. So she needs a new home.
Have never got around to taking this one out and about.
Edge has been dressed using Arkansas Ceramic, and very lightly stropped on a fine compound.
Everything is in as new condition.
Possibly one of the safest sub 3" cutting edge slipjoints i have ever handled and i have bigger than average hands.
Please note should you wish to change it up, when I reassembled the scale and clip screws were treated to a tiny spot of loctite blue threadlock to keep everything just-so without excessive tightening.
Although the loctite blue can be released with just tools, Due to the diminutive size of the tools I would recommend a warm bath in just boiled water for a few minutes prior to removing to assist.
Thanks as always for looking

7. PHOTOS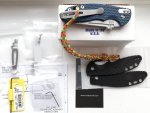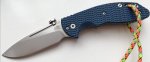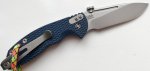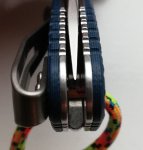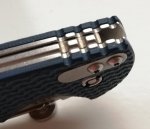 Last edited: