So I'm after a new chest pouch something along these lines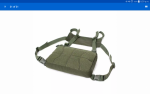 Would be ideal but I don't want to wait for China post. The fastex buckles are big bonus.
Price wise certainly sub 50 quid, this will lead a hard life being scraped on drystone walls and dragged through mud and it would kill me to do that to expensive gear
Anyone know anything similar?
Cheers folks