1. ITEM: frost river high falls short-day pack
2. CONDITION: Seen some light urban commuter use
3. EXTRAS: none
4. LOCATION: kent
5. PRICE: £50 inc postage and paypal fees
6. DESCRIPTION:
Inside sleeve works great for a water bladder, the hose can poke out the top (thanks to twin zipper pulls) and get clipped to the handy loops on the shoulder straps. The waxed canvas is tough, quiet, and water resistant. The pack's shape fits very well, leaving the shoulder blades with more freedom than a larger pack. In fact, you'll forget you're wearing it until you need what's inside.
High Falls Short Day Pack dimensions:
Size: 45.5H x 21.5W x 10D cmVolumes: Compact 10LWeight: 0.72Kgs
7. PICTURES: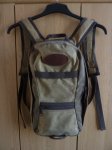 Last edited: