Hi There,
I thought i would do a quick review of a new canteen set i found on eBay.
Metal canteens have many advantages, chief among them seems to be the ability to boil water in them over an open fire, which of-course isn't possible with a plastic canteen. Looking around for a metal canteen i found all sorts of types, however, many of these were in the "Sigg" shape, and i was hoping to get one in the standard canteen design. This way i could wear it attached to my hip pad on the backpack more comfortable with its kidney design. The main option that stood out right away was the Pathfinder canteen cook set, reviewed on here several times. This seems like a very good set-up, with the bottle, mug & cooker included in a pouch. However, right away i was put off by the price, £56 is a lot of money to spend on a kit, when all i really need is the bottle, so i started looking for an alternative set-up. And i think the below is a very good compromise.
The French Army Set
The set below sells on ebay for £9 with postage, for that you get the bottle, mug & cover included. Unlike the pathfinder which is made of stainless steel, the french set is made of aluminium. One thing that stands out right away when i recieved it is the bottle appears to be either cast of machined as one solid piece, where as the pathfinder has the lip going around the center area. It's also quite thick aluminium, i doubt this would bend unless there was a good bit of force put into it. Capacity is very good, it holds about 1 & 1/2 liters, so a fair bit more than the 58 bottle. The lid is plastic, attached with a chain. I'm planning to cut this off so it can be removed to be used over a fire without it melting. These bottles are old surplus, and when it came it leaked quite badly. Inside the lid was an old orange rubber seal, which i guess had just seen its days, but since it was brittle from age was easy to take out. I've replaced it with a bit of scrap silicone sheeting from work, 5mm thick was the perfect size and now it doesn't seem to leak at all. Result. Attached below are a couple of bits from a hike done this weekend while the weather was good. The bottle kept the water cool, which is nice since I've always found the water heats up in 58 bottles. The cover is made of heavy canvass, with a thermal liner, very good quality with a belt loop and webbing attachments on the back.
Bottle & Mug in cover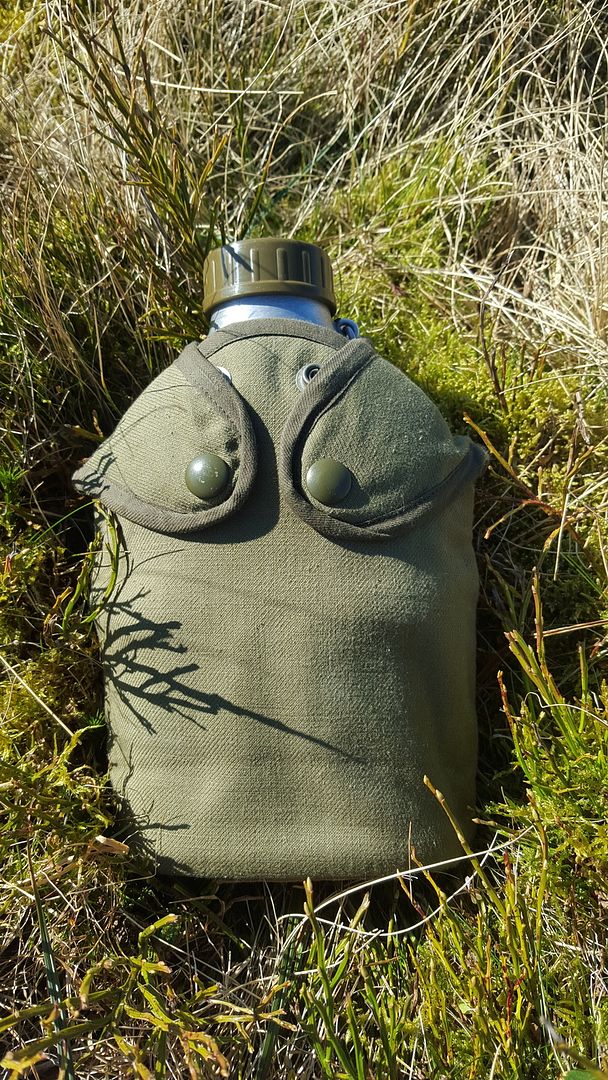 Cover off
Lid with new silicone inside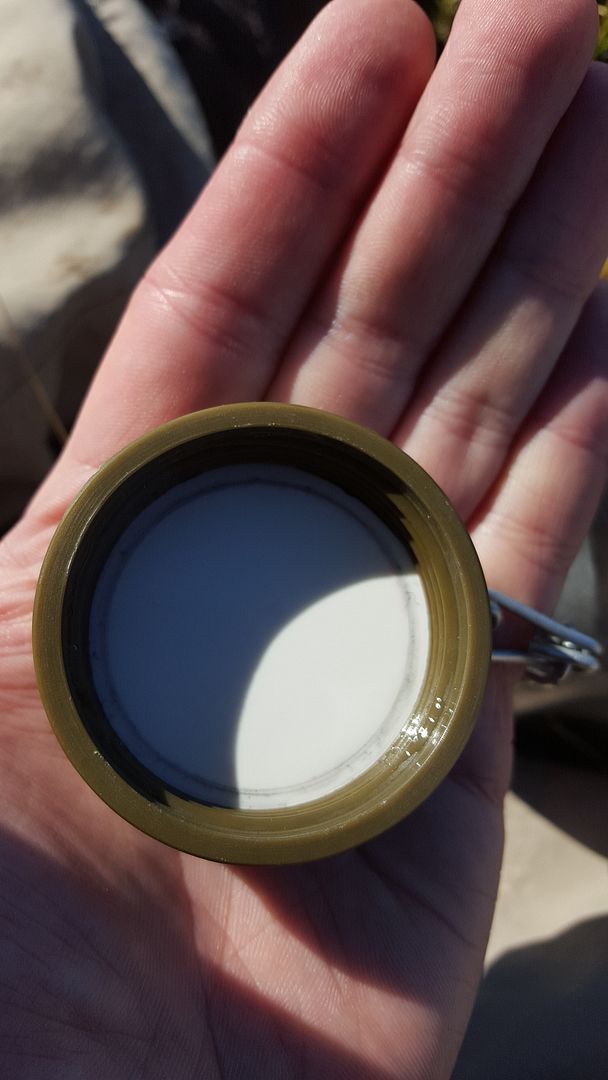 The Mug
The mug on this set is made of again reasonably thick aluminium, with about half a liter capacity. One thing i really prefer on this compared to the pathfinder set is the butterfly handles, a similar set up as whats on the crusader mugs. The pathfinder has the straight grip and while i'm sure this is fine the handles on the french set just seem that they would be more comfortable in use. I've put a few strips of harry black around one end to drink from after its boiled water to prevent getting scalded. The french set doesn't include a cooker attachment and i don't know if they make one for it, but a hexy stove works well. One difference between the french & crusader mugs is that the french has a rubber seal at the handle rivets, this gave me a bit of concern at the start thinking that it might melt, but held up fine with boiling. I'm not such about how long it was last in total however.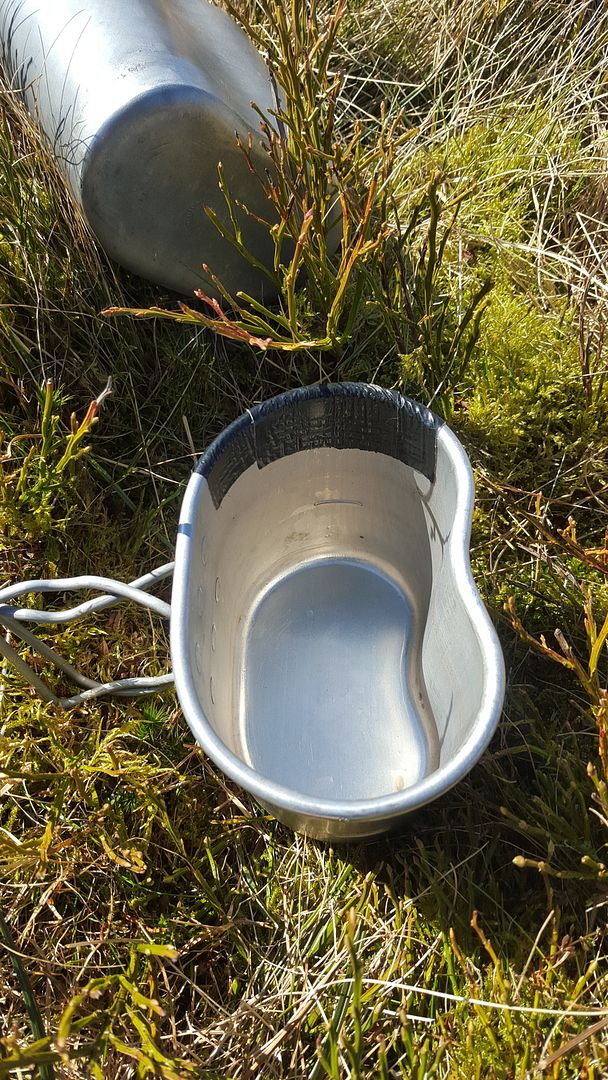 All in all this is a very good set for the money and well worth a look. I've bought a cheap 'pike gag' to use as a bottle hanger, i'll get back after I've had a chance to use it on the open fire and let you know how it stands up.
Tonyuk