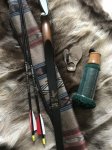 Selling my archery set as it just not getting the use it deserves. It has only had light use, some items are new and unused. The bow has been stored unstrung with a string keeper in a bag.
£250.
(Plus postage/courier due to size, or free to collect South Yorkshire area)
Set includes,
Falco Storm hunting/horse flatbow 40lb / 18.1kg draw (right handed)
http://www.falco.ee/products/falco_longbows/storm
String keeper
Neet Aztec bow bag
Leather finger tab
Wool tassel arrow cleaner (new)
10 x Easton alloy XX75 arrows (a couple need attention to their vanes reglueing)
Beaver string puffs (new)
Over 18's only. Checks may be required.