Anyone here interested in the use and construction/design of Shipping Container homes?
I'm interested in the general design and use of these with a view to providing some short term respite for homeless people.
I'd hate to see these create Ghetto type favelas but as something that can be constructed on a ubiquitous , relatively inexpensive unit that can be constructed in a factory environment then shipped to where ever it is needed I'm wondering if they could be the answer to some housing issues?
I believe due to their construction that they can be stacked 12 units high without additional bracing or support.
One problem I see is how best to insulate the units as in effect they are metal boxes suffering with condensation issues. Maybe some buildy types could best comment as to if exterior insulation would work as well as internal.
Just looking to generally discuss the merits , pros & cons of such as design with like minded people and form some idea of cost.
A 20ft High Cube Shipping container would cost circa £3k.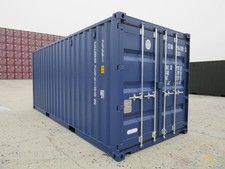 Find great deals for NEW 20ft High Cube Shipping Container. Shop with confidence on eBay!