Just in case anyone wants there own catty to have a play with at the moot!
Axiom Ocularis in Red
Used a handful of times but the ocularis plugs just isn't for me.
No fork hits or drops.
Spare set of plugs.
Original Band sets
£25.00 All in, posted 2nd class tracked
SPF
Dimensions:
Height- 6"/155mm
Width(outside forks)-4"/100mm
Width(inside forks): 1-9/16"/41mm
Weight: 2.2oz/66gr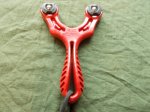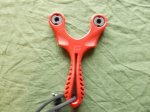 Any questions via PM please
Thanks for looking!
Last edited: