Professional Knife making Belt Grinder, (one of Nick's from Greece)
Fitted with a 2HP 2800rpm 3 phase Motor, running through a Parker 2HP Inverter
Giving full speed control
Runs quite happily off Household 13 amp Plug ,240 Volt supply
Whole system about 12 months old.
Grinder hasn't seen a lot of use,
Starter pack of belts to get you going.
Please contact me if you need any further information, or pictures
You are quite welcome to come and see it working, but I am down in Cornwall
Could possibly deliver and set it up for you , depending on where you live.
Payment via BT preferred, or Paypal F+F,, cheque or cash.
May be interested in PX for quality Knives, watches WHY, etc.
£700 ovno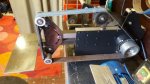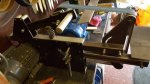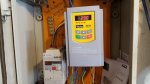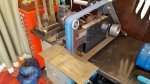 Last edited: