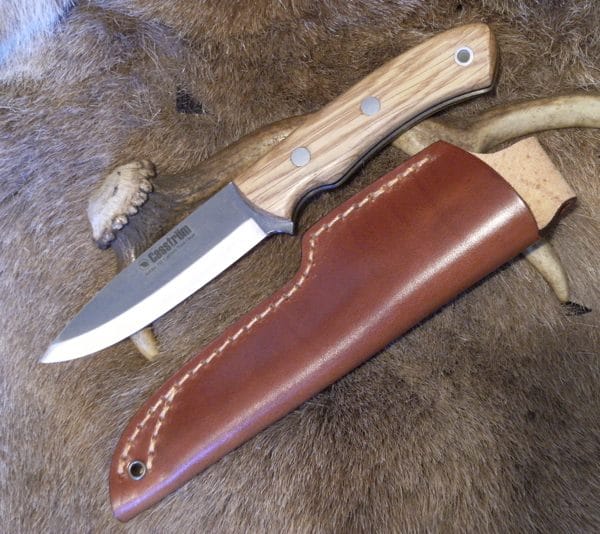 Review
Casstrom Forest Knife
By John Fenna
The new No 10 Swedish Forest Knife from Casstrom is a general purpose, full-tang knife ideal for the many tasks a "Bushcraft" knife is expected to perform.
Made from a satin finished German 02 High Carbon Tool Steel (C. 0.9%, Si O.25% Mn 1.0%, Cf 0.35% V.O.1%) specifically Bohler K720, the No 10 Swedish Forest Knife has a 10cm long blade with a flat Scandi grind, a drop point (almost a spear point), is made from 3.5mm stock and is hardened to 58-60HRC. The full tang handle is about 11cm long and incorporates a mildly shaped finger choil and guard and has lightly contoured scales fixed by two pins and a lanyard tube. The scales are available in Classic Oak and Bubinga (both with black liners), Green Canvas Micarta, or the knife is available as a blade blank for you to handle yourself.
The wooden scales are finished with a traditional linseed oil mix.
I have found the knife excellent for working wood – carving, slicing, cross battoning, plain battoning, feathersticking etc on both green and seasoned hard and softwoods as well as for food prep from basic jointing, hide cutting, meat slicing etc and the knife's razor edge (as it came) lasted well and yet was easy to re-sharpen with basic tools (Aldi diamond block and leather strop) when it did dull. Cutting through heavy duty poly pro "canvas" woven fabric that was impregnated with sand and mud did dull the edge quite quickly … but that stuff would dull diamonds themselves!
The knife proved very strong in tough work such as lever splitting (basically using the knife as a froe) and, all in all, was a great all-rounder in the woods!
Although the No 10 does not come with a firesteel, the back of the blade comes with sharp edges that give excellent sparks with minimum effort.
The fit and finish on the knife tested was all to a good standard and the supplied veg tanned full-grain leather sheath (approx 2mm thick) is of welted construction with a Cognac brown finish, black welt edge, and tan stitching plus an eyelet near the self-draining tip, is basic, but solid and holds the knife with a secure friction grip.
For a knife that retails at around £69.95 (the blade blank for £29.95), I think that with the Casstrom No 10 Swedish Forest Knife you get a good deal of knife for your money.
If there are any negative points to the knife, they would be very personal preference based ones.
I personally prefer a "dangler" sheath – but the supplied sheath is of good quality and I am sure that the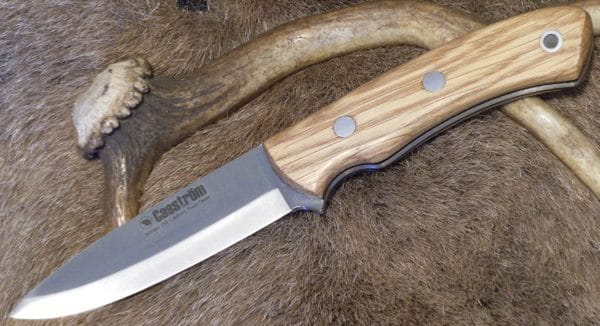 majority of users will find it suits their needs.
I found the "guard" a little long and pointy for my taste, I am not the biggest fan of finger choils (both things that would be easy to modify with a belt grinder), and the handle is a little short for my personal preference.
That said, the handle proved perfectly comfortable over half a day's solid carving, while I produced a spoon, woodspirit, feathersticks, miles of shavings, a net needle, pot hook etc, using a variety of woods, techniques, grips etc as well as four consecutive days work in the woods, building shelters, cooking, making kitchen tools and equipment – in fact, all the bushcrafty standard tasks … with not a single trace of hotspots, tenderness or blisters! Over time I came to really enjoy using the knife.
Overall, I have found the Casstrom No 10 Swedish Forest Knife to be an excellent fixed blade, full tang cutting tool, well suited to bushcraft based tasks: Strong, tough, easy to hone to a razor edge, slow to dull, attractive and at a reasonable price too!
For more information visit www.casstrom.co.uk
Tel 01628 330330