Review
By Craig Johnson
I have had my Mosgiel bushshirt since November last year and it has been out with me in all sorts of weather. I use it regularly when walking the dogs, camping, when out rabbiting etc. and as an extra layer in the hammock on cold nights.
Swanndri: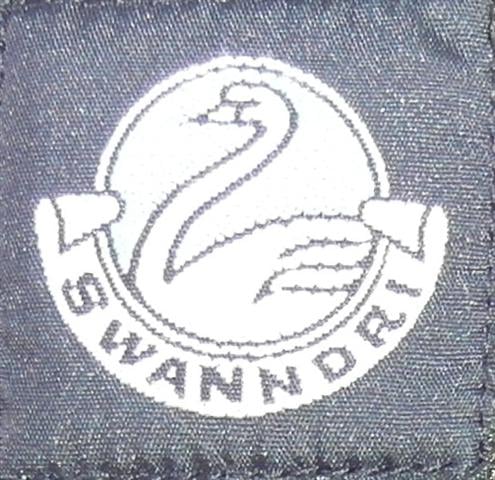 Swanndri is a New Zealand based company that was first started by William Henry Broome over 100 years ago. Broome wanted a product that was woollen, sturdy, weather resistant and would enable people who worked outdoors to be warm and dry. This was the origin of the first bushshirt.
Mosgiel Shirt: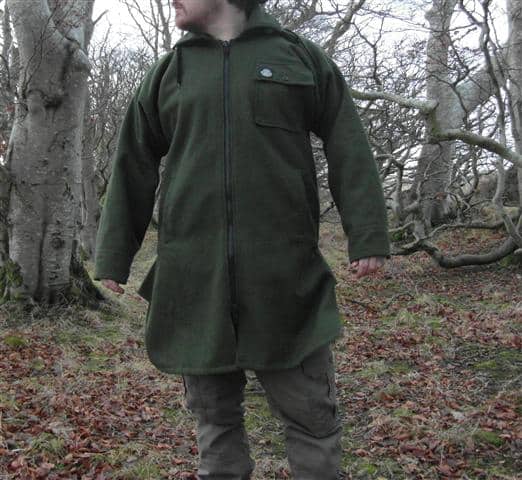 The Mosgiel is a long style over shirt and differs from the "original" shirt Swanndri sell in a few ways. It is available in four different colours blue/black check, red/black check, navy and Olive.
Weight: It weighs in on my own scales at 1778g
Cost: If you are buying straight from the Swanndri website, it will cost £154.62 + shipping
Feature
Zipped front:

The main difference from the original shirt is the Mosgiel has the zipped front. This makes taking it on and off easy and quick. It also allows you to regulate your temperature. If you get too hot you can just zip it down a bit or completely without having to take the shirt off.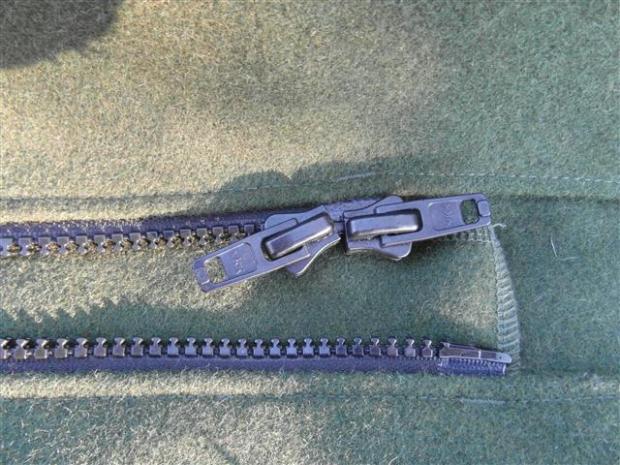 There are two YKK pull tabs/sliders, which are nice and chunky (as are the teeth of the zip), and they feel sturdy. Having the two means, you can open the shirt from either the top or the bottom. The zip is approximately 29.5" long and starts just under the collar continuing to the bottom but leaving a 15.5" unzipped section. It works smoothly and does not catch as some zips do. It has been sewn securely on to the shirt.
When I first opened the parcel, I was a bit disappointed to see that the shirt had a plastic zip. My first thoughts were that if anything were going to fail it would be the zip and I wondered why Swanndri did not opt for a metal one, which would have been my personal choice. To be fair though, those worries have been unfounded as there hasn't been a single problem with the zip and it is running as smoothly today as when I first got it.
Zip Baffle: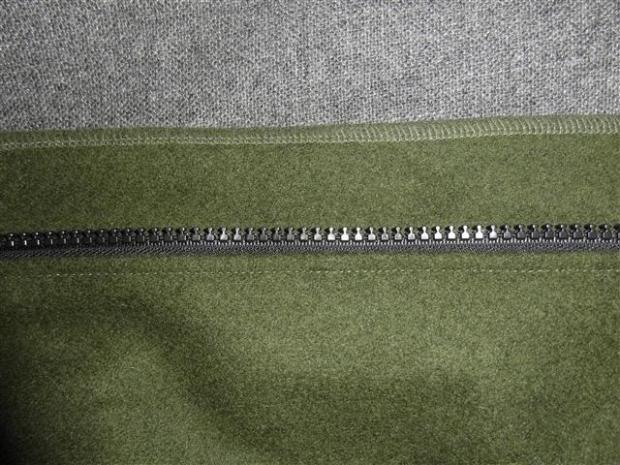 Behind the zip, there is the baffle. This is a 2" wide section of material, which acts as a barrier against the wind blowing through the zipper. It also helps to stop the zip from snagging on any material on the inside. It runs the entire length of the zip and again is securely attached to the shirt.
You really notice the difference on an item that has a wind baffle and in my opinion, it is a detail that improves the shirt a lot.
Adjustable cuffs: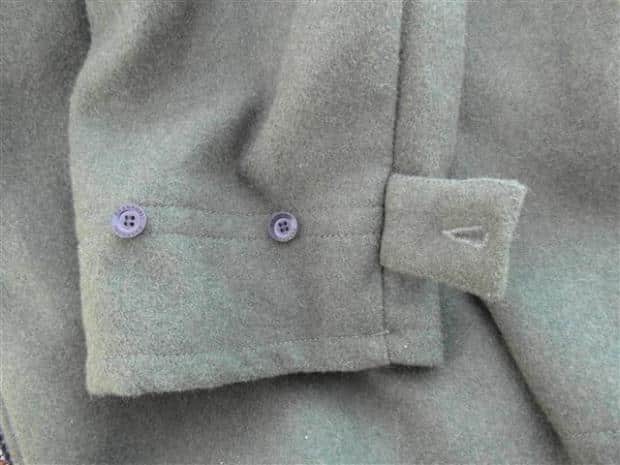 2" up from the edge of the sleeve there is a 7.5cm x 4.5cm tab sewn into the seam. It has a ½" buttonhole that has been blanket-stitched. There are two buttons and they are 3" apart, allowing a good amount of adjustment. On the inside of the sleeve, there is a 1" band of extra material that they have been sewn onto. This is well thought out as it helps reinforce and secure the buttons.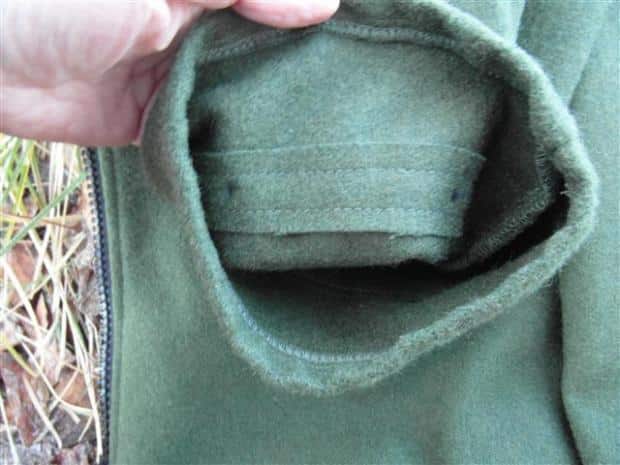 I really like having the option to tighten the cuffs down as it helps me when doing certain tasks to have them tighter and having them closed down stops any debris from making its way inside.
Pockets
Chest Pocket: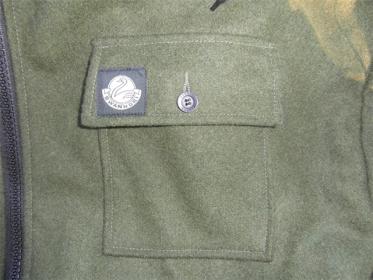 High up on the chest there is a 5 ¾" x 6" pocket. It has a 6"x2 ½" over flap that is secured by a button. The hole has again been blanket-stitched. It also has the Swanndri logo sewn on to it. The pocket has been stitched very securely onto the shirt.
This pocket can hold a few items. I can easily fit my fire lighting tin (2oz tobacco tin) with plenty of room to spare.
Side pockets: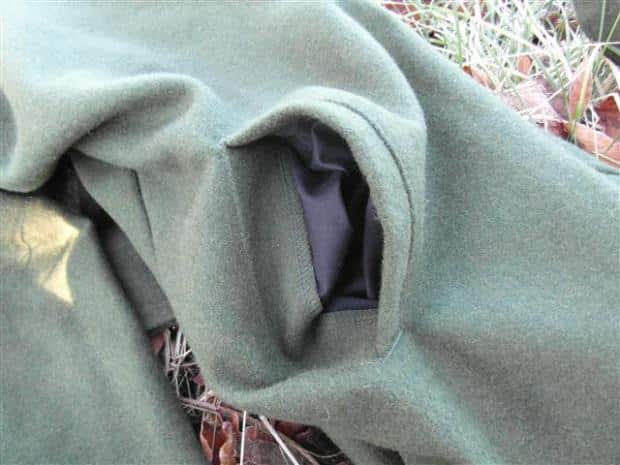 The main pockets on the shirt are the two side welt pockets. On myself, these are situated around about the belt line. They are made from a strong material and measure approximately 9 ½" deep and have a good amount of room in them. They have a 6" wide opening, which gives you plenty of space to put larger items in.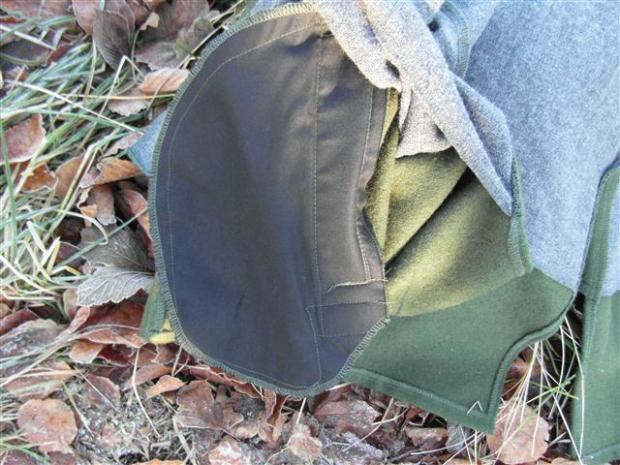 One thing different about these pockets is the way they are angled steeply down and slightly backwards. I have found that having the pockets like this means it is harder for anything to fall out and are perfect for putting cold hands into but I know that some people find it an awkward feeling.
Inside pocket: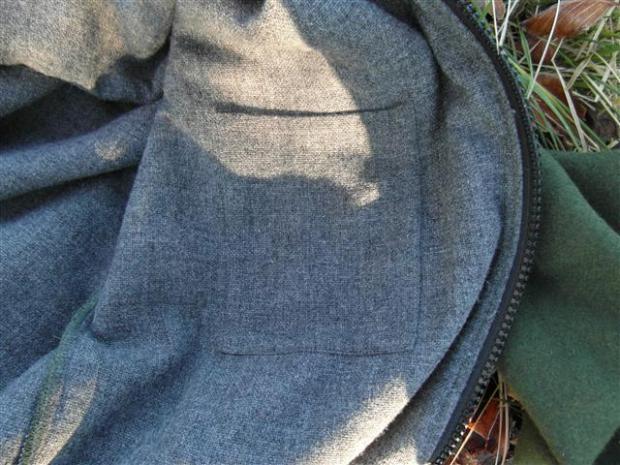 On the inside of the shirt, sewn into the lining and made from the same material as the lining, there is a 5"x6" pocket. It has been sewn onto the lining (not the outer shirt). Although it does not feel as strong as the other pockets, it is ideal for lighter items. It is easily accessible; all you have to do is unzip the shirt a bit and reach in.
One thing I seem to find a lot these days on clothing is an item can be great on the outside but they tend to skimp on little things like the pockets and within a matter of a week, you'll find a small hole which rapidly becomes bigger. On the Mosgiel however all, the pockets are strong and I have had no problems arise with them. I expect them to stay that way for a long time.
Collar:
The shirt has a big collar, which I love. It is double layered and tapers from 4 ½" in the middle to 5" at either end. When it is windy and rainy you can turn the collar up and hunker behind it. When up, it almost reaches the tops of my ears giving me a large area of protection.
Hood: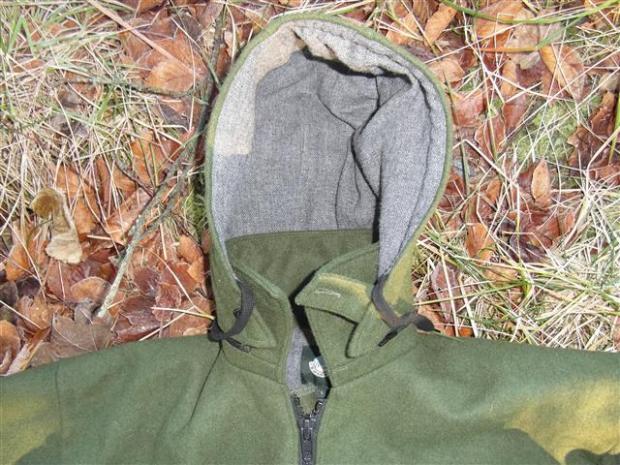 The hood is a great addition to the shirt but one that takes a bit of getting used to.
It is made from three parts and as with the rest of the shirt, it has a lining. On the outer edge, a channel has been sewn and a lace passed through it. This drawstring allows you to cinch it down reasonably tight. It would have been great if there were some sort of barrel toggle on the end to stop it from coming loose after drawn tight.
It does tend to bow out at the bottom making it easier to catch the wind but all you have to do is tighten the cord. It also helps to catch and channel heat when sitting in front of the campfire, which is a boon on cold nights.
Removable: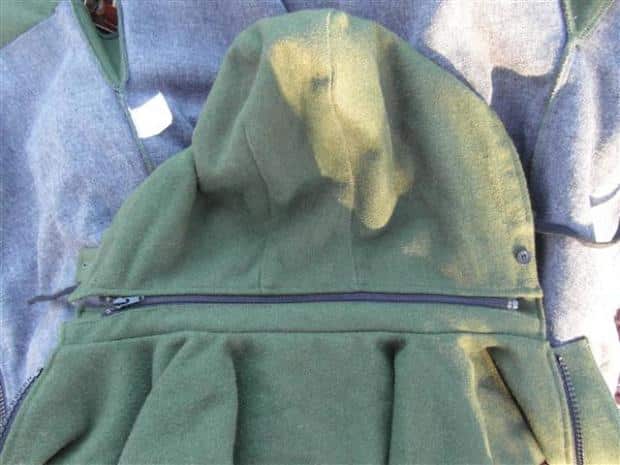 The hood is attached to the shirt with a small YKK zip. The zip is situated just under the collar and it runs smoothly without any snags.
It really is a personal preference if you want to remove the hood or not. On a nice day or if you are going through thick cover etc., having that option is a plus. You can use the hood as it is or there is a 2 ½" tab that is used with a button on the opposite side to secure the hood under the chin.
Unfortunately, when the hood is attached to the shirt there was no way I was able to use the tab, as it would not reach over without it choking. If it were 2-2 ½" longer it would have been fine.
When pulled up the hood gives great cover and is excellent if you are caught out in the rain. Even just having it up so your ears and face keep warm is well worth it and it does an excellent job at stopping the wind from taking the heat from your head.
The Major thing that takes getting used to is the fact that when you pull the hood up it also makes the collar come up. Now for me that it is not a problem now, but it does feel a bit strange until you get used to it, as you can't turn the collar back down when it is up.
Shirt lining: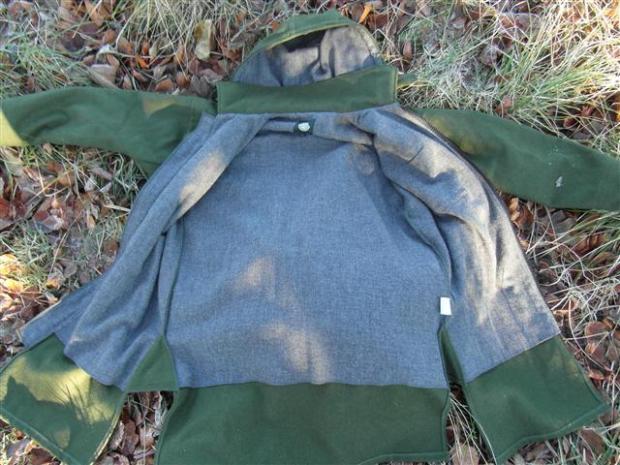 To make the shirt warmer and more resistant it has an inner lining sewn into it. Made from 50% wool and 50% Polyester it is giving you an extra layer of warmth, which makes a lot of difference. So far, I have not had any problems with the lining rucking up when I am putting the shirt on and after having a closer look all, the stitching is strong.
Side slits:
The shirt has a 13" long side slit on either side. These are very useful as they allow you to easily reach into your trouser pockets. In addition, if you are wearing any kit on your belt you can get to it quickly without having to pull the shirt up or unzip it.
At the top of the slit, there is a 5" dart. This allows the slits to open without causing any damage. As well as helping when getting things from your pocket/belt it also gives, you room when you are sitting down. At first, the two darts were constantly sticking out and it looked a bit odd. You can sort this by ironing in half and then flat against the inside of the shirt if it is a bother.
Stitching:
I am very impressed with the quality of the stitching on the shirt, from the blanket-stitching that binds the edges to the joining stitches themselves. They have all been neat and to the right tension and there has been no loose threads or runs.
Performance
In the wind:
Where I live, it gets very windy and it is this that leeches most of the heat out of you, especially if you are still for any length of time. In the autumn and winter, I am out in these windy conditions every day doing one thing or another. If you are not properly dressed, it will not take long for you to start feeling it and it makes for a very hard day. I wear the Mosgiel with a fleece jumper and have to say I was very pleased at how effective it was from stopping the wind getting in. As the wool is thick and with the addition of the liner and zip baffle, I would have no problems, wearing this in the bitter hard blowing winds.
In the rain:
The shirt has been treated with a traditional secret method that makes it weatherproof. I would say it is water resistant rather than waterproof.
In light to moderate showers, the water droplets tend to just bead on the surface and run off. The shirt will shed off the rain for a good while in these conditions before you notice anything coming through. In heavier rain or if you are out in bad weather for any length of time the water will get through a lot quicker. Being wool you will still be warm even when wet though I personally wear a poncho over the top when the rain gets heavy as it not nice walking around in wet clothes. Also the shirt will gain a fair bit of weight when it is very wet.
To dry the shirt out when it is soaking I just hang it near to the stove and it is dry in the morning. I have not had any noticeable shrinkage.
Warmth:
Wool has long been one of the better insulators and that still applies here. It doesn't take long from first putting the shirt on to feel the benefits. When used with proper layers even in freezing temperatures you should be fine. I am very impressed with this shirts ability to keep me warm. When out rabbiting, looking at the stars or in your hammock in the Autumn and Winter it gets very bitter when you are waiting/ sitting around, so it's had a thorough testing and I'll certainly be glad to have it on me this coming winter, that's if I can stop the kids from pinching it to use as a blanket.
Ventilation:
So as well as keeping warm you don't want to be over heated either. One of the tasks I have to do in the cold weather is cut all our wood to heat the house and cook on etc. Now my brother and I use a 2-man saw and it always makes me hot, so it was a good testing ground to see how ventilated I could keep myself (this was done in December). After 15 min, I was feeling too hot so I loosened the cuffs and unzipped the shirt halfway. I was fine and after we had finished I just zipped the shirt back up to stop me chilling down too much.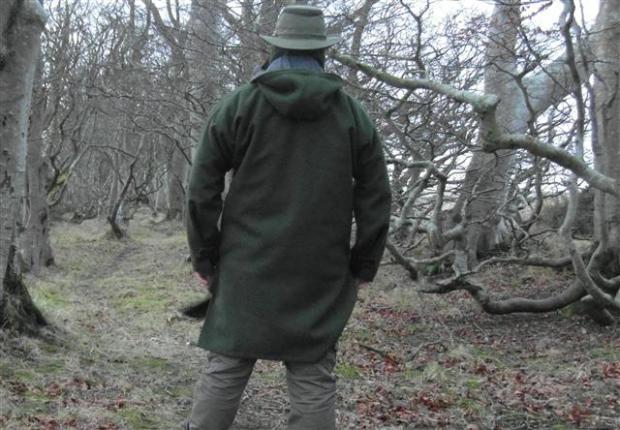 Conclusion:
I first heard of Swanndri a good few years back and have met a number of people who have owned one of their products. I now understand why they are so attached to them.
Designed to cope in New Zealand's erratic weather they are certainly ideal for over here as well. The Mosgiel Bushshirt is warm, comfortable, weather resistant, hardy and it looks great. It is perfect for many tasks from spending a whole week winter camping to simply taking the dog for a walk. I feel I won't be let down by this shirt. Although I would make a couple of little changes, in my opinion, it is a quality item well worth its money.