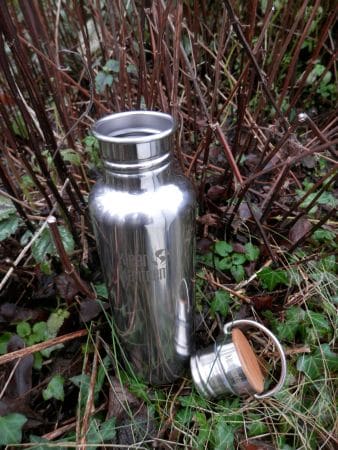 Review
By John Fenna
If you are looking for a tough, practical and good looking water bottle, then the Klean Kanteen range may have something to interest you.
I have been trying out the Klean Kanteen Classic Reflect 800ml model in a mirror finish and have found it to be pretty much my ideal drinks container for trips in the wild.
Made from 18/8 stainless steel with a food grade silicon seal and bamboo top to the cap, this bottle suffers from none of the health-related issues of some materials, such as plastics containing BPAs or aluminium, does not impart a flavour to your drink and is safe to use with carbonated or acid fruit drinks.
The sleek and elegant shape of the bottle makes it easy to clean (though the bamboo cap should not be fully immersed or dishwasher cleaned and needs oiling occasionally) and the 1.75" (4.5cm) wide neck enables liquid to be poured in and out of the bottle very easily. The 10" (25.5cm) tall and 2.75" (7.5cm) wide shape of the bottle allows it to fit easily into most rucksack pockets – and vehicle cup holders!
The 9oz (250g) all-up weight of the 800ml Klean Kanteen belies its toughness. This bottle is tough and built to last and comes with a lifetime warranty.
Freezing the bottle can cause serious damage – and void the warranty – so take care on winter camps and, as the bottle is not insulated, it is not recommended for hot drinks.
As a drinks bottle, the Klean Kanteen seems to have it all; good looking, safe, healthy, tough, lightweight and easy to use, but it is more too. I have boiled water in the Klean Kanteen and even used it (wrapped in a spare sock) as a hot water bottle on cold winter camps, making it a versatile bit of kit!
The Klean Kanteen Classic Reflect 800 ml Mirror Finished Stainless Steel model water bottle is just about my ideal outdoor water bottle. It should stand up to a lifetime of hard use, keep your drinks safe and tasting good, and costs around £25.95.
For more information visit Whitby & Co, www.whitbyandco.co.uk Tel 01539 729573