Review by John Fenna
The Svord "Peasant Knife" is a tough little folder from New Zealand based on designs used in Bohemia and Bavaria a few hundred years ago, but still proving exceptionally practical today.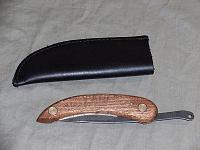 Although also available in brightly coloured plastic handles, the most popular version of this nominally 3" (7.5cm) long, 1" (2.5cm) wide drop point bladed knife is the hardwood-handled version, which looks excellent.
Made from L6 high carbon stainless steel and mounted in the handle using brass cutlers screws (for variable tension) and a floating brass back pin, the blade has a flat grind with a secondary edge bevel that is easy to re-sharpen and holds a great edge.
Made using simple techniques in an ancient style, no locks or springs are used in the construction of the Peasant. The long "tail" type tang (which make it easy to pull from the soft leather belt pouch/sheath) folds into the handle and is held securely in position by your grip, along with the compression of the handle scales.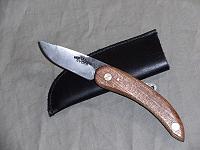 Just under 8.25" (20.5cm) long open, and just over 6.5" (16.5cm) long closed, the Peasant is a simple and effective tool. The fit and finish is not of the finest standard, but what "peasant" was immaculately turned out? If you want a knife for everyday use, try and find one that is slightly under the magic "legal" 3" (7.5cm) length – the tolerances these knives are made to are not tight and the blade length varies from knife to knife.
For all its simplicity and rough and ready finish, the Svord Peasant is a joy to use, comes with a fantastically sharp blade, cuts brilliantly and is addictive to use. Although mine came with a belt pouch/sheath these may be harder to find in the UK, most retailers selling the knife alone.
The Svord Peasant is widely available (with or without the pouch) and costs around £24.00 with the pouch – an excellent knife for the money!