Review of the Nordisk Tarp SI L 
by John Fenna
I am always on the lookout for a good tarp, and the Nordisk SI range has much to recommend it.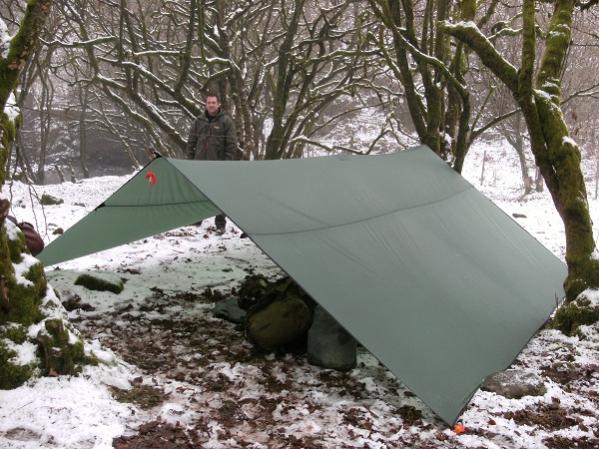 Coming in sizes S (3m x 3m), M (3m x 4.5m) and L (4.5m x 4.5m), these are generously sized bits of kit made from Northtec SI-2000 double silicone proofed ripstop nylon that is incredibly strong for its weight.
The S size tarp weighs only 650gms, the M 950gms and the L only 1,400gms.
The size L is the model I have been trying out and this is made from 3 runs of fabric, giving two seams running the length (or width) of the tarp, but despite being out in some strong winds and heavy, continuous rain, there were no seam leaks.
The hems around all 4 edges are reinforced at each of the 3 webbing pegging/guying loops along each sideand at the 4 corners. There are strong reinforcement triangles at the pegging/guy points.
At the very centre of the tarp there is a 16cm x 16cm reinforcing patch of heavier fabric that supports an eyelet that can accommodate a tentpole or be fitted with some sort of hanging loop (as I prefer) while the tarp I received for testing also came with 6 bright red guy lines with reflective fleck.
As there is only one support point away from the tarp's edge, I was a little concerned about how well it would pitch in a high wind, but need not have worried. The tarp took some very strong winds without undue flapping or bellying. Having said that, more attachment points (perhaps along the seams) would have made the tarp even more versatile. Of course, fitting your own by tying a cord around a "button" (nut, pebble etc), twisted into the fabric where you want it is an easy option.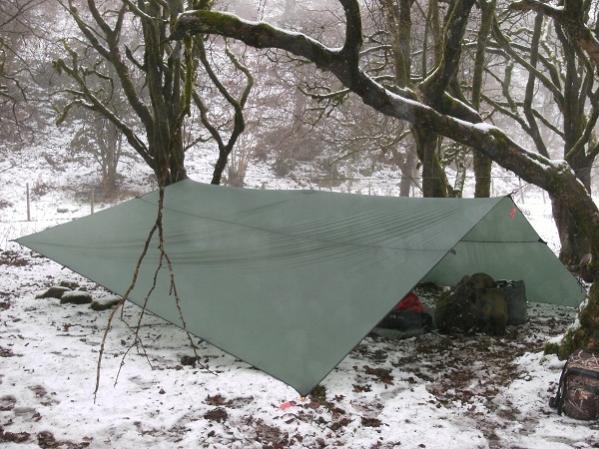 The quality of build on the review sample size L (4.5m x 4.5m) is excellent and the tarp has proved strong, versatile, waterproof, lightweight and big enough to be a generous group shelter or enormous personal shelter.
I have used the tarp in conditions ranging from snow through rain to frost, from winds calm to almost gale force, and have had no problem beyond worrying about my pegs pulling out of soft ground.
The lightweight of the size L is matched by its small pack size. The tarp comes with a stuff sack measuring approx 28cm x 60cm but can pack down to less than half fill it!
During one trip out (in pouring rain) I measured the area under our parachute "group shelter" not plagued by drips. The area was smaller than 4m x 4m, less than the area the Nordisk SI tarp size L would have given … but I was using that as my own shelter that weekend!
A parachute weighs a darn sight more than the tarp and will not fit in a jacket pocket as the tarp will – so it may well be getting its retirement papers soon!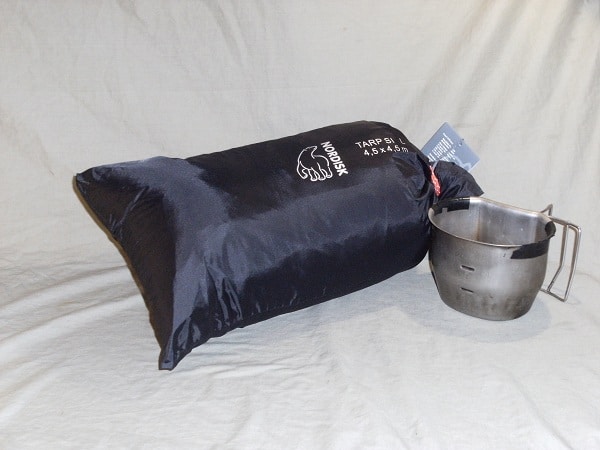 The Nordisk SI tarps come in Forest Green and are made from fabric that is waterproof to a 2000 water column standard, but weighing only 54gm/m2 and are tough and tear resistant. I would imagine the fabric is not over-resistant to spark damage and would avoid pitching it too close to open fires.
In all, I have found the Nordisk Tarp SI L strong, light, versatile and supremely packable. A joy to use!
Costing around £160, the Nordisk "Black Zone" tent range focuses on lightweight and small packing volume. Similar sized tarps of less "technical" fabrics and higher weight and volume are available in their other tent ranges.
For more details visit www.arkconsultants.co.uk (the UK distributors) or www.nordisk.eu