When I take a folding knife into the woods, I like to take one that has a good strong, reliable lock – just to be on the safe side – and with the Ruike P831-SF I think I have found a smart, functional, practical, well-made knife with a very safe lock design.
Ruike is a Chinese make brought to us by Myfenix (famous for Fenix torches) and the quality of the P831-SF I have been using is very good with crisp machining, very good fit and finish, attractive (almost Art Deco) styling and quality materials.
The knife blade is 85mm long x 25mm wide (max), 3mm thick, with a flat ground "reverse tanto" or straight clip point, made from satin polished Sandvik 14c28n stainless steel hardened to 58-60 HRC. This gives a blade that not only comes shaving sharp but takes and holds a very good edge easy to re-hone after use.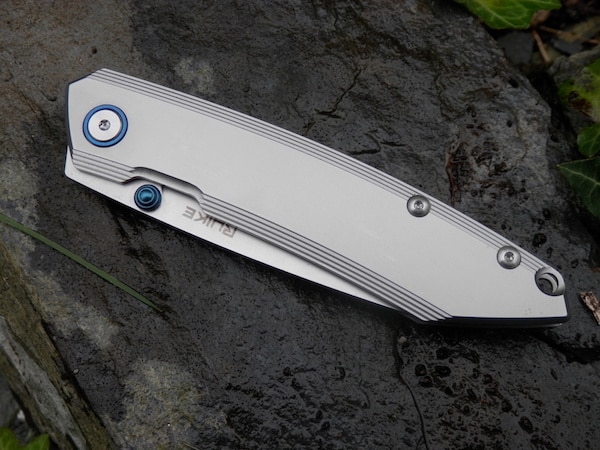 The blade is opened using a stud in the ricasso, but I cannot operate the blade one-handed using the stud as a "thumb stud" and have to use the good old two-handed method. I do not find the lack of one-hand operation an issue and the blade is very secure in the hand when closed. The spine of the blade is squared enough to produce a good shower or sparks from a firesteel.
The gently curved handle is made from 3cr14N stainless steel for durability and corrosion-resistance and measures some 110mm long x 24mm wide and 9mm thick (excluding pocket clip) and the blade pivots in and out smoothly to lock out with an efficient frame lock.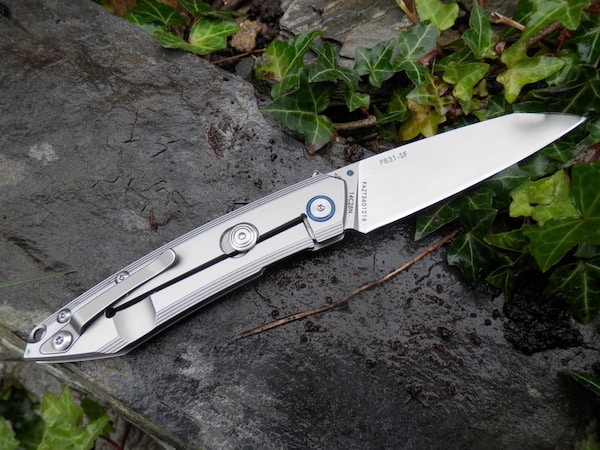 The frame lock moves into position to block the blade from rotating and is itself locked into position by a simple but solid slide button "Beta" lock to give one of the most reliable lock knife systems I have come across. The locks both release easily (when you want them to – not accidentally) using just one hand to close the knife after use.
When closed the P831-SF measures some 110mm x 27mm x 13mm (including pocket clip) and the strong pocket clip allows a secure carry, while the weight of the knife – 93g – means that the knife is not going to be obtrusive to carry. For extra security, the knife features a lanyard hole in the end of the handle.
In use, I have found the Ruike P831-SF to be comfortable and very practical for light to mid-weight chores, as a "companion" to the heavier tools I carry and use in the woods. The knife has been used for a wide range of tasks from food prep though whittling to some fairly heavy cutting of seasoned hardwood, even to carving salt and sand encrusted driftwood, and has needed no more than stropping to bring its edge back to shaving sharp. I do not use folding knives for even light battoning.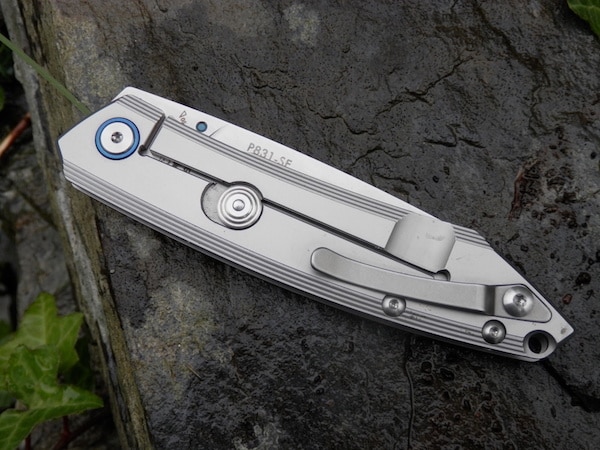 Most folk who read my reviews will know that a pocket clip is one feature on a knife that I normally do not like. In the case of the P831-SF the clip is positioned so that it did not cause any undue discomfort, even during prolonged cutting, and while it looks simple enough to remove the clip, I did not bother as it did not seem worth the effort!
Coming with a 5-year (free repair) warranty, the Ruike P831-SF costs around £42.95 and has proved to me to be a good looking, practical, functional and safer-than-most locking, folding knife which is easy to clean and maintain, and which proves a reliable tool to carry in the woods. As it is a locking knife I would not consider it an "EDC" in the UK, but that (and the mouthful of a name) are, as far as I can see, the knife's only drawbacks.
For more information contact
www.myfenix.co.uk