I have read thousands of gear reviews over the years, I have even made some purchases as a result of them. To me it is curious that we often shell-out our hard-earned cash on the say-so of a complete stranger who was lent that item for a weekend. In that time do you really think anyone could really assess a product properly?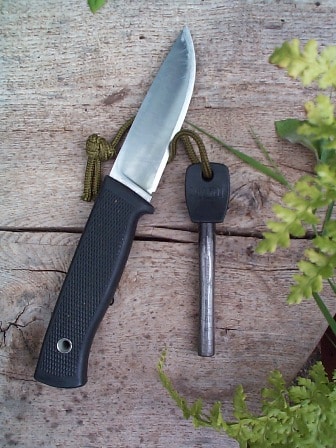 Knife reviews often involve cutting cardboard & sharpening colouring pencils and other realistic tests likely to be encountered in the 'boonies'.
Well you won't find any of that here! Just my honest experiences of the Fallkniven F1, used at work & play over the last three or four years.
OVERVIEW
The F1 is a basic fixed blade knife with a 'drop-point' 3.5inch blade (made of VG 10 stainless steel) and a man-made (Thermorun) handle. Originally designed for use by Aircrew of the Swedish Defence Forces as a survival knife, as any survivor will tell you a 'survival-knife' is the one you have with you at the time, so the F1 is designed to be small & light enough to be carried at all times but robust enough to withstand the abuse it would encounter in a survival situation within the Arctic Circle.
THE BLADE
As I stated above the VG 10 blade is of a 'drop-point' pattern, 3.5 inches in length, with a convex profile. This type of edge is very robust, but not so good for fine tasks like carving and food preparation, so I have re-ground mine, giving it more of Scandinavian style grind. VG 10 is a quality steel, it will take a fine edge and retention is good, yet it is not hard to sharpen (a bonus in the field). On the subject of sharpening the F1 responds very well to a, good old fashioned, butchers steel if you need to put an edge on it quickly, around camp I use emery-cloth taped to a board to maintain the edge and polish it using a strop (my leather trouser belt), this allows me to keep a "shaving sharp" edge on it.
The spine of the blade is 4mm thick, making it very good when used with a baton, I have found narrower knives quickly destroy your baton. My F1 regularly gets used for splitting damp kindling (often wrist – thick ash) and has suffered no ill effects.
The angles of the spine are very aggressive, which some users find uncomfortable, but it is ideal for removing the outer bark from willow when making cordage. This sharp angle is also ideal for using in conjunction with a "Fire-Steel", producing a massive shower of white-hot sparks, which can used for lighting all manner of tinders & fuels.
THE HANDLE
The knife is a full tang design and the handle is moulded around this. The material used is a product called Thermorun, which is similar to Kraton but not as "tacky" to touch. A chequered pattern is moulded into this, again some users have found this hard on the hands, so a file is used to "soften" the profile and this also improves the "tacky" feel.
The guard is incorporated into the handle and is fairly minimal but does its job in keeping your fingers safe.
The tang of the knife protrudes slightly from the handle, allowing the knife to be hammered without damaging the Thermorun. Certainly for a survival knife this is a 'must-have' feature, but I have found it useful in woodcraft too, hammering the point of the knife into a log to cut bark for cordage, cutting leather into thongs or hammering into birches to tap the sweet sap.
There is a lanyard hole so that the knife can be secured if you were moving through dense vegetation.
The size of the handle is about the same length as the blade, which fits my medium size hands very well.
The Thermorun compound and the way it is attached to the tang is unaffected by boiling, which is essential for camp hygiene if you are butchering fish & poultry.
THE SHEATH
The whole knife has a feel of quality about it and the sheath options continue this theme. There are a choice of three sheaths for the knife :
1) Fully enclosed heavy leather (like a folding knife sheath), secured with a press stud and carried at belt level.
2) Open top "dangler" sheath, a classic friction-fit sheath with an extended loop (carried below the belt) so that it does not interfere with a rucksack waist belt.
3) Kydex, this one costs extra, but is ideal for hard use, damp environments.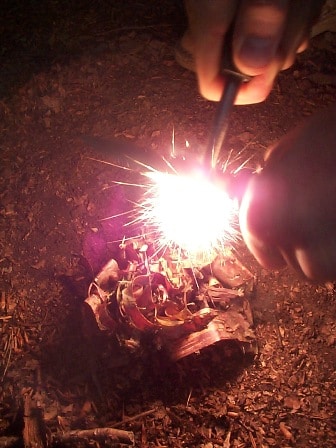 IN USE
The F1 has a very solid feel about it (like it's prepared for anything) and is easy to use. In the last few years it has been used for most tasks, I have carved spoons & noggins with it, shaved "fuzz-sticks, split kindling, carved bow-drill sets, gutted trout, skinned rabbits, dressed a shoulder of lamb, boned-out a haunch of venison, used it with a fire-steel to light hundreds of fires, made cordage, cut leather thongs and prepared quite few meals.
This is a high quality, medium sized, highly practical blade that will cost you half the price of most "custom" knives.
The knife is not as light as some and is better suited to being carried on a belt (unless you have the neck of the governor of California).
All in all, there may be better knives for carving wood or dressing game, but this knife will tackle any task you put in front of it (without exception).
In the last four years my only criticism of the F1 is that it looks a little too practical sometimes, the black Thermorun handle would be so improved by the warmth of a real wooden handle ( I must be going "soft" with old age), but now those clever people at Fallkniven have decided to sell the F1 in "blade-only" format, so with a little help from Johnny & Drew at Trek-Direct (superb service as always lads) and quite a bit of elbow grease I now have my very own 'F1 Tree-hugger' limited edition!
by
GREEN-CRAFT
First published 05/04/2007
(Keeping you safe in the wilderness………and keeping the wilderness safe from you)