We are at one of our camp grounds. A beautiful spot near a running stream, with views of green rolling hills under the cover of trees. The tarp is up and we're ready to make fire and I'm more than impressed with the Chameleon 5 Mid Ventilator GTX Carbon boots I'm wearing from Merrell.
Just to get the technical stuff down first. Merrell describe these boots as a 'high-speed backpacking shoe'. They boast a Gore-Tex membrane and a support insole described as 'suitable for carrying a light pack'. Outside the laces are tough, a sturdy outer construction with breathable mesh and a tough heel with a thick and chunky Vibram sole. The Carbon colour looks great too and is well balanced.
So I put these beauties through their paces just to see how good they really are.
First off, to get our gear from the truck to our camp I got to hike through some real rough muddy ground and was amazed at how stable I felt in these things. They felt light on my feet and flexible enough to cope with the trekking.
Later, on exploration, I travelled across rocks, clambered up fallen trees, meandered through a stream and kicked some logs around and put them through a serious thrashing. Again, they felt very stable and secure on my feet, I remember thinking, 'heck these things are sturdy', and made a mental note of being impressed. Across the rocks, more than perhaps a normal rambler would come across, I found that thick and chunky Vibram sole worked very well. Plus as a 'Mid Boot', I felt my ankles had enough support.
I then went for a little jog around our grounds searching for tree trunks we could use around our fire. The day was a mix of showers, clouds and sunbursts. So the ground was damp, soft and the air was warm. After running around the rough terrain, up and down hills, I realised my feet were still quite cool and the boots felt light and flexible on my feet. I was expecting the boots to heat my feet right up, but they felt fine due to the breathable mesh. Although, I could imagine on a long hike they would heat up more.
The next test was their water resiliency. I explored the stream and just casually let my feet slide in and out of the water. The grip was very good on the slippery rocks and I felt very sure footed, but was really impressed by how dry my feet stayed. The water proofing worked extremely well. I even dipped my foot completely in the water to see how well they had been treated. Dry! So a great shoe if you will be out in the wet or hopping over streams.
Eventually we made fire and I sat and looked at the boots on the end of my feet. Light, durable, sturdy, dry, flexible and pretty stylish too. All this on their first wear. No rubbing, no stiffness, they felt like the good old go-to boot my feet were best friends with.
Conclusion: After a few weeks worth of wear and my initial review above, for those thinking about this boot, I'd give them a thumbs up for out of the box confidence as the Merrell Chameleon 5 Mid Ventilator GTX, are ready to go. They get more comfy over time as to be expected and have retained all the positives I initially found with them.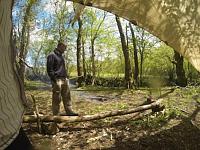 A bit pricey for boots in this category and quite slim fitting. However, they are great for a day hike, a weekender or a longer adventure too. Light enough to not drain your energy and you can feel confident if the weather turns against you. Well built, good quality boot with a nice design.
You can buy these shoes from Fitness Footwear