Come and join us at the Summer 2012 BushMoot (extended)
New Information and Ticket pages can be found here
You can now get tickets for the fabulous BushMoot we're following the successful format from last year and we've also secured the site for extra camping days if you would like to come earlier and /or stay longer.
Following on from the success of last years Moot and the demand for even longer on site we have introduced camping days which means you can now be on site for up to 11 days (13 for Full members) We'll still have the workshops, traders day and communal meal but on top of that we've added loads of extra days for camping, relaxing and taking advantage of the great private site we use in South Wales. We've also been asked to run some pre Moot courses, these are Leather working, Basketry and First Aid Click here for more information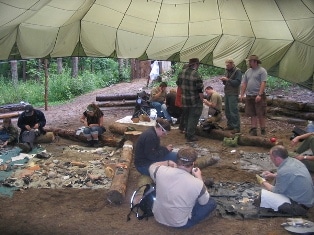 The Bushcraft UK Bushmoot for bushcraft uk members was conceived to provide an organised individual and family event where people with an interest in bushcraft could gather with like minded individuals and expand their knowledge through mutual skill sharing. The event is based on a coastal estate Nr Bridgend, South Wales.
It doesn't matter whether you are new to the world of bushcraft or an old hand, everyone is welcome and all we ask is that you come and enjoy yourself. Everyone is free to share what they know and we promise you will leave with new found knowledge and new friends.
More information can be found here and payment options can be found right here
Bushcraft UK BUSHMOOT – SUMMER 2012
The dates are Monday the 30th July to Saturday the 11th of August in South Wales. Please remember that this is not a bank holiday
weekend. (Non FM's dates are 31st July – 10th August)
Anyone is more than welcome to come for a day or for the whole period.
These meets are for everyone, no matter how involved you are in bushcraft, bring the family!
Example workshops (4th-6th Aug) at the event: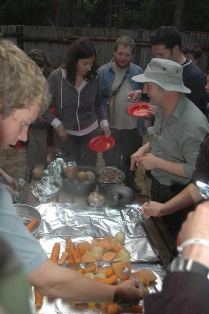 Flintknapping
net making
snares
shelter building
knots
cordage
fire by friction with bowdrill and handrill
tool sharpening
plant walks
tracking
woodcraft skills
leather working
carving
wilderness cooking
basket making
Atlatl
Tarpology
Bow making
Knife making
Spoon Carving
and lots lots more…
There will be a mixture of scheduled workshops and informal workshops that tend to happen spontaneously.
This year we are again limiting numbers to the Moot so that everyone has a fantastic experience, so book early to avoid disappointment. If you have any questions feel free to email us at here BushMoot questions/info
Here's some feedback from people that have attended:
Thank you for all your hard work & organisation to make it a great Moot. It was my first time there & I had such a great time. I did not stop leaning stuff from when I got out of the car on the Thursday to when I finished the flint knapping course on the Wednesday, got in the packed car & drove home. It was nice to meet so many members and to put names to faces, which is what it is all about at the end of the day. The courses were great and I like the 1/2 day approach, with the odd full day, which is a nice change from the 1 hour course at the Wilderness Gathering. Thanks to everyone involved in putting the Moot on and hope to see you all next year.
It was a great moot, many thanks to Tony and the mods and all who gave workshops. So much to learn…. maybe it should be longer!?

that I couldn't do every single workshop or demo!

Everyone made me feel really welcome – especially Mad Dave, Cap'n Badger, Troy, John & Sargey for impromptu workshops & hacking down stuff.

Tony – the event was really well organised – loads to do and see and with so many different choices, it's assured that I'll be coming back next year to finish off what I started 😀

Everyone on the team worked so hard keeping everyone happy – whilst the water wasn't always hot, I never found a loo without a toilet roll and there was always someone about for a chat or to point us in the right direction.

Ah so many faces to the names in the forums – feel free to keep in touch!

I'm also uploading the pictures to flickr as I type.

Shame I didn't get a picture of the life raft in the mammock but I shall definitely be booking the full week off next year and take it all at a bit more of a relaxed pace 😎

oh and

THANK YOU everyone. It probably hasn't been said enough, though I'm a bit bitter I didn't win the Axe